ESET antivirus is also one of the best antivirus solutions for PC and also for your Android mobile. Previously we told you about Free Bitdefender Internet Security 2015 as a giveaway. Now we have ESET Antivirus for Android free as a part of giveaway. This antivirus comes with a clean user interface with touch optimized buttons. You have the Anti-Phishing app that provides you with online security against credit card payment frauds and other Log-in safeties. Also You have options like Antivirus that allows you to scan your phone or specific files or even memory card separately.
Some ESET Antivirus key features

:
- Anti-Theft: Once installed, it will monitor your device continuously. In case of device is lost or stolen, ESET Antivirus will track the location of device and will help you to get back your device.
- Available for Android, Windows and Symbian: Available for Windows and Symbian platforms also. So you will get free service for these devices also.
- It Provides you with optimum level of security while using your phone, browsing internet.
- Easy User Interface: User Interface is very clean and touch optimized buttons make further easy for the user to operate this utility easily and hassle free.
- Anti-Phishing: All the web pages opened in your devices are firstly monitored for phishing. And user gets a warning message in case of any potentially dangerous page is found.
- Call Blacklist: Now say good bye to all spam company phones, or any slang fellow disturbing you. Use call blacklist and black list the contacts or numbers disturbing you.
- App Audit functionality: You can track which apps are accessing internet, and they should really access it or not. You can track them up and then allow or disable internet access to those apps. So it saves your data from getting waste on these unwanted application internet access.
Get your ESET antivirus for your android FREE FREE using below steps:
1) Firstly Visit ESET Mobile Security
Giveaway Page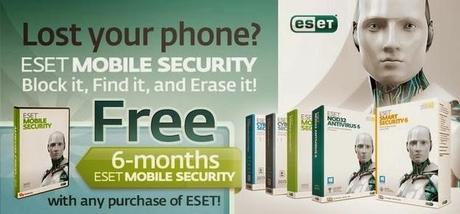 2) Now just fill the form provides on that page with exact and accurate information, make sure to add your device to the list too. Don't provide them wrong details. They are not going to spam your inbox. But details are used to mail you your serial key.
3) Now press on Submit and you will receive a mail from ESET containing your serial number that you can use to avail free 6 months. 4) Now use the links to download the application, but, in case, if you do not getting it then you can download it for ESET for Android from here and then install the app.
For any problems please feel free to comment below....
Note: This is a part of giveaway so get your copy before offer expires. We hate Piracy.
For more free Giveaways, Tips and Tricks 
Like us On Facebook
and
Follow us on Twitter
. You can also join our Official Facebook Group.