Free Crochet Pattern:  Awareness Ribbon Earrings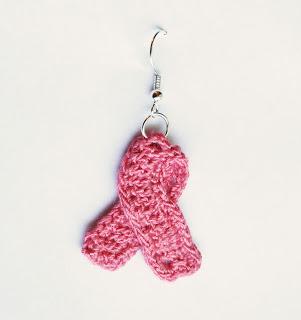 Nearly all of us have someone in our lives who have battled cancer or other severe illnesses.  Personally, a very good friend of my family was recently diagnosed with breast cancer.  After receiving treatment, she is now thankfully cancer free.
I saw a tutorial on Youtube for crochet awareness earrings.  I immediately thought of my friend and wanted to make a pair for her.  I started following the tutorial but I thought the pattern was a lot more complicated than it needed to be.  Instead of following the Youtube pattern, I came up with my own and I am pleased with the finished result.  Though I made these earrings in pink for breast cancer awareness, they could be made with any color crochet thread.  Below is my version of the awareness ribbon earrings.
Awareness Ribbon Earrings
Materials:
Size 10 crochet thread.  For the earrings in this tutorial I used Redheart Cotton Thread in Coral. Size 4 crochet hook (2.00mm) Tapestry needle to weave in ends and add a stitch to hold the folded ribbon in place. Spray Starch (optional)  Jump Ring 7mm 1" Brass Silver Plated Fishook Earring by Darice (You can use your favorite earring finding) Pliers (optional:  will depend on the thickness of your jump ring)
Abbreviations:
st = Stitch sl st = Slip Stitch sc = Single Crochet dc = Double Crochet ch = chain
Begin by making a slip knot and loosely chaining 30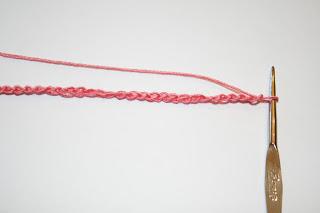 Step 1:  Dc into the third ch from your hook.  Dc in each ch across until you reach the end of the row. (28 stitches total including the beginning chains you skipped)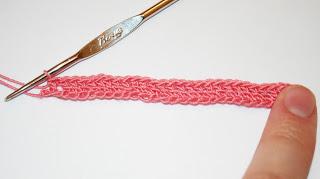 Step 2: Ch 1 and turn, you will now sc around your entire crochet work placing 3 sc sts in each corner.
Step 3:  Tie off yarn and weave in the loose ends using a tapestry needle.
Step 4:  Fold your crochet awareness ribbon over until you are happy with the shape of the ribbon.  Using the tapestry needle and a small piece of yarn, place two stitches through the overlapping sections of the ribbon to secure the ribbons shape.  When you are finished with the stitches, tie off the yarn and weave in the loose ends with the tapestry needle.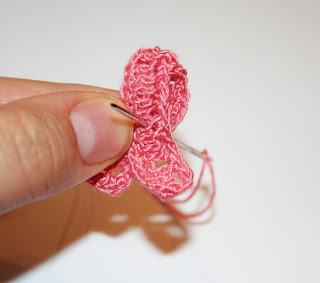 Step 5:  This step is optional. Lay your ribbon flat on top of a towel.  Using your spray starch, lightly spray your ribbon.  Smooth out the ribbon until you are happy with it's shape.  Then, allow the ribbon to completely dry.
Step 6:  Attach the jump ring and fish hook earring.  If your jump ring is thick, you may need a pair of pliers to close the opening.