Free Crochet Earrings Tutorials
   As I mentioned in my previous post, I have been obsessed with crocheting jewelry lately.  It is something I hadn't tried before but after finding a few crochet earring tutorials on Youtube I decided to give it a try.
I love crocheting hats, scarves and slippers but living in Florida I don't get the opportunity to wear them very often.  However, jewelry is something that I can wear year round so I was very excited to give it a try. At first, it was a little bit of an adjustment working with the crochet thread and such a tiny hook but after crocheting my first pair of earrings I was used to the feel of the thin thread and small hook.
I wanted to share the wonderful tutorials for crochet earrings that I found on Youtube.  I have tried both of these tutorials and included pictures of my earrings below.
1.  Pineapple Remix Earrings by OneVirtuousWoman
The tutorial is very easy to follow and I absolutely love how the earrings turned out. My first earring took me a little while to crochet but after getting the hang of it my second earring was done in about half the time.  The tutorial is nearly 27 minutes and shows you each step of crocheting the earrings.
Here are my finished Pineapple Remix Earrings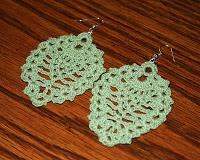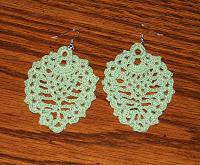 2.  Crochet Web Earrings by TexasYarnLover
I've seen similar hoop earrings for sale on Etsy and always wanted to learn how to make them.  I will admit that I had to watch several parts of this tutorial twice to figure out how to make them.  But, once I got the hang of it the second earring was finished in no time.  The earrings are very quick to make once you understand what to do.  The tutorial shows you every step in crocheting these earrings and how to add the beads.
Here are my finished Crochet Web Earrings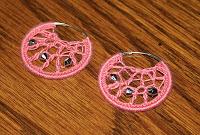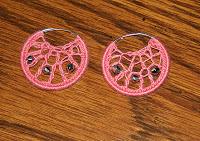 I have several other free crochet earring patterns bookmarked and will share pictures and links to the patterns once I get a chance to try them out.