Le Chic - Freak Out

My extended hiatus from blogger (again) can be explained via a number of dramatic reasons but it's been mainly and plainly due to the fact that Calamity Jane here was living outside of the city for a couple of months.  While I enjoyed the many parks and perks that outer suburbia has had to offer, I'm glad to be back in town and I couldn't have picked a better time to make my return.  After doing nothing much else but clean my house and eat bran flakes for the bank holiday weekend, I'm thrilled to be heading in to the launch of "Freak Out @ 4 Dame Lane" this evening.  My mega creative and ever so stylish pal ,Timi, and his crew at Picture This! - Dublin City have cooked up a creative feast of talent for you to sample. Live music, street artists, comedians and a whole host of entertainment, all kicking off at 7pm.  (Confirmed music acts: Rocher, James OD, Drew, Corrina Jay, Fist Full of Oranges, Shiloh Palace)
Some of the street artists you might gander at Freak Out, also took part in the recent CounterArt exhibition in Counter Propaganda.  There was free Dutch Gold and Rosie's Dew that day...it was a great day.
Picture This! uploads daily facebook photos of Dublin city, both from its team of contributors and *you*.  It's not just pretty photos of skyscapes (although those are grand too), it's every day in the life of *you*, the people of the city, the places you go and what you love most.  Music and art play a huge part of course, and you'll see a lot of amazing and inspiring street art posted every day. Thanks to my facebook newsfeed I've have become more aware of Dublin as an urban canvas; turning my head, opening my eyes and embracing the outdoor gallery, fondly.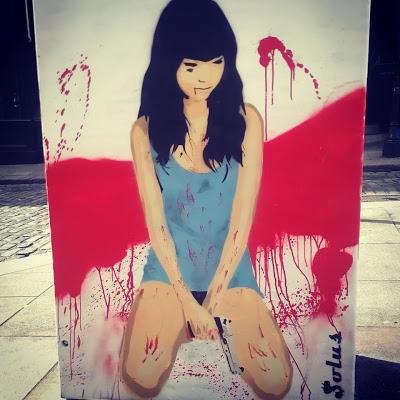 My favorite piece from Solus Street Art.
Recently PT!DC expanded its horizons with a brand new website, which is basically a platform for everything posted on its facebook page.  A weekly bucket list will arm you with the hippest hotspots and events, street art and shtyle.  The Pulse section allows you to take over, with reviews and posts from contributors and bloggers.  *You* can make it bigger, better and brighter. That's what it's all about! #EnjoyYourCity  Freak Out! @ 4 Dame Lane.  Tuesdays at 7.  Buzz it in later. It's ~free~.
If you see this ostentatious fellow in there, check out his socks.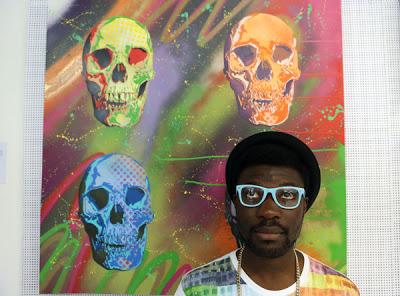 A Fink creation feat. Picture This! Dublin City Editor and CounterArt @ +Counter Propaganda curator, Timi. 
Addendum: Dublin Bus is still on strike so plan ahead if you're traveling in. If you live in the city, sure take a walk! #EnjoyYourCity