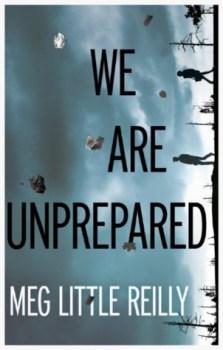 We Are Unprepared by Meg Little Reilly
Published by Mira Books on August 30th 2016
Genres: Fiction, Literary
Pages: 368
Format: Paperback
Goodreads


Meg Little Reilly places a young couple in harm's way—both literally and emotionally—as they face a cataclysmic storm that threatens to decimate their Vermont town, and the Eastern Seaboard in her penetrating debut novel, WE ARE UNPREPARED.

Ash and Pia move from hipster Brooklyn to rustic Vermont in search of a more authentic life. But just months after settling in, the forecast of a superstorm disrupts their dream. Fear of an impending disaster splits their tight-knit community and exposes the cracks in their marriage. Where Isole was once a place of old farm families, rednecks and transplants, it now divides into paranoid preppers, religious fanatics and government tools, each at odds about what course to take.
When I saw this book as one of the BookSparks 2016 Fall Reading Challenge, I was interested in reading the book just based on the cover since I hadn't ever heard of author, Meg Little Reilly.
The main characters are Ash and Pia, who are a young couple who moved from their old life in New York to start a new, simple life in Vermont. Soon after they make the move, reports of a devastating storm begin to surface and threatens most of the country's survival. As we read the first chapters of the story, we really get a good taste of who Ash and Pia really are. It is almost instantly that I begin to dislike Ash and Pia for different reasons.
Pia is a selfish, self-absorbed whiner who is very insensitive.  While Ash was a good guy, he was very weak and allowed his wife to rule without using his own backbone. August is Ash an Pia's 7-year old neighbor who gravitates toward Ash looking for a male role model. 
The story is told from Ash's perspective and is divided into three parts. The first part is the longest and is told over several months before the storm is supposed to land. The second part of the story is when the storm actually hits. Unfortunately, this second part doesn't even start until well over half of the story is told. 
We Are Unprepared was a nice paced story and the author kept me waiting for the horrific storm just like the characters in the book!  It is well written and feels real in a number of ways. I didn't believe the author intended for the characters to be likeable, and they certainly were not. It was interesting to look into the mind and spirit of a small town and a weak marriage.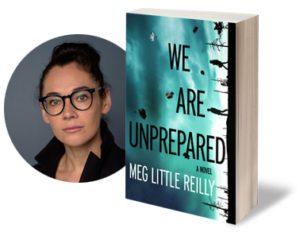 Who is Meg Little Reilly? She tells us:
"I am a writer, environmentalist, crafter, hiker of mountains, swimmer of lakes, and reader of everything.  Before I got serious about writing books, I worked for President Obama as Deputy Associate Director at the White House Office of Management and Budget; and prior to that, as Spokesperson at the U.S. Treasury. I've worked at Environmental Defense Fund, a couple great consulting firms, and had more political internships than I can count. I'm eternally grateful to the smart people at Vermont Public Radio for hiring me out of college. I have a B.A. from the University of Vermont and an M.A. from the George Washington University. So basically, I've had some real jobs too. 
"I grew up in the funky hamlet of Brattleboro, Vermont where I wrote terrible, heartfelt poetry in the woods. After an exciting detour in national politics, I'm back at it in New England.  When I'm not writing, I'm playing outside with my husband Dan and our two delightful daughters."

I received a complimentary hardbound copy of this book from the publishers and BookSparks as part of the Fall Reading Challenge 2016 (#FRC2016) in exchange for this post, which is my honest review and unbiased opinion.
~ ~ ~ ~ ~ ~ ~ ~ ~ ~ ~ ~ ~ ~ ~ ~ ~ ~

It would be great if you would stay connected with me!! You can follow me on Twitter @DebiL1611, like me on Facebook at 2014 and Beyond, circle me on Google+, follow me on Tumblr, Instagram and Bloglovin', subscribe on YouTube, or connect with me on LinkedIn and Pinterest.

Please make sure to visit my homepage and subscribe to my blog for more great posts on running, fitness and lifestyle topics as well as food, product, music and book reviews, and more!