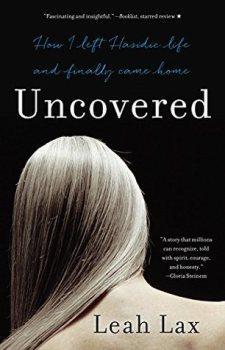 Uncovered by Leah Lax
Published by She Writes Press on August 28th 2015
Genres: Biography & Autobiography, Conservative, Judaism, LGBT, Personal Memoirs, Religion, Women
Pages: 256
Format: eBook
Goodreads


In Uncovered, Leah Lax tells her story–beginning as a young teen who left her liberal, secular home for life as a Hasidic Jew, and ending as a forty-something woman who has to abandon the only world she's known for thirty years in order to achieve personal freedom. In understated, crystalline prose, Lax details her experiences with arranged marriage, cult-like faith, and motherhood during her years with the Hasidim, and explores how her creative, sexual, and spiritual longings simmer beneath the surface throughout her time there. The first book to tell the story of a gay woman who spent thirty adult years in the Hasidic fold, Uncovered is the moving story of Lax's long journey toward finding a home where she truly belongs.
As I shared in a previous book review post, I joined the BookSparks' Fall Reading Challenge this year. Because they are continuing with a theme they developed last year, that means I skipped the freshman year and jumped right into the sophomore year, and I'm now on another BookSparks' Class called Cultural Studies, Memoir Department (which I know you figured out means this book). 
Let me start out by sharing a little about me: I grew up in a suburb of Akron, Ohio.  It was a relatively rural community and we never seemed to have conversations about people's religions. No one family seemed any different than another. Later though, as I grew up and relocated to an eastside suburb of Cleveland, Ohio, I first began to learn about the Hasidic community. On the weekends, if we were in the neighborhood next to ours, you'd see Hasidic jews walking to temple. I didn't know anything more about the community other than how they looked on the outside.
So onto this book review………
In this book, Uncovered: How I Left Hasidic Life and Finally Came Home, however, the author, Leah Lax provides her readers with deep insight into the culture of the Hasidic community while at the same time providing that community with deep respect.
This a beautifully-written and brave book by Leah Lax, which she dedicates to "covered women everywhere". I honestly marvel at her courage and integrity and I appreciate that she is so willing to be transparent in sharing her deep emotions, fears and joys. Ms. Lax details her experiences during her years with the Hasidim, and explores how her longings simmered beneath the surface throughout her time.
Leah Lax was raised in a Jewish immigrant family in Dallas, Texas. Growing up, she learned to crochet and to ride a horse. Ms. Lax reveals how she wanted to escape her parents because she felt her mother was distant and self-centered. She also shares how her father hurt his daughters in an unforgivable way. She was drawn to the Hasidic life by the promises of home, and enters an arranged marriage to man at the age of 19.
Ms. Lax describes how she would dress modestly believing to please God, and wore wigs or scarfs on her head with clothing that would cover her legs, arms and body. Through her religion, she believed that her fulfillment would come through marriage and motherhood. 
I was shocked to learn that the Hasidic customs and rules required that she be ritually immersed in a bath seven days after her menstrual cycle in order to return to a state of purity so that sexual relations with her husband could resume. It was interesting to learn that Ms. Lax bore and raised seven children in this culture, four of which have since left the Hasidic lifestyle.
It wasn't until Ms. Lax began to question her life that she could ultimately have the courage to change her life and become her true self. For anyone who is considering entering the Hasidic community, this book definitely serves as an eye-opening warning. The author's story is very compelling and reveals how someone such as Ms. Lax, an intelligent, modern day woman, could subject herself to the stringencies of the strict orthodoxy.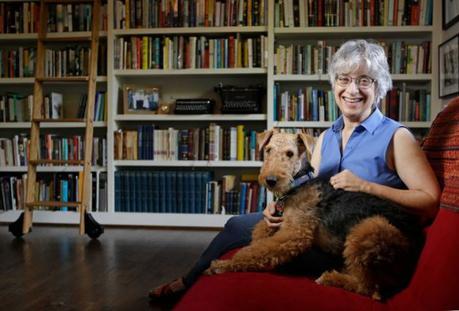 By sharing her story in Uncovered, Ms. Lax invites us into her heart and allows us to see her own contradictions and longings. She takes the risk of our disapproval as well as the possible disapproval of the Hasidic community that took her in and gave her life meaning when she was searching. This is a story that could be any woman trapped in a loveless marriage who stays because of religious beliefs and the sake of the children.
The book is very well written, straightforward and honest. I would recommend it to anyone struggling with feeling trapped or oppressed and their current situation in that it could provide them with hope in their situation.
I received a complimentary copy of this book from the publishers and BookSparks in exchange for this post, which is my honest review and unbiased opinion.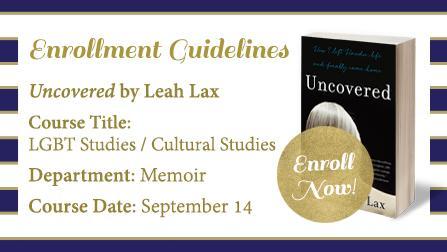 ~ ~ ~ ~ ~ ~ ~ ~ ~ ~ ~ ~ ~ ~ ~ ~ ~ ~

It would be great if you would stay connected with me!! You can follow me on Twitter @DebiL1611, like me on Facebook at 2014 and Beyond, circle me on Google+, follow me on Tumblr, Instagram and Bloglovin', subscribe on YouTube, or connect with me on LinkedIn and Pinterest.

Please make sure to visit my homepage and subscribe to my blog for more great posts on running, fitness and lifestyle topics as well as food, product, music and book reviews, and more!