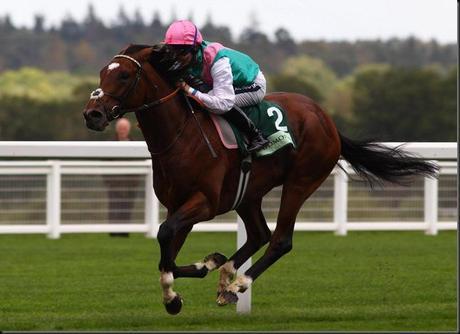 A horoscope for a horse?? Well why not, as they have birthdays, have their own character and live on the same earth as the human population. Frankel is a very very special horse. Unbeaten in 11 top class races and one of the highest rated horses of all time, he has one of his stiffest tests yet today as he enters the 15.40 Juddmonte Stakes at York, taking on a new challenge as he will be running over 10 furlongs, 2 furlongs further than he normally runs. Will he have the stamina to post himself down in some eyes as one of the best racehorses ever to have lived?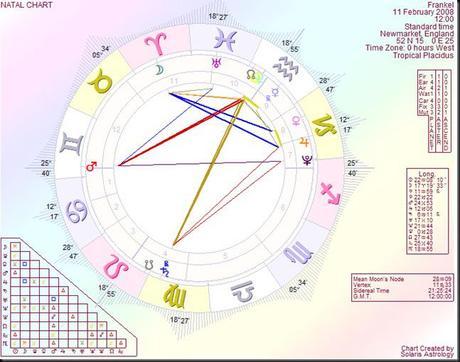 A special horse deserves a special chart, and Frankel has one. Foaled on 11th February 2008, he has a close Sun Neptune conjunction in glitzy Aquarius trine to busy Mars in Gemini and quindecile to planet of ambition Saturn in Virgo. The quindecile shows the potential for dreams (Neptune) to become reality (Saturn), allied to Frankel's speed (Sun trine Mars). Frankel has speed to burn with Mars square to excitable Uranus and opposite to Pluto. Pluto the planet of power sits bang on the Aires point, the initial degree of any cardinal sign, a placement which signifies the potential for fame and glory. This horse is built to win, with the Moon in go ahead and needing to be first Aries harmoniously sextile to the Sun/Neptune conjunction, Frankel's temperament and his physical attributes are in tune with each other. Lucky Jupiter and planet of money Venus conjunct in ambitious Capricorn, so resources and prize money will come the way of his efforts.
The question today will be does Frankel have the stamina allied to the speed he needs to win over 10 furlongs. With Mars opposite to Pluto, this horse has huge resources of energy to burn and Saturn trine to Jupiter shows great determination and staying power. I think he does.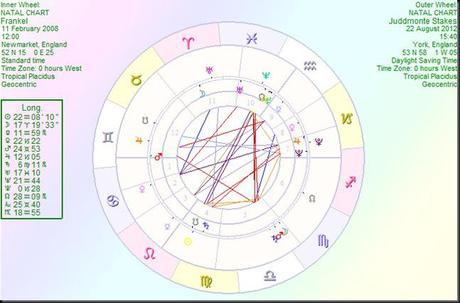 By the time of today's race at 15.40, the transits look very favourable for another win. Transiting Mars and Saturn will be trine Frankel's Sun Neptune conjunction, Mars is sextile powerful Pluto and Saturn will be trine his natal Mars so he will have power, speed and crucially endurance. Transiting Venus conjunct to the fixed Star Sirius today is going to be opposite lucky natal Jupiter and trine to Uranus and transiting Jupiter trine to Mercury. These connections do promise great riches, success and financial gain. Transiting Pluto is trine to Saturn now and will be conjunct natal Jupiter in the next few years, a profitable connection which will probably signify the huge amounts of money his owners will reap in stud fees for his offspring. Finally, the Sun sitting on Regulus, the star of kings makes a trine to his natal Pluto. This is a most powerful connection which could herald fame and glory. On the back of all these good looking aspects, I hope Frankel can notch up another victory, and mark himself down as an all time great racehorse. He really is a sight to behold as race by race he literally destroys his opposition.
On the back of my astrological analysis, I do not advise anyone to place a bet on Frankel today. I do not take any responsibility for any money lost in connection to this article, as there may be less favourable aspects that I have not yet seen, or other horses in the race may have even better planetary connections.