Cuadrilla scales back operation on advice of police, with up to 1,000 more campaigners expected in West Sussex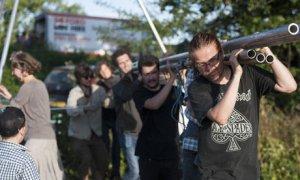 Anti-fracking protesters set up camp near Balcombe. Photograph: Lee Thomas/Demotix/Corbis
from the Guardian
Anti-fracking protesters have welcomed the suspension of an exploratory oil-drilling operation in West Sussex, as the first of hundreds of extra activists started to arrive.
Up to 1,000 more campaigners are set to descend on the outskirts of Balcombe, for the six-day Reclaim the Power camp. It has been organised in opposition to hydraulic fracturing, or fracking, which some fear the energy firm Cuadrilla will go on to conduct after it has completed its exploratory drilling.
In a sign of the growing hostility to fracking, the campaign group 38 Degrees said on Friday it had raised £50,000 in four days to support the protests. It said £30,000 would go to support local groups, £10,000 on training and £10,000 on web infrastructure.
Campaigners were erecting marquees, tents and kitchen and toilet facilities on the campsite, about a mile from the drilling project. Cuadrilla, which has said it is unlikely to turn the site into a fossil fuel production area, has scaled back its operation on the advice of Sussex police amid fears of unrest.
One activist, Luke Johnson, said: "Cuadrilla's announcement that they'll halt drilling is already a victory for us, but it's only a start. We would like to make sure they don't frack in Balcombe, or anywhere else at all."
James Basin, 31, said: "I think Cuadrilla are keeping their heads down. I wouldn't be surprised if they have just broken one of their drills. We are expecting quite a few more people to arrive from London, and obviously we will be visiting the site to see what a mess Cuadrilla has made of it."
The camp's organisers, No Dash for Gas, said there would be "direct action" in the days ahead. It said the camp programme included skills-sharing in campaign building and direct action, as well as talks, assemblies and workshops.
On Sunday, activists are expected to join locals for a march through Balcombe before the main direct action campaigns begin on Monday. They are due to be joined by a ground called Disability Protestors Against the Cuts.
About 40 people have been arrested since the anti-fracking protests began on the outskirts of Balcombe three weeks ago. Cuadrilla has doubled the height of its security fences and installed razor wire.
Francis Egan, the firm's chief executive, has voiced concern about safety on the site and urged protesters intent on breaking the law: "Please don't do it."
He told ITV News: "I'm quite worried about safety on the site. We have a group who are relocating a camp to the site, who have said publicly that they will be taking direct action. It's a small site. There are a small amount of workers. We are doing something that is legally approved and I am worried about the safety implications for our workers, for peaceful protesters."
The Reclaim the Power camp was due to return to West Burton power station in Nottinghamshire, where 21 people were arrested last year. But organisers switched this year's camp to Balcombe, with No Dash for Gas saying it would attract a coalition of climate, anti-austerity and fuel poverty activists.
Asked on BBC Radio 4′s Today programme on Friday whether the company had been advised by police to suspend drilling, Lawrence Hobbs, of West Sussex police, who is in charge of policing the protest, said: "This was a decision made by the company and we think its a sensible decision."
The Tory MP Tim Yeo told Today he thought that local communities should not have fracking operations and renewable schemes imposed on them but should benefit financially. "I think a significant cash benefit needs to flow back … directly back to the people who live in the villages most affected," he said.
He said low-carbon sources such as wind, solar and nuclear needed to be developed further but shale gas presented an opportunity to increase energy security. "I would prefer that we use gas produced here than both from the Middle East or indeed from Norway," he said, adding that it was better than using coal, which produces higher carbon emissions.
A Guardian poll this week found public opinion sharply divided on the issue of fracking: across the country, 44% of voters said they would support fracking in Britain, with 30% against and the rest undecided. But when asked whether they would welcome fracking in their local area, the proportion of supporters fell back to 40%, and the number opposed jumped to 40%.