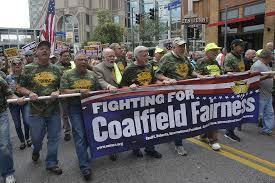 by John Shumway / CBS
Pittsburgh Police made about a dozen arrests Thursday afternoon when opposing groups rallied and protested outside the Federal Building in response to the Environmental Protection Agency holding hearings on new carbon emission standards.
Mine workers, Boilermakers and others — 5,000 strong — followed their permitted route without incident. Even the orchestrated act of civil disobedience at the Federal Building went without a hitch when union members obstructed the sidewalk. But on the final turn back to the Convention Center, the two sides came together.
In all, 14 arrests were made.
"Absolutely it's worth getting arrested for, 'cause they are trying to take our jobs," union member Don Barnett of Montgomery, W. Va., said. "They are trying to take everything we got."
Members of the Sierra Club and others who believe the new carbon emission standards will help the environment clashed with union members who believe the new standards will kill jobs. Mine worker marshals did a good job of separating the passions, but the yelling continued.
Prior to the march, Mayor Bill Peduto talked about the city's efforts to try to avoid any conflict between the groups.
"We're set not only with our own local police, but all the way up to federal-level to be able to protect and allow people to have their First Amendment rights to express themselves," Peduto said. "So, our police are working with other levels of police, and hopefully this is an opportunity for both sides to get their messages out, but to keep it safe for all."
Regarding whether there would be any attempts to keep the two groups away from one another, Peduto said, "There are no physical barriers on that, and I don't know if constitutionally we'd be permitted to do so. I just would hope that both sides would be respectful of each others' opinions."
The EPA will be going until 8 p.m. Thursday and returning Friday for another public hearing on this controversial measure that they're considering.