from Marcellus Shale Earth First!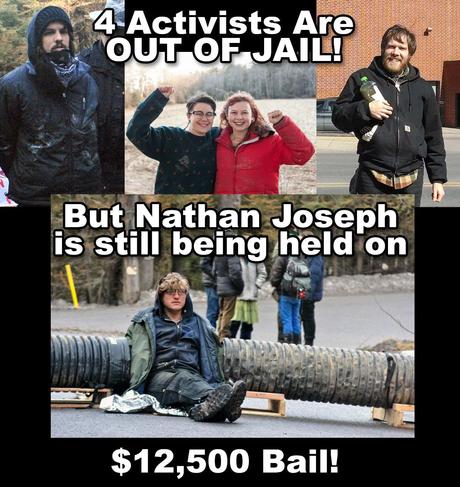 UPDATE:  All 5 activists had court today.  The judge denied a bail reduction for all 5 of the activists.  Some family was able to bail on one person and we were able to bond out the rest, with some pleading with a local bondsman.  Nathan Joseph is currently residing in PA, but still has an Ohio ID and we could not convince any bondsman to accept his bond.  So at this time we are working on getting together his entire bail and we hope to get him out as soon as possible.
Click here to donate to help get Nathan out.
Background:
Activists with Marcellus Shale EarthFirst!, Pennsylvania residents and students took action to halt Anadarko's hydraulic fracturing operation in the Tiadaghton State Forest on Thursday, March 20.
Protestors blocked the access road to a wellpad by locking themselves to pipes of concrete, preventing workers from entering the site for 6 hours.
Dozens more activists held a rally at Anadarko's corporate offices in Williamsport, Pa.
The activists demanded an immediate halt to all plans for new drilling on Pennsyvlania's public lands.
Anadarko's proposed development of the Clarence Moore tract, part of the Loyalsock Forest, has become the center of the grassroots campaign to defend Pennsylvania's remaining wild places. Local residents packed DCNR hearings in protest of Anadarko's plans, leading to the ousting of former DCNR secretary Richard Allan. According to PA DEP's Oil and Gas Compliance Report, Anadarko has been cited with nearly 250 violations over the last five years, ranking the company in the top three percent of violators statewide
Five activists were arrested at the blockade site on the access road and were given the MAXIMUM BAIL for their non-violent acts of civil disobedience.
All five activists reside in Pennsylvania.
Three were locked to a concrete pipe and were each given the outrageous maximum bail amount of $12,500 for misdemeanor 3 disorderly conduct, misdemeanor 2 failure to disperse, misdemeanor reckless endangerment and summary obstructing highways.
The two activists whom have lived in Pennsylvania their entire lives were not locked down but but refused to leave their friends. They were arrested and given the outrageous maximum bail of $10,000 for misdemeanor 3 disorderly conduct, misdemeanor 2 failure to disperse, and summary obstructing highways.
One of them, John Nicholson, lives in the Lycoming County where Thursday's protests took place.
John acknowledges the outrageous bail amount saying "The state is using us as an example to squash future action (against fracking) on a state and national level." John believes that this state suppression will not scare away future activists from protesting against the gas industry on the Marcellus Shale.
All five activists are still in jail at the Lycoming County Prison in Williamsport, PA with a combined maximum bail of $57,500. A legal support team is currently seeking pro bono legal defense but have legal defense for everyone being imprisoned. At this time our friends in jail are seeking bail reductions.
PLEASE DONATE to the MSEF! legal fund.
Funds raised will go toward getting everyone out of jail, lawyer fees, phone calls from the activists in jail,restitutions, ect. If you would like your money to go specifically to lawyer fees, please add your preference in the message with your donation.
Please help us raise additional legal funds to free and defend our nonviolent brave friends who stood up to the violently destructive gas industry with an act of civil disobedience.