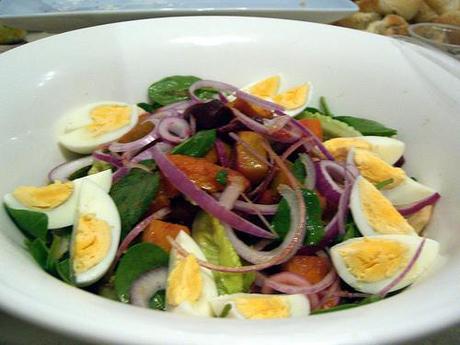 Hardboiled eggs are great but take a little too long to make
People are trying way too hard to be healthy.  They make it seem like it's a difficult job just to find something good to eat, that it requires hours of work and days of preparation to make a healthy meal.  Nonsense!  Healthy meals are easy, quick, cheap and tasty.  Well, at least some of them are.  So here are a few quick breakfast ideas to get your day started right. 
2 eggs over easy, 1/2 tomato chopped up, 1/2 cucumber chopped up – Total preparation, around 5 minutes.  The eggs are amazingly nutritious and the veggies add a bit of crunch plus a lot of fiber.
2 slices of bacon or 2 small links of sausage, 1 cup of fresh greens, 1/2 cup of chopped up red peppers – Again, 5 minute preparation time.  Just cook up the bacon or sausage and chop up the peppers at the same time.  When it's ready, sit down and enjoy.
1/2 cup black beans, 1/4 chopped white onion, 1/2 cup chopped green peppers, 1/2 chopped tomato – Heat up the beans and, when they're hot, just dump the veggies right in there.  It tastes delicious.  Base preparation time is 5 minutes again but if you want to get fancy, you can spend an extra three minutes sauteing the peppers and onions.
1 chicken boneless and skinless thigh, 5 or 6 cherry tomatoes, 1 cup fresh greens – Cook up the chicken thigh in a pan.  Sear it first on both sides and then let it cook on low heat for about 10 minutes.  Then chop it up and put it on top of your chopped greens and tomatoes as a salad topping.  I love seasoning the chicken with curry powder but let your own preferences guide you on that.  By the way, Chicken thigh is way better than breast.  Good, healthy fat content without being too big.
See The Similarities?
Each of these is a basic portion of healthy protein paired up with fresh vegetables.  I like to fry the protein in animal fat (usually left over bacon grease) but olive oil works well too.  You get a solid serving of fat, protein and fiber all in a fast, easy to make meal and that's going to keep you feeling full and satisfied all the way to lunch.
The cost for all of these is relatively low, with most of these meals averaging around $2 to $3 if you add up all the ingredients.  Making them for more than one person is very easy and doesn't usually take up twice the time.  In fact, I sometimes make an extra helping for Julie without spending any extra time at all.