Fougasse.A flat bread we can all fall flat for. Super smashingly sexy on your dinner table. Rustic enough to want to tear with bare hands and dip into gravy or soup. Brushed with garlic butter that makes you want to suck it all off your fingers...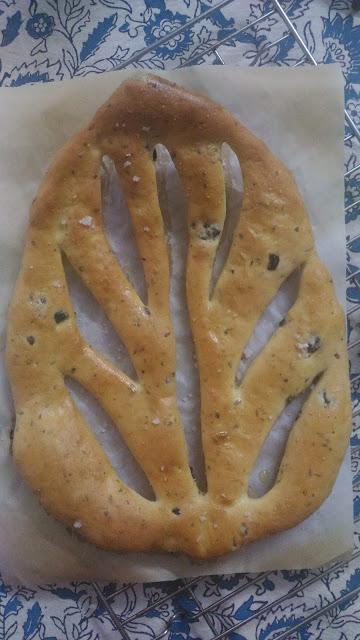 Too much?Its Herby ... made with Herbs de Provence and olives and sea salt and some crisp bits . Some soft and pillowy and some hearty that will soak up the wet stuff. Have you ever dunked your bread in olive oil? I have.And it beats butter.By far.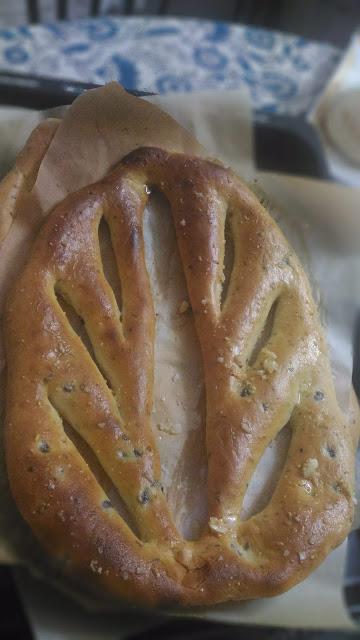 I generally make two types of bread at a go...one preheat is done for , so what the heck!!! Knead some more. These lil babies are Bialys with poppy seeds and caramelized onions. Awesomeness.


In ancient Rome, 

panis focacius

 was a 

flatbread

 baked in the ashes of the hearth (

focus

 in Latin).

[1]

 This became a diverse range of breads that include 

focaccia

 in 

Italian cuisine

, 

hogaza

 in

Spain

, 

fogassa

 in 

Catalonia

, 

fugàssa

 in 

Ligurian

, 

pogača

 in the 

Balkans

, 

pogácsa

 in 

Hungary

,

fougasse

 in Provence (originally spelled 

fogatza

), 

fouace

 or 

fouée

 in other French regions and on the 

Channel Islands[2]

 The Provence version is more likely to have additions in the form of 

olives

,

cheese

, or 

anchovies

, which may be regarded as a primitive form of 

pizza

 without the tomato. -wikipedia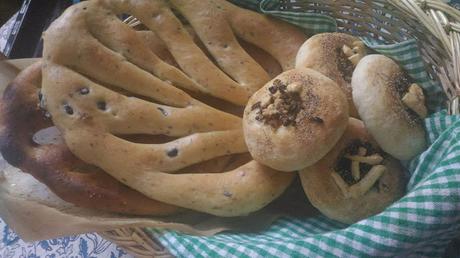 For the


Fougasse French Flat Bread with Olives


You need
165 gms maida or all purpose flour
165 mils water
2 gms yeast almost 1\2 tsp  instant yeast
Mix these together to get a wet dough with a spoon and set aside for 2 hours. Mix this up in the bowl you will be kneading in. Saves the trouble of too much washing up.
Cover. After about two hours it will be risen and looking spongy and beginning to sink in the centre. You know this is the time to knead the dough right about now. So you've made your own yeast for the bread.
 That's your Poolish. Yup , no spelling errors here. It's a wet spongy starter to bread that helps to increase a bread doughs extensibility. Stretch it more. Cool? You learn something new  everyday.
180 mils water
310 gms all purpose flour
25 gms rye flour(I used whole wheat as I don't have rye)
10 gms salt I used sea salt
100 gms olives (bottled ones that are in brine -already salty-drained)
25 mils extra virgin olive oil
1 tbsp Herbs de Provence I mixed rosemary, marjoram, thyme and oregano
1.5 gms yeast
2 tbsp beaten egg or milk to brush the dough.
2 tbsp or more soft butter seasoned with salt and pepper and garlic for the final brushing.
I mixed the olives, olive oil and herbs and kept that aside when I did the Poolish.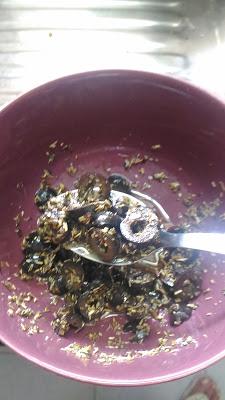 So after two hours ,into the Poolish,i added the 310 gms maida, 25 gms whole wheat flour, salt and all of the olive mix. including all the oil and herbs. And kneaded the dough with most of the water. I didn't use all the 180 mils of water ,almost. I use a Kenwood stand mixer.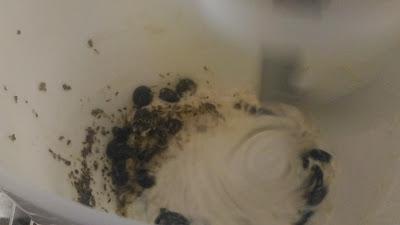 A shaped ball and set aside covered till the dough doubles.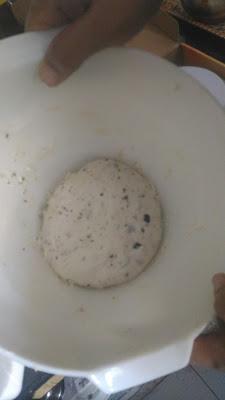 And the dough doubles. And the gluten forms a well networked ...well... net. Its pillowey soft and begging for some love and kneading.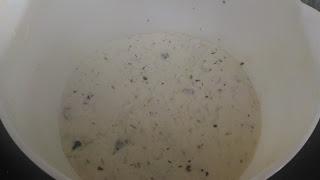 So a quick punch down and cut into 4 parts.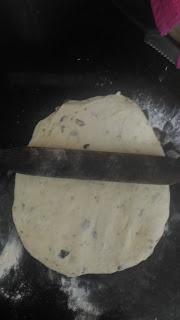 Rolled each part into a large oval shape and placed on a parchment paper. The now almost done fougasse was about 1/4 th of an inch thick. With my bench scraper i made these cuts. You can use a pizza wheel cutter.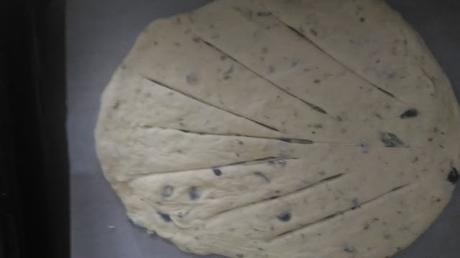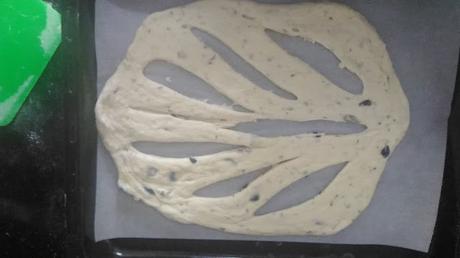 After you've made the cuts gently pull the dough out to open the cuts and to give the fougasse its characteristic ear of wheat shape.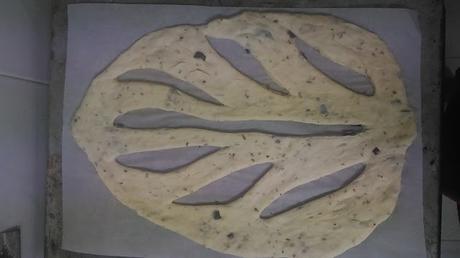 Like so. Now the oven must be preheated to 220C. This bread must be baked quick. Brush the fougasse with a little milk or beaten egg and pop into the hot oven. After 7-8 minutes, turn the fougasse cookie sheet around. 3-4 more minutes and its done. Bring it out and brush up with the melted butter and garlic to soak up the flavours.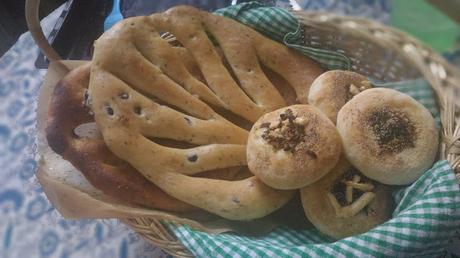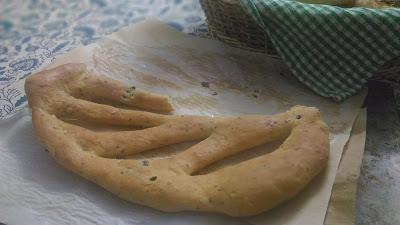 This flat bread must be eaten fresh..so make it in the day time and finish off by dinner. Or tear off the bread and enjoy hot out if the oven.
Also try the Bialys.
This bread can also be made with sun dried tomatoes and tomato paste. But I now need to source it...
Its definitely worth the effort of making it again.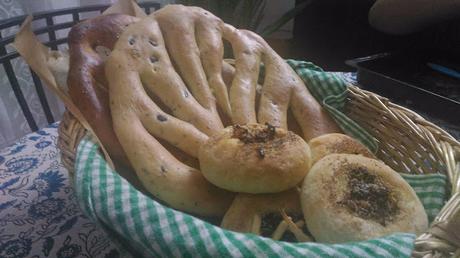 The bread soaks up your soup and coffee well. There's something decadent and wrong in dunking salted, buttery , garlicky , olive filled, herby bread into your coffee...
I feel something so right ,doing the wrong thing....
I feel something so wrong,doing the right thing....
One Republic.
Make this fougasse...even if is just for doing the wrong thing. I've made it again... and dunked it into my cappuccino...

So what are you baking today???