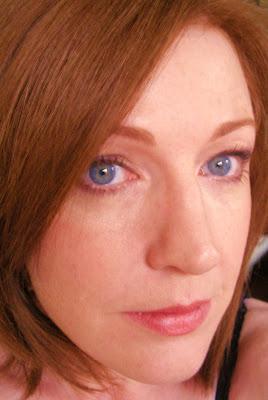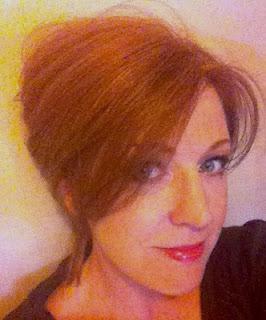 I was really busy today so wanted to create a quick and simple make up look I could take through to the evening.  Also, as it was cold and gray outside in a Wiltshire February I wanted to create some warmth.  I was really keen to try the Eyeko Fat Eye Stick in Chocolate I'd received in my Carmine Beauty Box so used that as a starting point.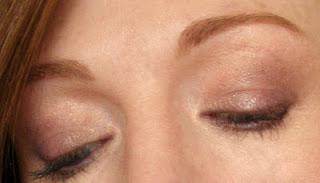 After applying concealer and base I just patted Rubenesque Paintpot from M.A.C over my eyelids, this is a great primer and color in one. Next I reached for the Eyeko Fat Eye Stick in Chocolate and literally scribbled this into my outer V blending with a finger.  I added a touch of Dainty Doll eyeliner pencil in 003 (brown) a quick slick of brown/back mascara and I was ready to go after adding a touch of coral blush (M.A.C  Cremeblend 'Something Special') and lipstick (M.A.C Skew...sadly now discontinued - sob!).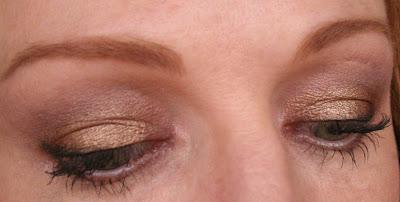 As I had to dash straight out to an evening meeting I recognised the Eyeko Fat Stick could have superb priming and colour intensifying properties so scribbed some more over my day look like a crazed Kindergartener and packed on some eyeshadow (M.A.C Woodwinked) I blended this out with  M.A.C Satin Taupe in the crease and a fine slick of gel eyeliner. I also added a slick of black Mascara and defined my lower ashes with my trusty Daniel Sandler Baby Jet.  (Yes my eyelashes ARE that annoyingly curly without assistance!) For evening I also added a slick of Revlon Llipgloss in Coral Reef.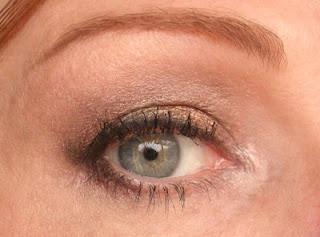 I have small eyes and they've always been semi-hooded so traditional winged eyeliner techniques have never worked!  I don't tightine, just use a white eyeiner (e.l.f brightening eye stick) to my lower waterline. Following the line of my upper lid just makes me look tired and sad! So.....the solution is to just wing up from under your eye!  Smudge up and inwards and voila!  Well, works for me
!
I hope this was useful but as ever appreciate your feedback!
I also know a lot of my reader's Mums are my age, ask them too! xx
Laters Peeps!
Love Lainey 
xxx