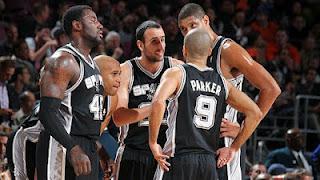 Photo: Getty Images - Nathaniel Butler
- Troy Ballard
While most older teams in the NBA are faltering with the condensed schedule due to the lockout, the San Antonio Spurs are doing the opposite -- rolling through games in championship form.
It's no secret. We always knew how good San Antonio really was. Just because the season is shortened, with games often played in back-to-backs, the Spurs look as good as ever. Tony Parker, Tim Duncan, and Manu Ginobili are playing at the same caliber as last regular season, a year in which they finished with the NBA's best record.
In San Antonio's latest win (now 10-straight), the Spurs managed to overcome an incredibly young and talented Clippers team. In Los Angeles. In overtime. San Antonio was able to capitalize off key mistakes, make incredibly clutch shots, and play excellent team defense down the stretch. Another way of putting it -- they played like the Spurs we all know and love.
I confess, not everyone loves the Spurs.
But as a fan of the game, there has to be some mutual respect for what San Antonio is doing this season. While the national spotlight is focused almost entirely on the Miami Thrice, Linsanity, Lob City, and Lake-Kobe, the Spurs have managed to quietly dominate. Especially over the past 10-games, where San Antonio has started to click on all cylinders, establishing themselves once again as a contender in the West.
At the end of every season in recent memory, it seems that we all sit and wait patiently for the Spurs to finally cave and blow-up their roster. There are always talks about Parker being shipped off in a bundle deal to bring youth to the floor. Without a doubt, some murmurs about Duncan being too old to continue to be effective. And of course, Manu Ginobili's health putting serious question marks around his future with the team.
However, if nothing else, San Antonio has remained consistent. Through the rumors, talks, and doubts, the Spurs continue to win games. The talks of age of players on the court seems like another language to Duncan, Parker, and Ginobili. It's like it doesn't even phase them.
Especially now, with the focus on an entirely other part of the NBA, San Antonio hits the floor every night and rolls. The core on this team doesn't need media attention to know how good they are, they already know.
As the playoff race heats up, the Spurs will get more and more attention. Double that if the team can continue to hold a division lead over the defending champion Dallas Mavericks. But as soon as the Spurs start sharing that spotlight, the general base of the NBA is going to take an entire step back and say, 'we totally underestimated them.'
What it comes down to is this -- the Spurs are an incredibly dedicated and hard working team that is willing to go above and beyond to win games. It shows every night they take the court. It's a strong base team fueled by a desire to win and veteran leadership.
San Antonio may not have
Jeremy Lin
or the Big Three, but the Spurs will keep their money on a slightly older trio in Duncan, Parker, and Ginobili.
Be sure to follow Beard and Stache on Twitter @BeardAndStache, and also Troy @TroyBallards, Like our Facebook page HERE!