from The Examiner
A forest protest in the Central Highlands is costing contractors about $20,000 a day, according to the state Liberals.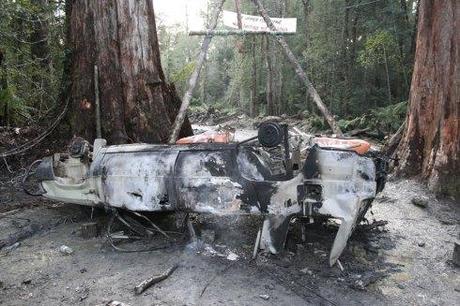 Opposition forestry spokesman Peter Gutwein described the protest, by up to 10 members of environmental group Still Wild, Still Threatened, as a disgraceful act of economic sabotage.
The group is protesting in Butlers Gorge near Lake King William.
One protesters has chained themself to a gate while another climbed into a tree sit.
Mr Gutwein said up to 20 workers were being denied access to their lawful jobs.
"Rather than the weasel words offered yesterday, if Labor were serious about protecting jobs and investment, then they would act to stop this disgraceful act of economic sabotage," Mr Gutwein said.
"What this shows is that no matter how much Labor tries to appease the Greens, it will never be enough. This so-called peace deal won't bring 'peace'. The protests won't stop."
Yesterday, the government condemned the anti-logging protest in the World heritage-nominated forest.
The protesters claim that a small number of coupes were being harvested in areas nominated for protection under the forestry peace deal.
However, deputy premier Bryan Green said the coupes were part of existing harvesting operations to meet contractual wood supply requirements.