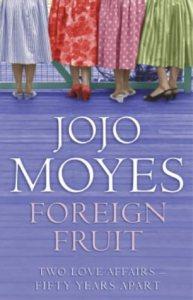 What's it all about?:
Merham is a well-ordered 1950s seaside town – the kind of town in which everyone knows their place (and those who don't are promptly put in it). Lottie Swift, an evacuee who has grown up with the respectable Holden family, loves Merham, while the Holdens' daughter Celia chafes against the constraints of the town. When a group of bohemians takes over Arcadia, a stark Art Deco house on the seafront, the girls are as drawn to its temptations as Merham's citizens are appalled by them. They set in place a chain of events both within the Holden family and Merham itself which will have longstanding and tragic consequences for all concerned. Now, almost fifty years on, Arcadia is returning to life, and its inhabitants stirring up strong feelings again. And prompting more than one person to look into their own romantic history and ask: Can you ever leave your past behind?
What did I think?:
Regular visitors to my blog will probably know that I'm a big fan of Jojo Moyes ever since she came to my awareness with books like Me Before You and The Girl You Left Behind, but recently I have decided to read her back catalog of work, this book being the first. Foreign Fruit was first published in 2003 and is set in two time periods, contemporary and the 1950′s but inter-links seamlessly to form a fascinating and compelling story. We start off in the 1950′s, in the sleepy seaside town of Merham, where everybody seems to know each others business, and keeping any kind of secret is practically impossible. We meet two girls, Lottie, who loves the town, is steady and reliable and has grown up with the Holden family as an evacuee during the war, and Celia, the Holden's flighty and slightly rebellious daughter, who feels restricted by the holds of the town and her family and longs to break away.
This opportunity comes sooner than expected when a little excitement comes to the town in the form of a group of bohemians including an actress (shock horror!) who take over a property called Arcadia in the town and proceed to shake things up a little in the town, much to the horror of its inhabitants. In the end, after a slight scandal, Celia escapes to London, and Lottie remains with the Holden family. Fast forward a little while and Celia returns from London to visit the family with her new fiance Guy, which creates a host of problems for Lottie, and changes everything for both families and for Lottie in particular forever.
We then get a switch in the story to contemporary times, where the author introduces us to a woman called Daisy who has a young child and is having a terrible time. Her long-term boyfriend and father of her child has disappeared unable to cope with the demands of a baby, and Daisy is left alone literally holding the baby. To distract her from her personal issues, she has taken on a commission to re-decorate and re-design a house called Arcadia (yep, the same one in the 50′s story, glad you're keeping up!) as a top class hotel, for a shrewd businessman who has taken over ownership of it. But when the old house comes back to life, some old problems start to rear their ugly heads along with it, and Daisy also finds herself re-evaluating her life and her choices.
Jojo Moyes as always pulls the reader in with a beautiful and convoluted plot that keeps the pages turning without ever becoming dull. I loved the array of characters that were presented and how the author made me feel part of the story rather than an outsider looking in. If I had to choose I would probably say that I preferred the 1950′s element of the story more than the contemporary as the time period just seemed to come alive on the pages, but I loved our contemporary character Daisy and felt sorry for her struggles as a single working mother, which feels very current and relevant by today's standards! I also enjoyed the authors representation of some characters in a sleepy seaside town, where idle gossip and sticking your nose into everyone else's business is standard, to get a bit of entertainment and to relieve the dullness and monotony of life. It did take a little while for the story to get a bit of momentum, but as soon as it did, I was hooked and had to read on to see how it would all play out. While I still prefer Me Before You and The Girl You Left Behind by this author, this is a great read and one I would recommend for any fans of her work.
Would I recommend it?:
But of course!
Star rating (out of 5):

NEXT JOJO MOYES READ: The Peacock Emporium – coming soon!