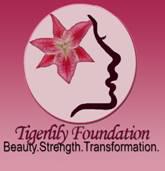 Maimah Karmo, a three year breast cancer survivor,  founded  Tigerlily Foundation during her second round of chemotherapy treatment. Diagnosed with Stage 2 breast cancer  at 32, she had no family history of  the disease. She made a promise to God that if she survived, she would create an organization that would educate, empower, advocate for and support young women affected by breast cancer.
Maimah is determined to make young women, 15-40 years of age aware of the need to monitor their breast health. She founded Tigerlily Foundation to:
Educate, advocate for, empower and provide hands-on services and support to young women (15-40), before, during and after breast cancer.
End isolation among young adult breast cancer survivors.
Improve the quality of life for young adult breast cancer survivors by creating vigilant self-advocates.
Promote ferociously fearless females.
Recently Maimah was recognized for her work with Tigerlily Foundation by the Congressional Black Caucus Leadership receiving an Advocacy Award for her work with young women and breast cancer. In October 2010, Maimah was appointed to the Federal Advisory Committee on Breast Cancer in Young Women, a committee established by the Affordable Care Act, on which she will work to develop initiatives to increase knowledge of breast health and breast cancer, particularly among women under the age of 40 and those at heightened risk for developing the disease.
Since starting Tigerlily, Maimah has dedicated her life to helping young women around the world.  She has appeared in various media outlets, to include O, the Oprah Magazine, Essence, Ladies Home Journal, Cosmopolitan, Seventeen, Good Housekeeping, Harper's Bazaar, Marie Claire, Redbook's Women and Cancer, Cure Magazine and more. She has also been featured on Fox 5, ABC 7, CBS, the Oprah Winfrey Show, Good Morning America and numerous national radio stations.  In 2009, Maimah was awarded a L'Oreal Paris' Woman of Worth award, among others. Maimah is a member of the Lance Armstrong Foundation Young Adult Alliance and the Susan G. Komen for the Cure Advocates in Science program.  She is also a National Breast Cancer Coalition Project LEAD graduate and is an active member of other advocacy organizations.
While breast cancer was an unwelcome experience, Maimah would not give back the experience, saying,   "I've lived more in the past four years than I did the years before, and when I die, I want to know that I made the best use of my "after life" and impacted the lives of as many people as possible."
You can read more about the work of the Tigerlily Foundation by visiting the site at www.tigerlilyfoundation.org