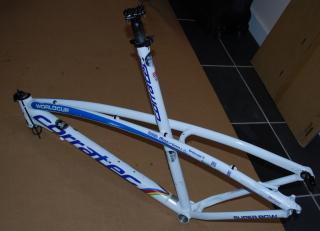 My 44cm medium race frame is for sale. Lots of scratches and scuffs in the normal places but no dents.
Comes with headset, seat clamp and seat post and two spare mech hangers. 
Offers !
The Corratec Super Bow is an amazing ride, point and squirt with a very stiff rear triangle. Id love another but they have stopped making the 26inch version so grab a piece of history !
contact [email protected]
[Show as slideshow]