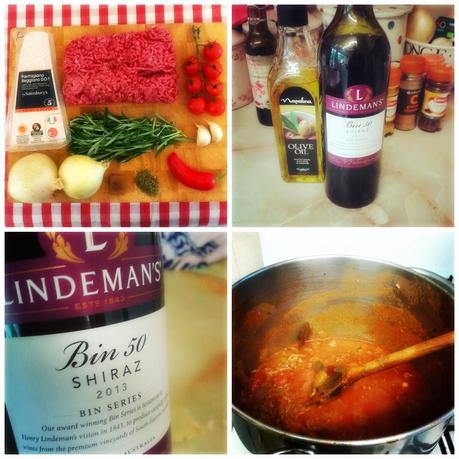 Food photography is a particular skill....one which I definitely don't have!The lovely Sophie over at

What To Cook Tonight

takes the most fantastic food photos for her blog....she makes it look simple but it most certainly isn't!
Even with a really good camera, I don't think I have the knack of capturing the simple deliciousness of a home-baked cake or a basket full of new picked apples, sadly.
Anyway, the lovely people at Lindeman's recently set me a cooking challenge, involving a bunch of yummy ingredients & either one of their red or white wines.
When my children were young it seemed that not a day passed without them eating some kind of pasta meal, but these days we don't seem to eat it quite so often....so it seemed like a good plan to dig out a favorite bolognese recipe & rustle some up for a good Saturday night dinner.
I sometimes make a super simple basic bolognese sauce & have been known to buy one, supermarkets do a pretty good one these days....but, as with most pasta sauces, nothing beats a homemade one.
A good bolognese sauce is, to me, a hearty accompaniment to any kind of pasta....good beef mince, good tomatoes, plenty of fresh herbs & some really good red wine, in this case Lindemans gorgeously rich Bin 50 Shiraz.
I used the recipe here, everyone loved it....and I wondered, yet again, why I ever buy supermarket sauces!
Last winter I made a fabulous boeuf bourguignon - it took forever to make & cook but was so worth it, I am going to make it again & think this particular wine would be perfect for it.This time of year is most definitely my favorite time of the year for cooking :)


Ingredients were provided for this post by Lindemans.....

what I cooked was my own idea & all word/photos/content are my own.