I had this for lunch and dinner. In one day. It is that good.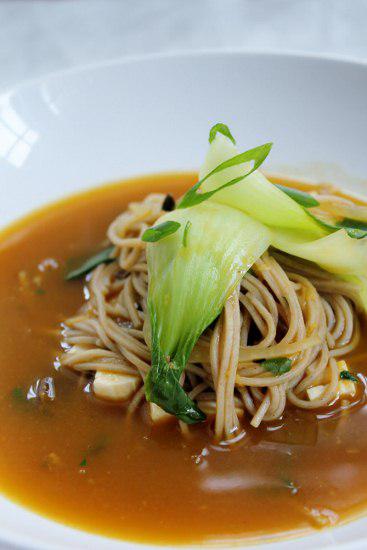 Talk about refreshing. I had the beginning of a cold or the end of a cold – I have felt 'stuffed up' for the last couple of weeks, so I'm not sure if it is coming or going. Don't be worried about me. I'll live.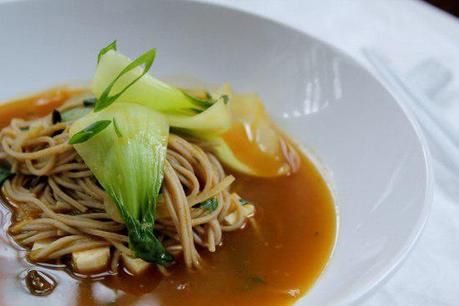 Back to the soup. It made me feel so much better. The fresh ginger (I just typed fresh finger

), soy and hoisin kicked the 'stuffiness' out of my system. Plus the heat from the Sriracha knocked everything out of the door.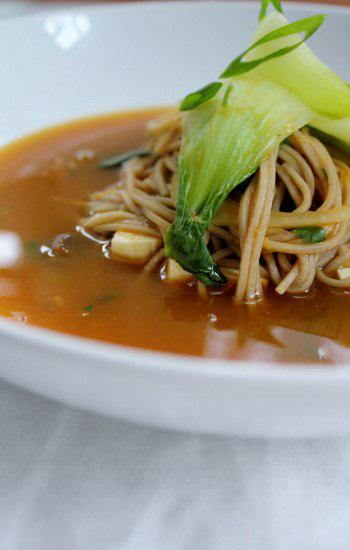 Enough of this sick stuff. Just look at this.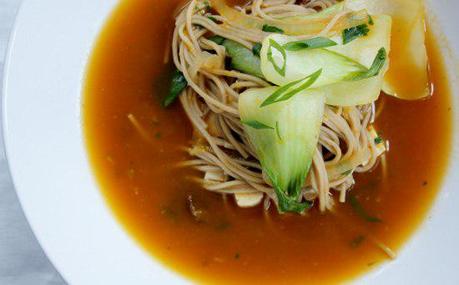 I want more right now..but it is the morning, so I might have to wait.
Soba Noodle and Tofu Soup with Baby Bok Choy
makes 1 1/2 quarts
Ingredient:
1 tablespoon dried crimini mushrooms
1/4 cup hot water
1 quart vegetable stock
1/4 white onion, sliced
soba noodles (a quarter – the coin- amount of noodles)
1-2 baby bok choy's, separated into individual pieces
1 heaping teaspoon freshly grated ginger
1 heaping teaspoon oyster sauce
1 tablespoon hoisin sauce
1 tablespoon soy sauce (low-sodium)
1 squirt (or more) Sriracha
1/4 of a extra firm tofu block, cut into small cubes
1 heaping pinch of freshly chopped cilantro
1 scallion, chopped
Method:
1. Reconstitute the dried crimini mushrooms in hot water, in a small bowl. Let sit.
2. In a medium-sized stockpot, pour vegetable stock. Bring to a rapid simmer. Add onions. Bring back to a rapid simmer and add soba noodles. Cook noodles for 4 minutes. Remove crimini mushrooms from liquid, chop finely. Add 1 tablespoon of the mushroom liquid to the vegetable broth and noodle mixture on the stove. Add the chopped mushrooms as well.
3. Then add ingredients bok choy through Sriracha. Mix to incorporate sauces. Cook for an additional 1 minutes or until soba noodles are done.
4. Turn heat off. Add tofu and stir carefully. Add half of cilantro and chopped scallion. Serve in large warm bowls. Garnish with remaining cilantro and scallion. Enjoy hot!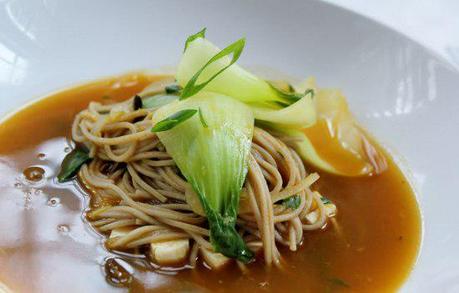 Advertisement