Want a side dish to your main dinner entrée, in 15 minutes?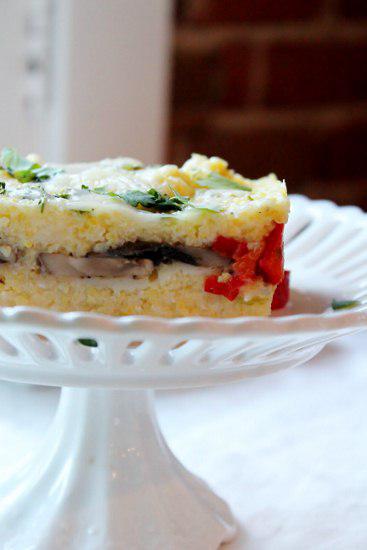 Here it is. Creamy polenta. Roasted red peppers. sautéed mushrooms. Spicy pepper-jack cheese.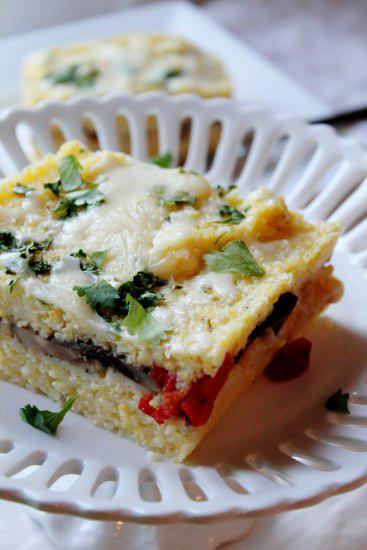 And cilantro.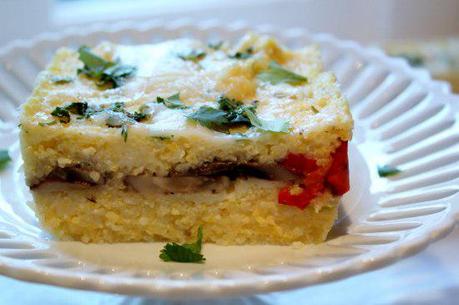 Pepper jack gives this a nice bit without it being overly spicy. Great combination with the mushrooms and red peppers.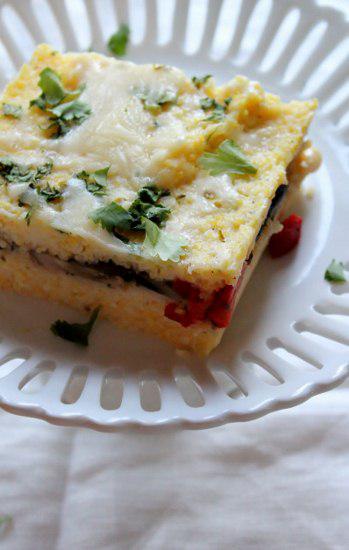 Roasted Red Pepper and Mushroom Polenta Layers
Yield – enough for 4 sides
Ingredients:
2 cups water
1 cup milk
1 cup polenta
1 tablespoon butter
4 oz. sliced mushrooms
Kosher salt
Freshly ground black pepper
1 large roasted red pepper, canned and diced
2-3 tablespoons chopped cilantro
3/4 cup pepper jack cheese, grated
Method:
Preheat oven to 400 degrees.
1. Combine water and milk in sauce pot over medium high heat. Bring liquid up to a rapid simmer (between a boil and a slow simmer). Meanwhile, melt butter in small saucepan over high heat. Add mushrooms and a pinch of salt and pepper. Saute quickly until edges of mushrooms are brown and most of their liquid is evaporated. Turn off heat.
2. Once the water and milk mixture is up to a rapid simmer, slowly pour in polenta, while stirring with a whisk constantly. Turn heat down to low. Continue to stir so that the polenta doesn't get lumpy. Add a healthy pinch of salt and pepper. Whisk until all the liquid has been absorbed by the polenta and it starts to become thick. Turn off heat. Stir in half of cheese into the polenta.
3. In a prepared dish (see below picture) coated with cooking spray. Pour half of the polenta into the bottom of the dish. Smooth with a rubber spatula to create an even layer. Add mushrooms, red pepper, sprinkle of cheese and 1 tablespoon of cilantro. Add remaining polenta to the top. Sprinkle top with remaining cheese and more cilantro, if desired.
4. Bake for 6 minutes. Let rest for 2 minutes before slicing. Serve right away. *great the next day too, for a light lunch.