I thought it had been absolutely ageesssss since I wrote one of these posts. Nope. Turns out it's not even been two months – I've just eaten SO MUCH good food recently I can't wait to share it. From some amazing meals out to some products I've been sent to try – and of course some home-cooked meals it really has been foodie heaven for a couple of weeks.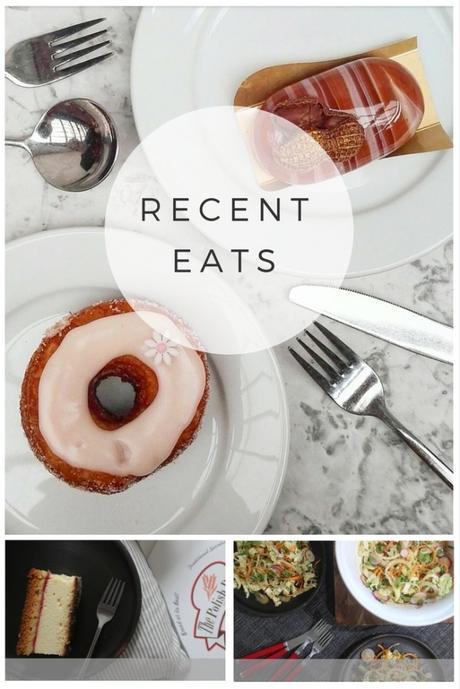 Coffee*
Lyon's recently sent me some of their instant coffee bags, and they're a revelation. Decent coffee with a good, smooth taste and just so easy to make. Okay, so I still prefer a flat white with some pretty patterns in the foam, but a good and cheap(er) alternative!
Kale, Red Onion & Feta Frittata
This has been one of my go-to lunches recently. Healthy and filling, it travels well in a lunch-box and is super easy to make. Plus it's just so, so delicious. Far more than a sum of it's slightly boring parts, I reckon it would also make a fabulous quiche filling…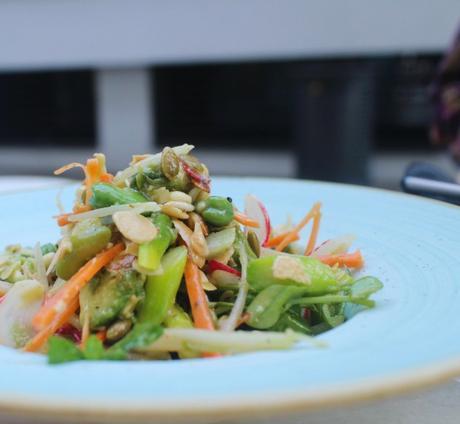 A post shared by Chloe Ellen (@ninegrandstudent) on Jul 2, 2017 at 4:01am PDT
Bistro Vadouvan, Putney
Let's start with the highlight – and what a highlight it is. This French-Indian restaurant opened a short (<5 minute) stroll from our current flata month or so ago, and we finally visited at the weekend. A little pricey, particularly my starter, but absolutely delicious. One of the best meals I've had in London, and rivaling our meal at Skosh back in April. We'll definitely be back – I'll post a full review soon but it's highly worth a trip out to Putney just to eat here.
Rocksalt, Market Harborough
A family meal to celebrate the end of my sister's exams (how is she doing the first year of A-Levels already?!), we slipped out of our Italian-chain comfort zone and headed to Rocksalt. Specialising in fish, we're not entirely sure why we've missed it before but we'll definitely be heading back. My Haddock Scotch Egg (with spiced cauliflower puree) was divine – the only complaint was the seafood risotto with my main was over-cheesy. A rare complaint from me! Whilst I'm not planning a full review, there will be some Instagram shots posted soon.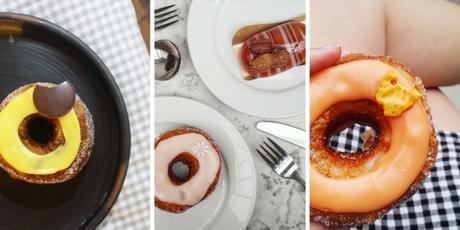 Dominque Ansel's Cronuts
Other than missing one month, I've been really enjoying my 'New Year's Resolution' of trying every month's Cronut flavor. I particularly enjoyed May – Blush Peach and Elderflower was a gorgeous combo. Just a shame that their cafe appears to have had a bit of a drainage problem every time I visited. Periodic wafts of smell aren't exactly what I want when I've spent a not inconsiderable amount on some cake…
Homemade Chicken Satay
One of my favorite meals, I'd been meaning to try making my own Satay chicken for ages. Turns out its super-easy, amazingly tasty and I wish I'd done it sooner. As soon as I've managed to make it look half-pretty I'll get my recipe live!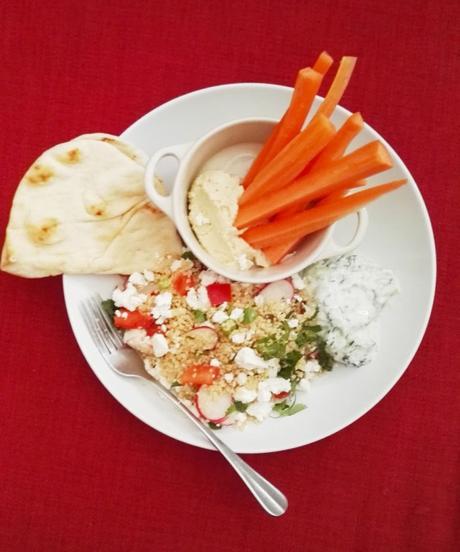 Meze Lunches
One of the things I LOVE in the hot weather is pick-y lunches. Bits and pieces I can nibble on, nothing too heavy (though I obviously end up eating much more than I would normally). My study-day lunches have been looking a little bit like the above – some kind of salad, hummous, carrot sticks, flatbread. Some cold meat if I've got it, some cheese. Basically anything I can get my hands on.
Tandoori Chicken, Mango & Lentil Salad
One of Jamie Oliver's recipes (they always work so well), and we managed it in 20 minutes – so not bad for a fifteen minute meal! Spiced and flavourful lentils, a mixture of spinach and shaved carrot and cucumber, grilled tandoori chicken thighs and a gorgeous turmeric-mango-yoghurt dressing. Just delicious. I'm playing around with some of the flavours and a lunchbox-friendly version will be on the blog soon!
La Chapelle, Spitalfields
I've added another Michelin Star to my list, and this French classic was a goodie. The signature starter of Crab Lasagne was utter perfection – silky, buttery and just so, so good. My tea-smoked fillet of beef was a little overdone for my liking but it's bone marrow, mash and onion puree accompainments were gorgeous. The dessert was back to faultless, with a super-light strawberry souffle and basil ice-cream. If only the service had lived up to the food (I found the head waiter to be a little rude with his allergy comments).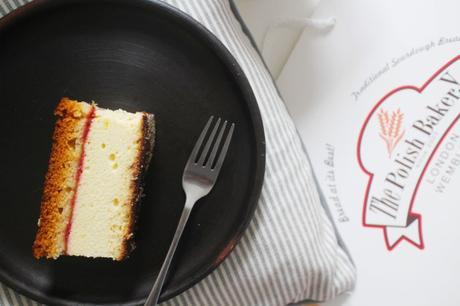 Vienna Cheesecake*
The Polish Bakery recently sent over some goodies for us to try. Whilst I've really enjoyed their Chia Seed bread (the Rye & Prune is scaring me slightly – I've no idea how to serve it or what to have it with!), for me it was their Vienna Cheesecake which stole the show. Soft sponge, a light filling, a spot of jam and a thin layer of chocolate. It was addictively good.
And of course there was my Cinnamon Buns too (some of the best things I've ever baked!) It's a wonder I've not put on more weight that I have done over the last couple of months – from now on in I'm on a strict regime of healthy eating. No more Vienna Cheesecake for this gal!
What 'good eats' have you enjoyed recently?