Did you know that some foods considered classic American cuisine you may have enjoyed in restaurants (or tried at home) were inspired by international opera stars? 
Luisa Tetrazzini, an Italian coloratura, renowned for her portrayal of Violetta in La Traviata in the US, was immortalized by the dish Chicken Tetrazzini (chicken, pasta, and mushrooms baked in a creamed white wine sauce). It is widely believed to have been invented ca. 1908-1910 by Ernest Arbogast, then chef at the Palace Hotel in San Francisco, California, where Tetrazzini was a long-time resident. However, other sources attribute the origin to the Knickerbocker Hotel in New York City. But then, New Yorkers want to get the credit for everything scrumptious.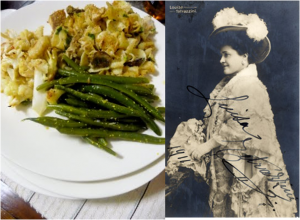 Luisa Tetrazzini and the dish named for her
Spaghetti à la Caruso was a pasta dish served with chicken livers and tomatoes, named for you-know-who, who had a twenty-year career at the Met. 
Peach Melba, a dessert I've only ever ordered in restaurants, which was a favorite of my father-in-law's, was named for the Australian colorature Nellie Melba. Peach Melba was believed to be invented in 1892 or 1893 by the French chef Auguste Escoffier at the Savoy Hotel, London. Of course, what makes Peach Melba–besides the peach is the melba sauce–a red raspberry confection. Simply yummy. Melba toast was also named for Nellie Melba, who was someone to see and love. Composer Saint-Saëns wrote the opera Hélène (based on Helen of Troy) for Melba. Peach Melba is so popular in the US, January 13 has been set aside as National Peach Melba Day.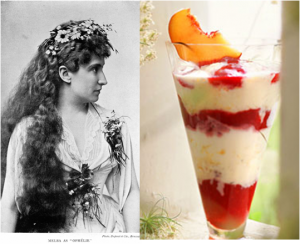 Nellie Melba and the dessert named for her
These days, I can envision any US dishes inspired by stars would have names like Hamburgers Hilton, Goose Gaga, and Shallots Sheen.