Follow @FashiontoFood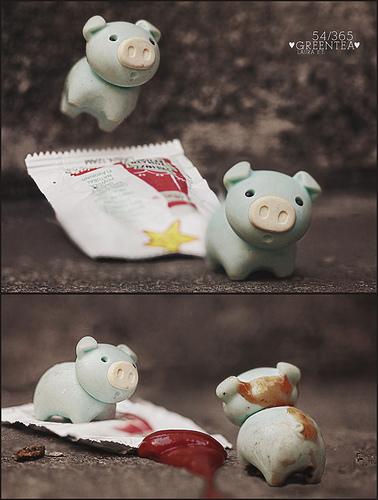 Piggie Food Fight
Photo courtesy of GreenTea
Have you ever been in a food fight? You know, when a bunch of misfits start throwing around food that's oooey, gooey, mushy, drippy, slushy, soupy, icky, leaving your clothes and hair smelly and disgusting. Food fights are different than someone pouring a can of soda down your head or you accidentally squirting ketchup on your shirt. I'm talking about total and utter chaos in a cafeteria. Part of me is hoping (secretly) that one day someone at the cafeteria at work will fling a pizza or toss a handful of mashed potatoes and scream, "foooooood fightttt." Most likely, if that were to happen, I'd make a run for the door since my more sensible, mature side thinks it's gross, childish and a terrible way to waste food when so many people are starving to death around the world. Perhaps then, the most ideal way for me to enjoy a food fight is watching
other people experience it.
And thanks to the wonderful world of entertainment, there are plenty of examples. Here are some of my favourite food fight scenes...
WHIP IT ... The ladies keep it classy.
ANIMAL HOUSE... Belushi is hilarious.
This music video nails an epic food fight. TRAVIS - Sing
HOOK - Messy, messy, messy.
There is one food fight that I'd like to add to my bucket list. La Tomatina in Spain. It is quite possibly one of the most unique experiences on this planet. Think it would be pretty wild to be there (better than the bulls running wild).
Any good food fight scenes I've missed?
Enjoy!