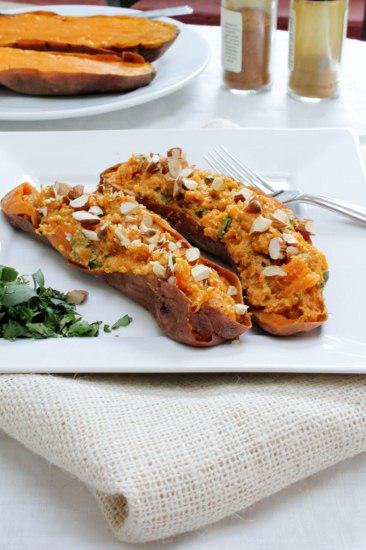 If you make this, you will thank me.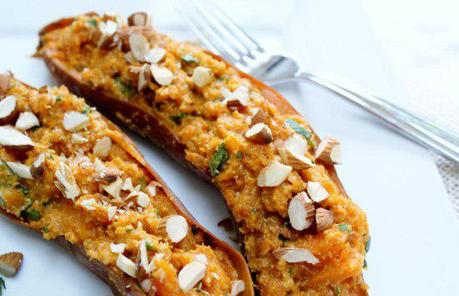 I'm snacking on almonds a lot lately and adding them to the top of these sweet potatoes did the trick. It was the prefect consistency.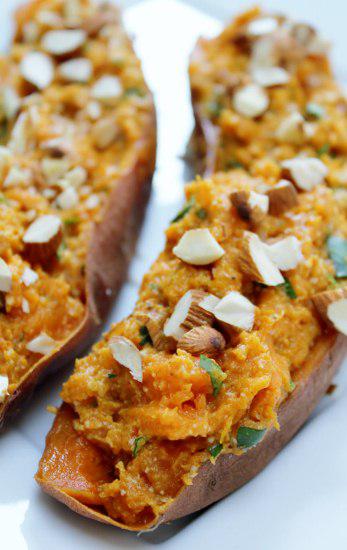 Silky sweet potato, salty cheese, spicy cilantro and crunchy almonds. I tried to use a lot of 'y's' in that sentence.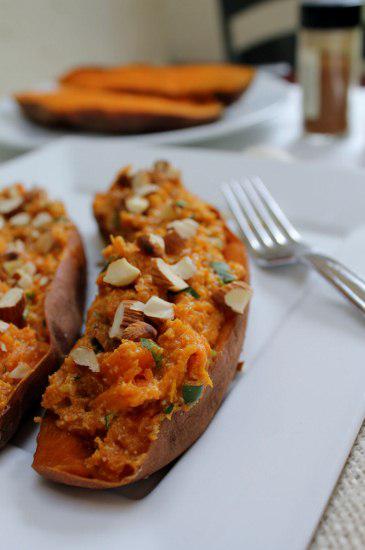 These potatoes were large and long. I had one for lunch the other day and I'm going to have the other for lunch today.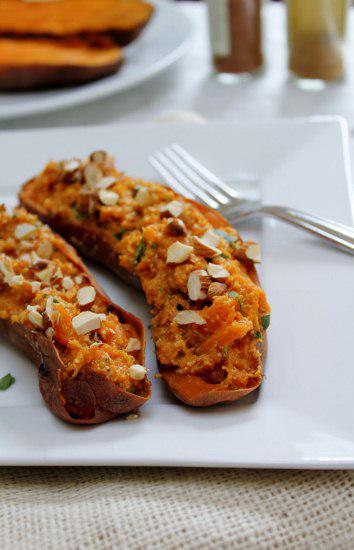 Twice Baked Sweet Potato with Curry and Almonds
Makes enough for 2 portions, 1/2 potato each
Ingredient:
1 sweet potato
1/2 cup plain yogurt (Greek works best)
1 teaspoon medium Yellow Curry powder
1 teaspoon Tikka Masala
1 tablespoon Cilantro, roughly chopped
1/4 cup Parmesan cheese, finely grated
1 pinch Kosher Salt
1 pinch freshly ground black pepper
few drops Sriracha
6-8 whole almonds, rough chopped
Method:
1. Bake/Roast whole sweet potato in oven at 375 degrees for 45 minutes or until tender to the touch. Remove and let cool.
2. Once cool enough to handle, cut in half. Remove center of potato and place in bowl. Be careful to not rip the skin (it is helpful to leave some of the 'meat' inside to keep the sides/skins in tack).
3. Combine all ingredients together. Add mixture back into each potato skin. Sprinkle chopped almonds on top. Bake for 10-15 minutes or until center of mixture is warm/hot and almonds are toasted. Eat while it is warm.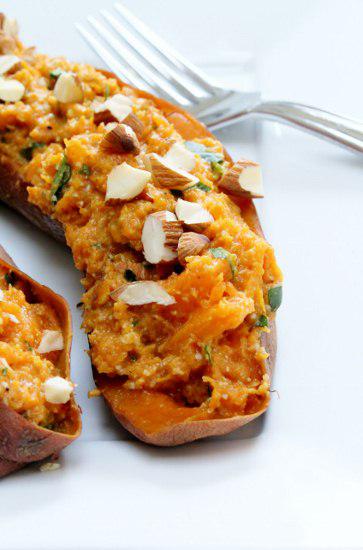 Advertisement