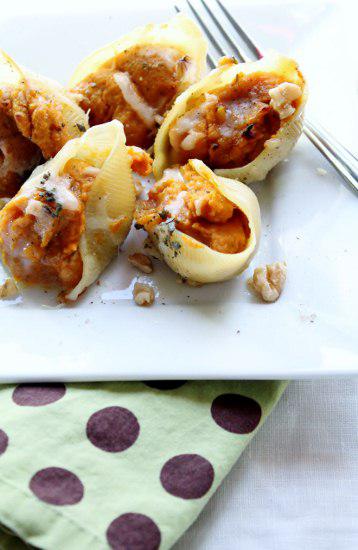 I can't stop thinking about butternut squash. and butter.
I think my clients are getting a little bored. I've been 'hiding' it in their meals…I think they are catching on. Seriously, this is a sickness. A Butternut Squash Intervention will be happening at my house very soon. Until that happens, I'll continue to make these…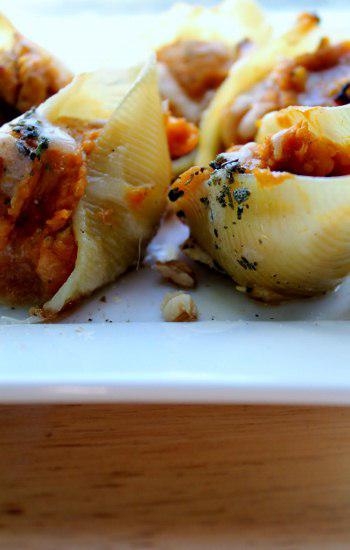 Goat cheese. Butter. Pasta. Mozzarella Cheese. Butter. Walnuts. more Butter. and the key ingredients, butternut squash and sweet potatoes..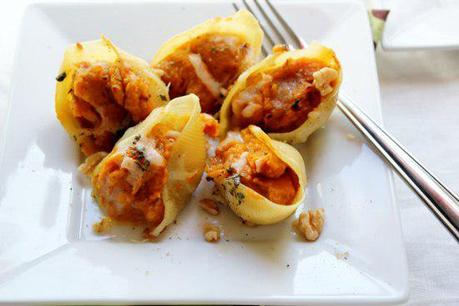 This isn't a meal if you are cutting calories. It is the holiday season, folks and winter is upon us. Pack on some warmth for the coming months. This meal will help you accomplish that.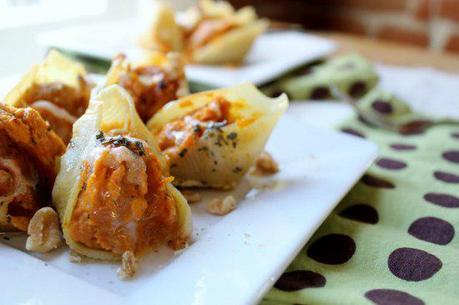 I can't imagine any other 'sauce' on these delicious shells. Sage, freshly ground pepper and butter…what is not to like.
Butternut Squash Pasta Shells with Sage Butter
Ingredients:
16-18 pasta shells, cooked according to package
4 tablespoon salted butter, divided
1/4 white onion, small dice
1/2 roasted butternut squash
1/2 roasted sweet potato
2 tablespoons crumbled walnuts, more for garnish
3 pinches of ground/semi-ground dried sage, divided (fresh works too)
2 tablespoon vegetable stock
1 heaping tablespoon goat cheese
Kosher salt
Freshly ground black pepper
1/4 mozzarella cheese, grated
Method:
Preheat oven to 425.
1. While pasta shells cool slightly, sweat onion in 1 tablespoon of butter on medium high heat. Stir occasionally; cook for 3-4 minutes until soft.
2. In a food processor, combine onion, butternut squash, sweet potato, walnuts, 2 pinches sage, vegetable stock, goat cheese and a pinch of salt and pepper. Process until smooth. Taste test – add more salt and pepper, if needed.
3. Melt 1 tablespoon of butter. Pour into 9×9 baking pan. To assemble shells, add 1 tablespoon of filling to each shell. Place each filled shell in baking pan on top of the melted butter.
4. Melt 1 tablespoon of butter and 1 pinch of sage together. Pour over filled shells. Top with grated mozzarella cheese. Bake for 10-12 minutes, or until filling is hot.
5. Melt the final 1 tablespoon of butter with some ground black pepper on high, until it is foaming. Pour over shells once they are plated. Add a few crumbled walnuts too!