I know. This looks amazing. It tastes amazing too.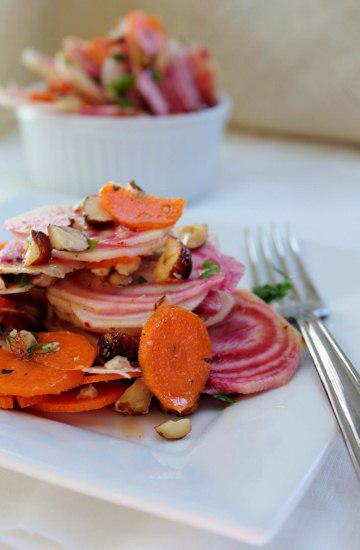 Summer Salad, you say?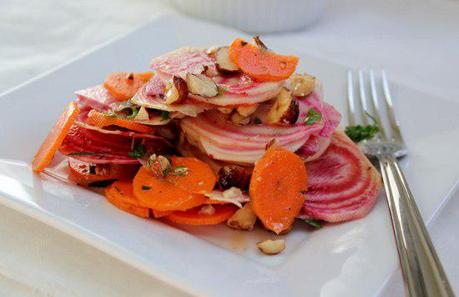 They are root vegetables so I am in the right season. When I look at this I think of summer though..but back to winter because these striped beets remember me of Christmas. Yes, I've had a lot of coffee today.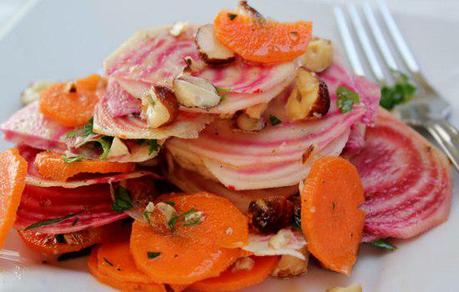 And to clarify, the beets are not Asian. The salad is Asian because of the sesame oil and the rice wine vinegar. I don't want you going to the grocery store and asking for Asian beets. That would just be awkward.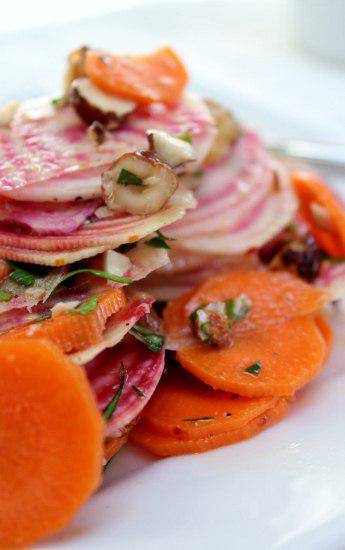 This picture above is a bit blurring in spots, but look at where it is focused. The layers of beets! This makes me smile.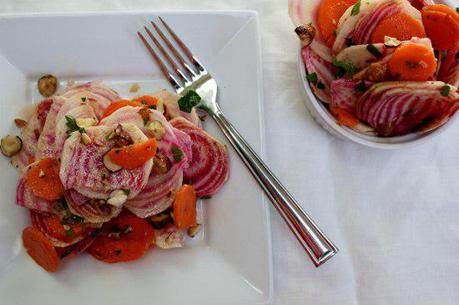 Asian Striped Beet and Carrot Salad
adapted from Epicurious
Yield – 2 large salads or 4 side salads
Ingredients:
2 tablespoons hazelnuts, roughly chopped
1 tablespoon fresh lemon juice
2 tablespoon grape seed oil
splash of rice wine vinegar
1 1/2 tablespoons sesame oil
Kosher salt, to taste
freshly ground black pepper, to taste
3 small-medium striped beets, cleaned and peeled
1 medium carrot, peeled
1/4 cup loosely packed flat-leaf parsley
Method:
1. In a small bowl, combine hazelnuts through sesame oil. Mix to combine. Add pepper and salt to taste.
2. Using a mandoline on the thinnest setting, slice beets and carrots. Add sliced vegetables to dressing mixture. Toss gently with hands (or spoon). Add chopped parsley.
3. Let sit a free minutes before serving. Can be made the day before serving - the flavors are all the more developed.