Suryagarh
 doesn't give you meals, dishes or food items, it gives you experiences, memories and treasures. Food and experiences play a major role during your stay here, and that's one of the major factors that make 
Suryagarh
 stand out as a hotel. It's not even funny how I can recall every single minute of my time here during those four lovely days, and how I remember every single meal of mine so distinctly. Maybe that's the reason I still go around recommending 
Suryagarh
 to any and everyone I come across who wants to go out for a holiday/mini vacation. Read about the rooms at Suryagarh and the hotel in another post
here
Signature Thali and cocktails at Draksh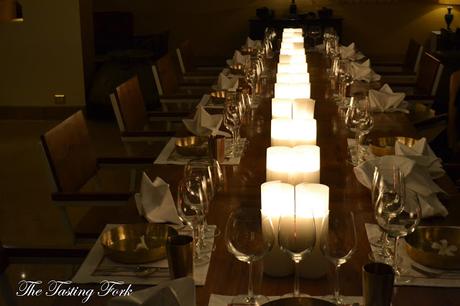 My first night at Suryagarh saw cocktails and dinner in their bar, called Draksh. Tables lit up with small candles, cutlery set up in the most royal way, for a Suryagarh Thali experience. Started off by getting some drinks from the bar and enjoying our appetizers- Dahi Ke Kebab and Pathar Kutta Gosht. The Dahi Kebab was coated with sago and was very crisp. But the Pathar Kutta Gosht was the winner for me. Hand pounded goat meat coated in a thick gravy masala consisting of strong aromatic flavours of cardamom and cinnamon, served with three accompaniments- walnut chutney, garlic chutney and ker pickle. Ker, a specialty of Rajasthan had a nice sour tinge to it, but the rich walnut chutney was my favorite pick. Came in such cute little cutlery!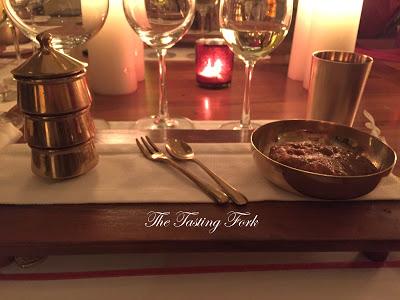 The thali was brought to the table with a beautiful orange cloth covering it, with dishes in small katoris under it. Creates that excitement in the air- lifting the cloth from the thali and finding what's underneath. Maas Ke Kofte and Murgh Mokul were the two non vegetarian dishes in the thali. The chicken was cooked in a thick rich cashew gravy, and the mutton in a thin flavor curry. So beautifully falling apart in morsels, the mutton was superlative! Vegetarian dishes saw Dal Baati Choorma, the Rajasthani classic which was super soft and yummy, and Khada Lasooni Palak which was just as finger-licking good as the non vegetarian fare. With our tummies full, we thought this was it, but then came small portions of Jaisana Pulao in earthen pots, sealed with atta. So so aromatic, the vegetables were standing out in the biryani with their nice soft texture and the strong flavor of cumin. A meal doesn't end till there's no dessert. Badaam Ka Halwa in its most excellent state, not overly sweet but just right, served with Khajoor ki Rabri to balance the richness of the halwa. A beautiful thali experience in the comfort of the hotel.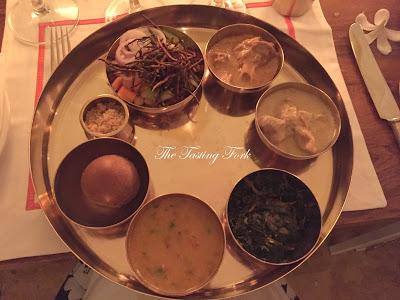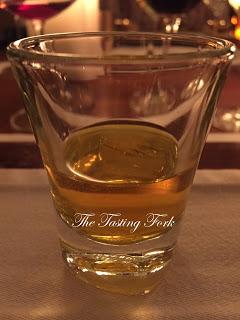 The hotel also made us try Kesar Kasturi, a liqueur that's one of the finest in India and not easily available outside Rajasthan. Kesar Kasturi is vodka based with strands of kesar inside the liqueur, and this is one of those very few liqueurs that have been given the royal status in India. Such delicious liqueur! This entire thali experience, minus the alcohol and liqueur, is available at 

Suryagarh

 for all guests at a price of 2400 plus taxes.
Halwai Breakfast
Halwai Breakfast is a very famous meal at 

Suryagarh

, where an 11-course breakfast that was served to the Halwais during the silk route period is served to you in the central courtyard. The central courtyard is 

Suryagarh

's crown I would say. It gives you a 360 degree view of the interiors of the hotel, with a garden and pretty marbled flooring with patterns. Mornings in the central courtyard are spent with peacocks, pigeons, rabbits and sparrows, with a person playing the flute that sounds just mystical. And imagine having breakfast amidst all of this. The experience just goes up by manifolds.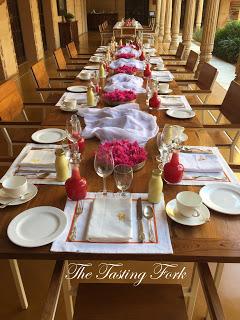 The table laid for the Halwai Breakfast was a real treat to the eyes. Lined with flowers, beautiful cutlery, fresh watermelon juice and chilled kesar lassi already waiting for you at the table, and then the service of the food begins! Diced fruits to kickstart your breakfast with, followed by kachori which is simply out of this world! Topped with coriander mint chutney and saunth chutney, and filled with onions and masala, it is one of the best kachoris I've ever had! Mirchi Vada for a spicy flavourful kick, a fine aloo samosa with matar and nuts that could make anyone forget what calories even mean, a Palak Patta Chaat which was phenomenal with the crisp thin coating and the mind-blowing spices, and a papdi chaat with curd, pomegranate, chutneys, onions, tomatoes, coriander and chilli. Lost count of how many dishes I had eaten by then, but I'd forgotten there was lots more!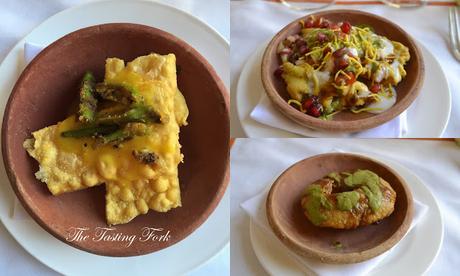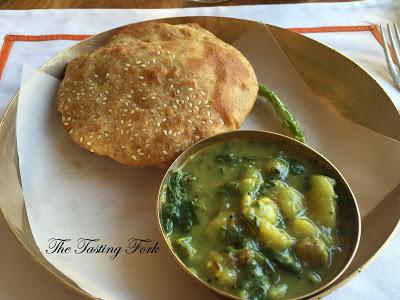 A crisp fluffy poori with aloo bhaji that also had some palak (spinach) in it, was Poori Bhaji for you. Licked the sabji off my fingers, even when I was so so full. Ended my huge lavish incredible breakfast with some crisp jalebis and pista milk. This breakfast is an experience in itself, once again. But it doesn't end here as well. More than 15 kinds of sweets on the table, ranging from burfis to laddoos to pethas to what not. All sorts of ingredients, all sorts of colours and shapes, but each mithai better than the other. Spoilt for choice and how!
Picnic at the desert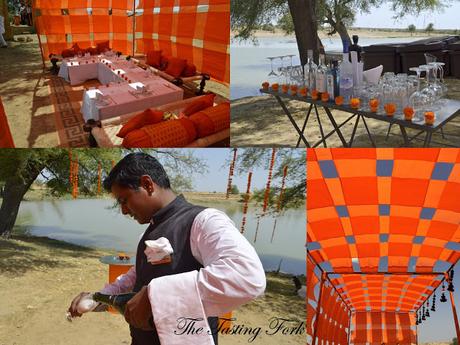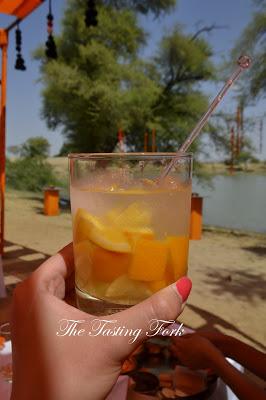 On our second day we got a tour of the Thar Desert where the silk route trading happened and through which people passed during the silk route and carried on business. We saw different bird and trees that could survive in such an environment and also paid a visit to a temple situated here. The return from the temple had us stop beside an oasis, where we were surprised and in awe to see the most beautiful setup for lunch. Sheds in hues or orange and yellow with tables laid with cutlery, a bar set up in one corner, equipped to make almost any cocktail you asked for, a person playing the flute for us, and all this in the middle of nowhere! The seating of this lunch was every bit royal- with cushions and sofas, and a menu that was purely continental. Imagine having continental food in the most impressive cutlery, sitting beside an oasis in the middle of Thar, sipping on your vodka and orange based cocktail. The feeling of this sinking in while you're experiencing it is very difficult. It's almost like this isn't possible. But 

Suryagarh

 makes it happen for you. No compromise with the quality of the food and drinks, no compromise with the kind of seating, the service, the cutlery, or the warmth in their hospitality. Extremely impressive!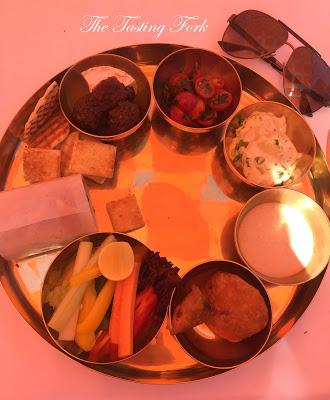 We were served a thali with all the food in it. Spice rubbed chicken served by the servers to us before the thali, while we sit and enjoy our drinks. The thali had a few dips and crackers. Pita, babaganoush, cream cheese dip and the likes. A fresh tomato salad with some greens, a marvelous potato salad lathered with creamy mayonnaise with a touch of mustard, sliders of your choice (I took the yummy chicken patty and basil), and Pilaf which is a rice dish with chicken. Everything on the plate was made with such finesse, and the presentation and exotic vibe of having all this in the middle of the desert just feels all the more unreal. Delicious food with free-flowing cocktails or drinks straight up at your service, and you enjoy the cool vibe of the place. If it sounds amazing, you cannot even imagine how amazing it actually feels. Unreal!!
Thar Dinner at Celebration Garden
We then headed back to the hotel for our spa, and after the spa we left for a visit to the desert again- the second part of Desert Exploration. We were driving through nowhere all along, with greenery and the desert around us, and we then came to a stop where we parked our car. We saw a way lit up with lamps leading us to a set up which was mystical in every sense of the word. Before I tell you about the set up, please note this was in the middle of nowhere. It was just a patch of land in the middle of the desert and within a few kilometres of radius from us, there was nothing. Suryagarh created something from scratch for us in the middle of nowhere, and it was better than any romantic restaurant I have ever been to. It's a place you would want to come propose to someone, a place you want to come and have a beyond beautiful time with just calm, peace and romance in the air. Here's what we saw when we entered through the path lit up with lamps- Little glittery red tents with cushioned seating, lamps  and candles lit which gave the place an ombre feel, a bar on one side of the place and grills on the other. Right in front of us was a group of about 20 Rajasthani musicians singing local Rajasthani folk songs and playing the perfect background score to our evening. In some parts of the evening we even focused our entire attention to them, because of how beautiful their music was.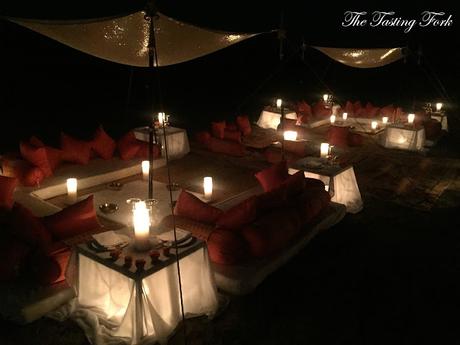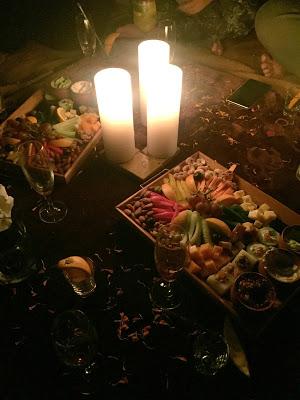 Sitting sipping on our drinks, enjoying piping hot kebabs being made in front of us on the grill. Served to us in small earthen pots with each pot containing hot coal in it to keep the skewer on it hot. I mean really? That much detailing? Wow! Meat Kaleji and Gosht Resham Tamge (mutton with yoghurt and ginger marination, with brown onions in the masala, served as pounded cakes), Tulsi Murgh Tikka which was served to us in earthen pots on skewers. Flavoured with garlic and basil, it was to die for!! We gorged on these appetizers and sipped on refreshing yummy cocktails, while we listened to Rajasthani folk music under the stars- an experience that cannot be described in words.Main course was a huge thali affaire replicating how people in Rajasthan ate- from one big thaal, sharing food and making merry together. The thaals were brought with drumrolls. Yes, you read it right. Drumrolls to get the thaals in, and thaals that were really huge. One look at them and you would say- that's some beautiful way of eating together! It didn't feel like a thali, it just felt like food made with love to feed you all together. Different dishes put one next to the other in bowls, with salads and breads in between. Salad was Sangri Salad- a creamy salad made from sangria which is a very famous vegetable in Rajasthan. Papad and soft thick Khamiri roti to accompany the food.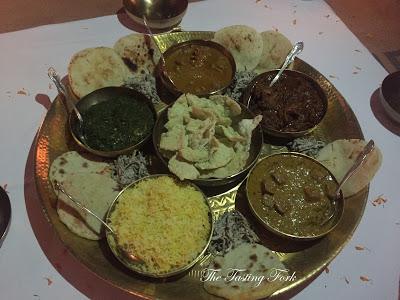 Bolito Khargosh was the highlight of the mian course for e. Hare cooked in a thick masala with Rajasthani flavours in it. Tomato and onions used in the gravy, with the hare was slow-cooked on a wood fire to make it soft and delicious. Blown away by the incredible flavours. Handi Murgh and Lasooni Palak were just as mind-blowing in their flavours. The food had a very war rustic feel to it. It wasn't loaded with spices but was just right. It was delicious comfort food. The Pithod Curry was another dish that's synonymous to rajasthan because of the ingredients used. Small dumplings of pithod in a rich yoghurt gravy gave way to a spectacular dish. Ended the meal with Mawa Samosa, which was like a finer version of gujiya stuffed with mawa and dry fruits, served with hot Pista Doodh.Stay Well Breakfast at Nosh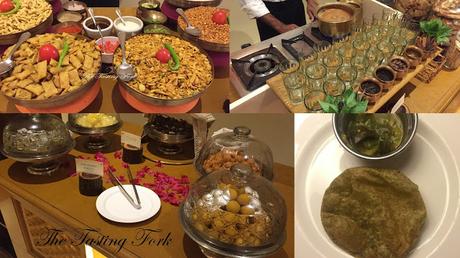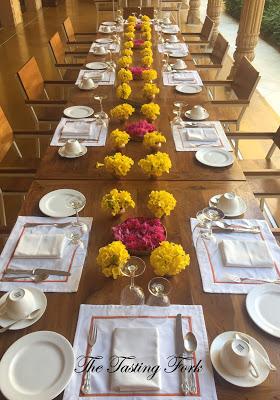 On our third day we woke up for a Stay Well Breakfast that took place at the hotel's restaurant, Nosh. A buffet style breakfast with options for healthy food, the menu for which has been curated by Sangeeta Khanna, a person well known for her work with health food which is equally high in taste. Tasted a few classics like the Dal Pakwaan, Chaat, Masala Dosa, Upma and a few muffins, and also tried a lot of stuff from the Stay Well Menu.The Ragi Dosa in particular was something that was just as delicious. An option of Ragi pancakes and waffles too, with butter, maple syrup and honey, makes sure the amount you pampered yourself in the last couple of days with the rich delicious food now gets balanced with nutritious healthy delicious food. The Millet Parfait was simply too good with all the fresh fruits and millets in it. Looked lovely and tasted superb! The buffet spread also has the usuals like eggs on order, toasts, sausages, etc., but because Suryagarh is like no other hotel, they also have a live chai counter where you can choose your teas and gorge on the yummy cookies and biscuits kept alongside, a live chaat counter just like the ones you see in markets- totally rustic in its look, and a section specially devoted to the sweets! What a hearty breakfast!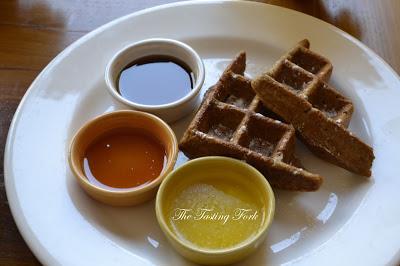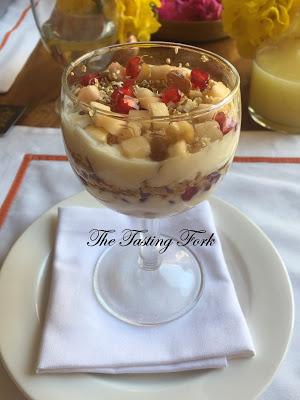 Kiradu Hi Tea in a hut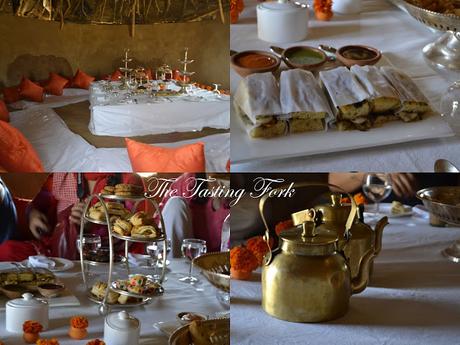 On our third day of the trip Suryagarh took us to Kiradu temples in Barmer, a few hundred kilometres away from the hotel. On the way to Kiradu we stopped for hi tea at a place which had about 5-6 small huts and pucca houses where a family lived. What was in store for us here was something we had never imagined. Hi tea inside a kachcha house, a hut made of mud and straws. The set up inside the hut was indescribable! Mattresses and cushions lined with genda phool, a huge table in the center with hi tea laid in a beautiful European fashion. It was gorgeous! Creating something that exotic in the confines of a hut- something only Suryagarh can pull off. We gorged on soft flaky chicken puffs, assorted cookies and mini muffins, yummy Chicken ciabatta sandwiches with a droolworthy dressing inside, fruit stridels and dry fruits to nibble on, tea served in kulhads and small little glasses, and a mind-blowing pyaz kachori to seal the deal. The staff of Suryagarh always carries with themselves any kind of soft beverages that their guests may need on the way. So for a person like me who isn't too fond of tea, I got a chilled can of diet coke within seconds, and I happily nibbled on my ciabatta sandwich while exploring these small huts and pucca houses. Got to meet the women of the family, sari-clad and so warm in their welcome, letting us use the washrooms of their abodes. It's an experience which cannot be done justice to even if I use a thousand words to describe in detail.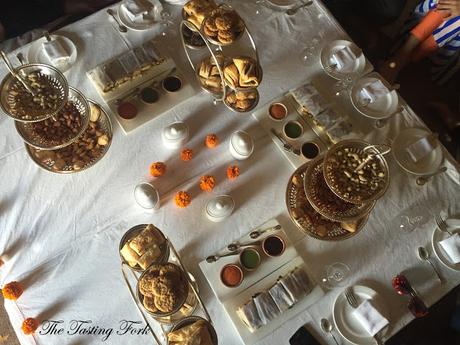 Satvik Dinner at Kiradu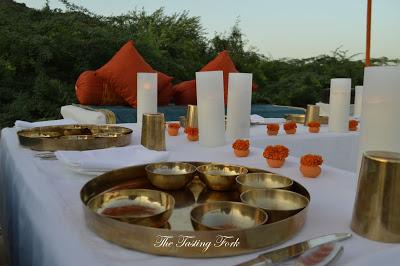 After a beautiful puja in the mystical Kiradu temple, with a peacock flying from one temple to the other, and the Sun setting down creating a mystical vibe for us, we couldn't help but go in a state of tranquil where nobody was speaking to each other but just taking time to soak in this beauty and the realisation of unmatched calmness in a place as pretty as Kiradu. How the Kiradu temple looked at night is unbelievable. Even my picture below doesn't express that justifiably. Our dinner followed by the puja and arti was a Satvik one. Kale Chane ki Subji and Aloo Mangodi with poori, something that was so well prepared and so addictive, nobody shied away from taking some extra puris to do justice to the subjis. Dal Batti Churma making its comeback after our dinner on day 1- piping hot dal on super soft batti broken into pieces. And a Mirchi ka Kutta to relish with the stupendous meal that we were served, all of which was organised in the middle of nowhere. Kiradu does not have houses that can accommodate the Suryagarh staff and let them cook. Suryagarh created such a fine meal for us from scratch in the middle of nowhere, and there couldn't have been a more peaceful and beautiful end to my trip than this. Dessert was a must, like always, and we enjoyed our hot Moong Dal Halwa with a lentil pudding thereafter, making way for some more time spent outside the Kiradu temple, just looking at the stars above and soaking in the last three days.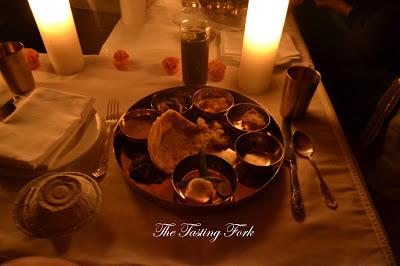 I'm back with memories and experiences, ones that are totally unparalleled and indescribable. They're etched in my heart forever and it's always going to be that way.
Read my review about the hotel and its rooms hereAddress: Suryagarh
Kahala Phata, Sam Road
Jaisalmer-345001 Rajasthan, India
Mobile: +91-7827151151, +91-02992-269269
E-mail: [email protected]
Disclaimer: The review was done on an invitation from the hotel. All views expressed are unbiased in nature but readers are advised to exercise their own discretion.
Connect with me on:
Twitter: @sahibagursahane
Instagram: 
@thetastingfork
Facebook: 

www.facebook.com/thetastingfork
Snapchat: @thetastingfork
Roposo: www.roposo.com/@thetastingfork