Typically this is going live before any of my other Switzerland posts, which clearly shows how important food is to me. Weirdly, I didn't do a huge amount of research before heading out to Switzerland – other than "all the cheese" there wasn't anything on my must-eat list. In the end, I didn't really eat a bad meal.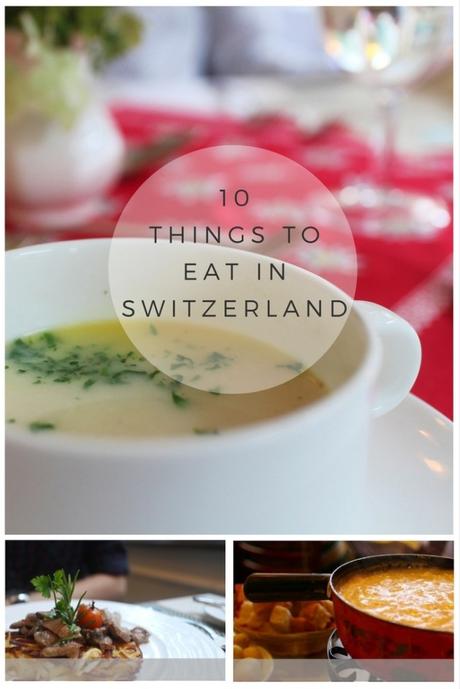 Sticking to traditional foods, we definitely ticked off the "all the cheese" aim, though by the end of the week we were craving vegetables (seriously, we tried and couldn't even order them as a side!) and the local Indian takeaways smelt more and more appealing. The first meal we ate when we arrived home (well, after Five Guys to sustain us during move-day!) was my Satay Veggie Slaw which says a lot about how rich and heavy the food was!
Sidenote: we were walking in excess of 20,000 steps most days so we definitely earned it!
So, what's the 10 dishes you really need to try when you're in Switzerland…?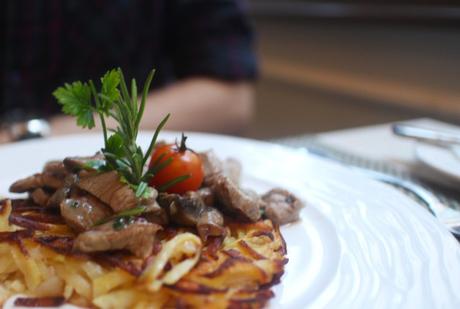 Züri-Gschätzlets (Veal in Mushroom Sauce) served with Rösti
This meal was perhaps our most expensive when we were away, at 35CHF each (although admittedly in quite a flashy hotel – where we witnessed a proposal). Very tender sliced veal in a rich mushroom sauce, served on top of a crisp but tender rösti, it was also one of the only meals I ate that didn't contain cheese. You can find my recipe here.
Hot Chocolate
The mountain-cafe staple! Swiss Hot Chocolate is usually more milky than it's Italian or French versions, good for me as I'm not a fan of the thick rich stuff. The best powdered brand is Caotina (we instruct a Swiss friend to bring us some every now and then) and comes served separate to a mug of frothed warm milk for you to stir yourself.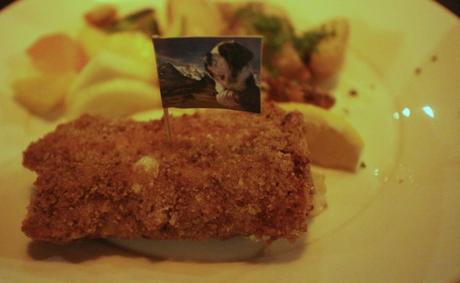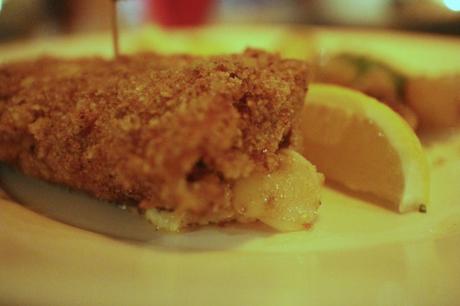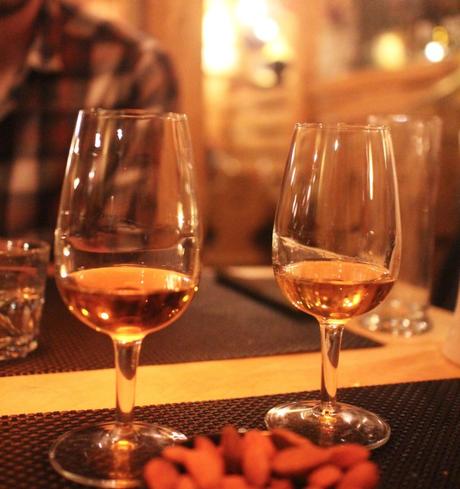 Cordon Bleu
I'd go as far as saying this meal was my absolute favorite of all our meals in Switzerland, it's certainly the dish I'm still thinking about! The more traditional Cordon-bleu is made with veal, cheese and ham, before being breadcrumbed and fried. My version (at Barry's in Grindelwald, full review coming soon) was a pork escalope filled with bacon, garlic, leek and Raclette cheese. I ordered the 'mini' (25CHF) which I bitterly regret. Sure, I had room for dessert, but it wasn't as good as this…
Oh, and if you visit Barry's their Whisky list is crazy. We tried a couple of the Swiss distilled tipples, including a verrryyyy pricey (and strong!) one which is aged in the Jungfrau.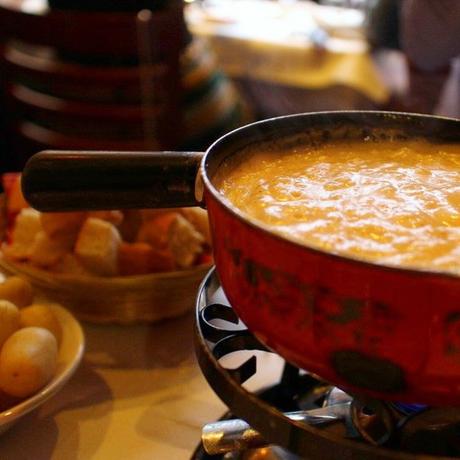 Cheese Fondue
Now, we didn't actually eat this in Switzerland – it's actually more of a tourist thing than anything. That said, if it hadn't been over 30 degrees every single day I'd have been right in there. If you can, I'd recommend getting one that served the molten cheese with both bread and potatoes (just bread is too heavy) and drink a warm drink alongside it and continue sipping for a while after your meal. Trust me, you don't want all that cheese to set in your tummy. In London, pop to St Moritz in Soho for your cheese fix!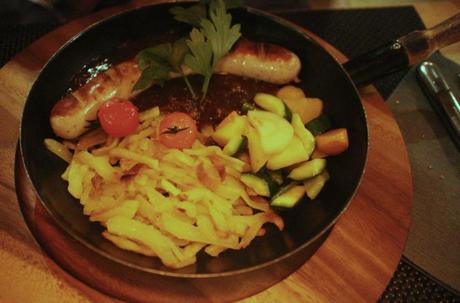 Veal Sausage
A good veal sausage, served with more of that delicious rösti and plenty of onion sauce is comfort food at it's best. I avoided this due to the disturbing redness of some sauces and the difficultly in getting my allergy understood (surprisingly I only had to send one meal back, though a couple of others came close!).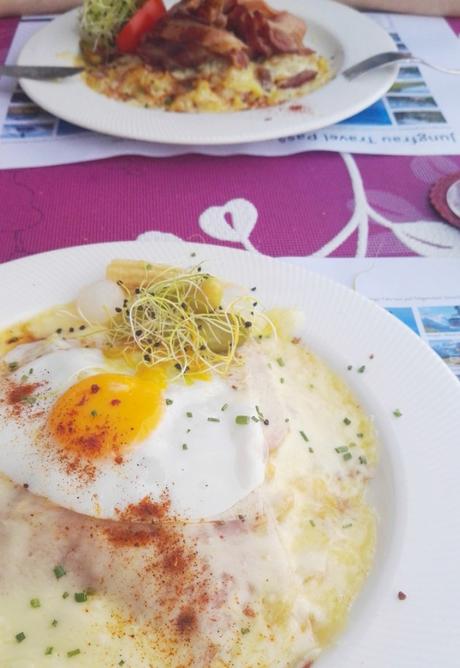 A post shared by Chloe Ellen (@ninegrandstudent) on Aug 8, 2017 at 12:41pm PDT
Rösti
Now, rösti can come one of two ways. It is often a side, rather like our 'mash' or 'roasts', or it can be served in it's own right. The later is usually covered in cheese, then with a choice of additions. This was our first Swiss meal, sat with the gorgeous view above, and it was glorious. I went for the version with ham and a fried egg, W went for the bacon offering. Both came with obscene amounts of cheese. I had two thick slices of ham, more cheese and a perfectly gooey fried egg (melty cheese plus yolk is perfection). W's came with 10 rashers of bacon. Yep, TEN. We counted. Not surprsingly we slept well that night!
Älplermagrone
Just like our well-loved Mac'n'Cheese, but with added carbs. Pasta AND potatoes are boiled in milk (a little like my one-pan-mac), mixed with a LOT of cheese, topped with fried onions, bacon, more cheese. Yep, it's good. Yes, it's ridiculously bad for you.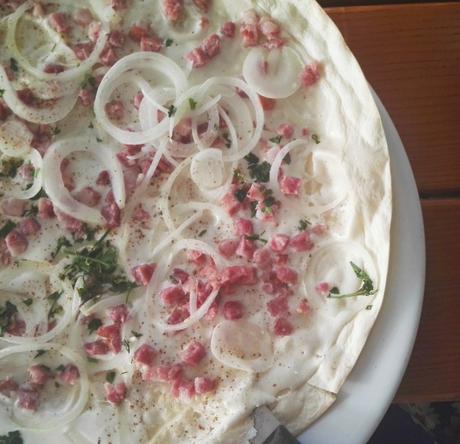 A post shared by Chloe Ellen (@ninegrandstudent) on Aug 14, 2017 at 5:54am PDT
Elsässer Flammkuchen
Dough is rolled out very thinly and covered with crème fraîche. Traditionally it's topped with thinly sliced onions and lardons, which was my favorite. Though I did try a summery version of parma ham and rocket which was nearly as delicious.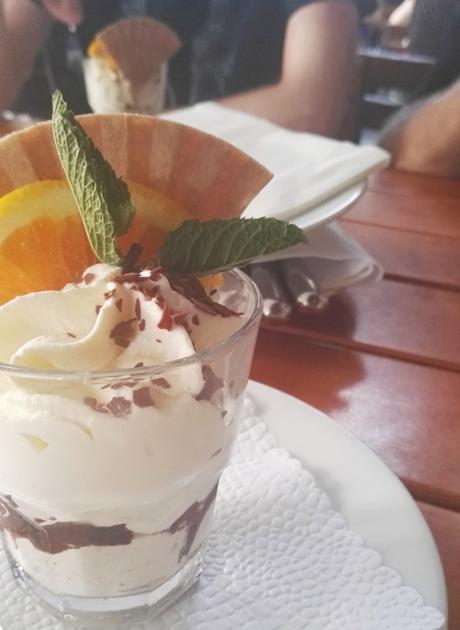 Coupe Denmark
Ah, this dessert is the thing of dreams. Plain milk ice-cream, topped with cream and a wafer. Served with a jug of rich chocolate sauce (made with very dark chocolate and plenty of milk, so it doesn't set on contact with the ice-cream). It's delicious. Oh so simple. Oh so good.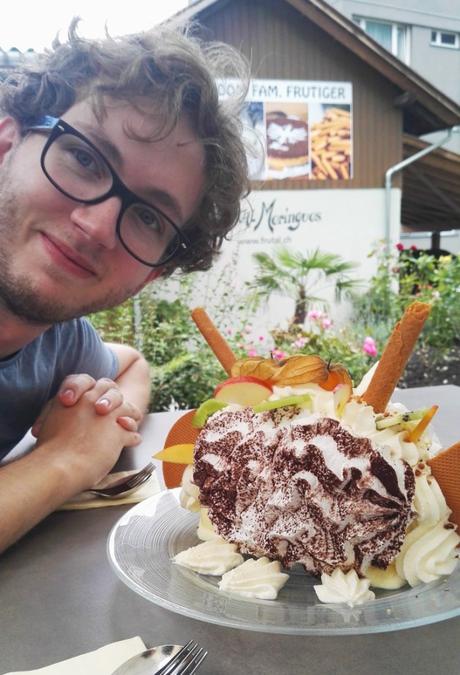 A post shared by Chloe Ellen (@ninegrandstudent) on Jul 31, 2017 at 10:41pm PDT
Meringue
Meiringen is the birthplace of the meringue, so when we made an unscheduled hangry stop there (we missed a bus that only ran every 2 hours, so ended up doubling our walk) we quickly googled the best stop. Frutal Versandbäckerei (Tearoom Frutal) came out top so we sat in their delightful courtyard (dodging the rather agressive wasps) sipping some of the most delicious homemade iced-tea I've eaten drank.
"Oh look" said W. "There's one for two, shall we share?"
I was only too willing to get along. He nipped out to get cash, I ordered and relaxed. Then saw a standard portion come out (the single portions come in a choice of mini or standard). I began to regret our choice. And then it came out.
It was the size of one of our heads. Two massive meringues, sandwiched with SIX scoops of ice-cream, a lot of whipped cream and fresh fruit. The meringue was amazing. Slightly chewy but not at all sticky, and surprisingly not over-sweet. We admitted defeat about 3/4 of the way in…
Have you been to Switzerland? Is food the best bit about travel for you?