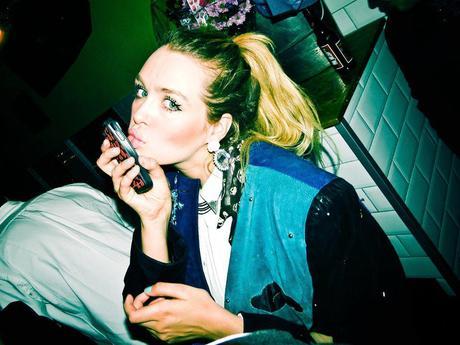 I "met" Stephanie a few years when she was going to school here in San Diego, I say "met" because we never got the chance to hang out before she went back to Sweden, but we still got to talking via Facebook & had so much in common (especially an unbridled love for fashion). Now I have just got to make my way to Sweden to pay this lovely lady a visit… soon I hope!
✝ FLxx: Tell us a little bit about yourself?
SS: My name is Stephanie Strauch and I am 23 yearS old. I live in Stockholm with my BF, my clothes and…. wanted to say dog because I absolutely adore dogs but nope. No dog yet :(. I recently was living and studying abroad in San Diego for a year taking design classes, pr, journalism, and marketing at San Diego State University. I saw some badass skaters, laughed, drank cheap beer, and all the other stuff you do without reflecting over it. Now I am doing a little bit of it all. I work at the store Odd Molly (a Swedish brand), as well as my dads company as a customer booker, but most of all I am just loving life. (Sooo cheesy!)
✝ FLxx: How would you describe your personal style?
SS: One expression I picked up from the movie "Barcelona" is; I don't know what I want, but I do know what I don't want. I try not to define my style because honestly, so much is about how I feel when I wake up. LOL. No, but its easy to choose specific words to describe ones style. "I'm like this, I'm like that"…. I try just to be myself & I express myself through my clothes, and that all depends on my mood.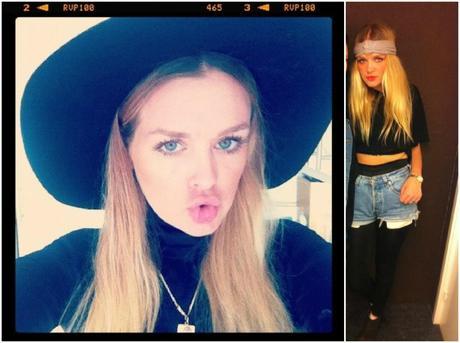 ✝ FLxx: What is your typical go to outfit?:
SS: I love to break boundaries and miss-match (I hate when outfits look totally figured out). Stripes with dots and pink with orange. Huge gaudy earrings with an LA cap. My Harley Davidson jacket with a studded button down shirt OFC

. Oh so much love! Yet if I had to choose one I'd go with psychedelic tights, a simple black shirt, a bomber jacket, my black Doc Martens, and
teeny tiny silver rings
tied around my fingers.
✝ FLxx: What trends are you loving for Summer 2012?
SS: Chunky platforms with see-thru slingback straps, anything that looks like outer space, stars and planets, hoodies with corny prints like Donald Duck or The Ninjas, neat peep-toe shoes, anything in rose-gold, big chunky jewelry and… oh yes- I'm crazy about hats, caps, and headbands.
✝ FLxx: How about trends that you find to be cringe-worthy?
SS: Just following trends doesn't make you stylish. Its like reading a book and learning the correct answers. Make the questions, don't read and learn someone else's.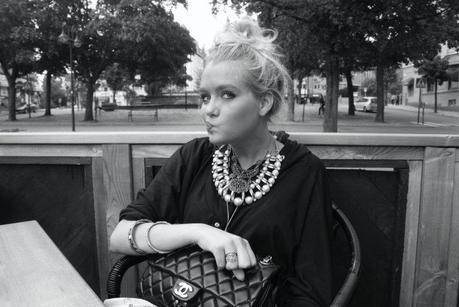 ✝ FLxx: What are your favorite places to shop?
SS: I mix vintage with regular shops all the time. The best vintage shops in Stockholm are located in "Söder" which means "South". So yep – its on the south side of the town. We are also blessed with a lot of rad talented designers in Sweden. Just bought this lovely pink dress from ACNE (even though I hate pink I just had to buy it because otherwise I would probably not be able to sleep right, lol.) I also bought this sort of blue-grey batik jacket from RODEBJER, another Sweden gem – ohhh yes! These brands are pretty expensive, so unfortunately I cannot buy them as frequently as I'd like ;((( I also love H&M, lol = patriotic. We also have this store called WEEKDAY and MONKI. Its cray, almost everything is under 50 bucks and looks like a million. Okay, maybe not a million, but its like a more high-fashioned H&M. Price-worthy and playful. Kind of has a grunge influence.
✝ FLxx: Who are your favorite fashion designers? 
SS: Right now; Isabel Marant because I could kill or something for those suede sneaker wedges. Yep!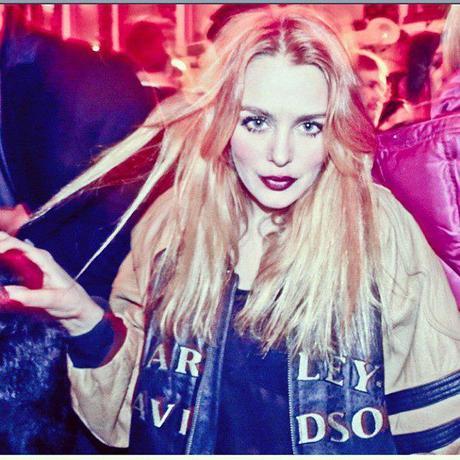 ✝ FLxx: Whom are your favorite models or style icons?
SS: I get inspiration mostly from movies. Old movies like Breakfast at Tiffany's, Andy Warhol the fab Edie Sedgwick, and so on. Although I am in love with Chloe Sevigny. Marry me fab woman <3333????
✝ FLxx: Tell us all your most sacred beauty and/or fashion secret. 
SS: I'm so baaaaad at gossip. *Awkward silence* :///
✝ FLxx: What is the most beloved item in your closet?
SS: LOL. That's not fair. I literally can not answer that……….. buuuuuuuuuuut I love my vintage Louis Vuitton, my MJ, my Tag Heuer, my Hermés bracelet, a black long cardigan I bought at MONKI studded with silver buttons. It goes all the way to the floor <333. My Harley Davidson jacket, my black platforms sneakers, my batik pants, my vintage jacket with stars, the moon and the sun in blue and green patchwork, and…..
++ Thanks so much for being my FLxx Spotlight, Stephanie. I am now officially jealous of your life in Sweden!! Lucky girl.