Ahhhh the gift giving season is here… and I am lovin' it! I really enjoy getting my friends & family gifts that I think they will love. There is just something awesome about watching someone open a present you got them. That being said, I also love receiving gifts as well… but then again, who doesn't???
Ever since I was a little one, I created a Hanukkah wish-list, and this year was no different. So, if any of my friends and/or family are reading this, now your guaranteed to get me something I love. Not to mention, any and all of these items will make for some pretty rad gifts. IMO.
Thankfully today I just finished all my holiday shopping. That's always a good feeling. One thing checked off the endless to-do list.  
What are you guys wishing for this year??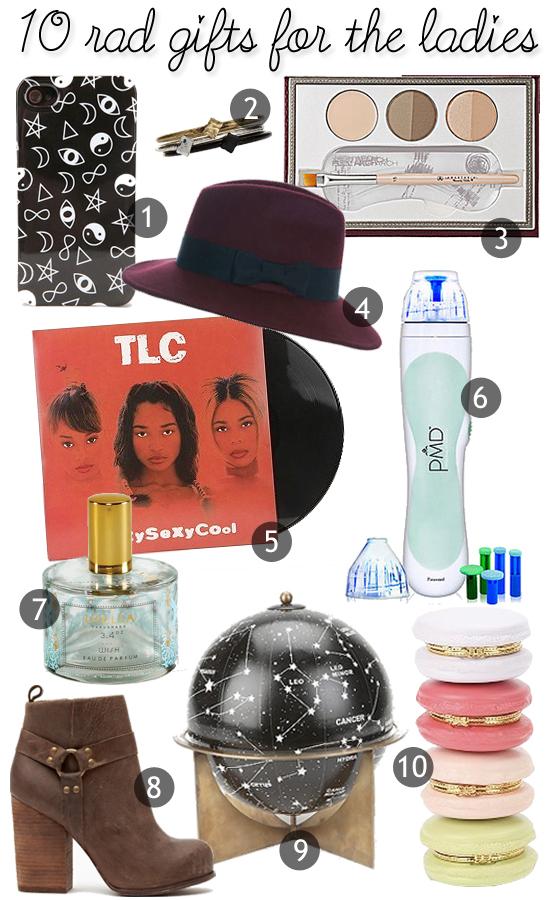 I don't know what it is with me an iPhone cases, but I over the year that I've had my beloved iPhone, I have gone through my fair share of cases. The latest one I am coveting? The Yin Yang iPhone case is right up my alley… but I am torn cause I am also really like my current case. Decisions, decisions.
Dainty jewelry is all the rage these days, and these little beauties are currently topping my list of things to buy, or for someone to buy me (hint, hint).
The Anastasia Brow Kit has been my lifesaver ever since it was first recommended to me, and I seriously don't know what I was doing before it. This stuff is golden… trust.
Two things I am loving right now: felt hats & oxblood. I am seriously coveting this oxblood Fedora.
Talk about a throw back… the TLC Crazy Sexy Cool LP would make for a pretty awesome gift. Urban also has tonsss of other great records.
The PMD Personal Microderm is no.1 on my wishlist. I have heard such great things about this little baby, and since I am such a freak about my skin care….. needing it.
Lollia Wish perfume is my go-to, and probably the best perfume I have ever smelled. Gents… this is a great gift for your ladies.
Ever dream of a shoe and just hope that one day it exists? That pretty much describes my life. One of dreams came true- the Nasty Gal x Jeffrey Campbell Rum Moto Boots. I would wear the life out of these babes.
Pretty much anyone will love this Constellation Globe. Yo quiero muchoooo.
Macaron Pill Cases… perfect stocking stuffer ever.