If you're new to English Wedding, you may want to subscribe to my RSS feed. Thanks for visiting!
When it came to what I'd be carrying as I walked down the aisle, I've had the same idea for wedding flowers since I was a little girl. I grew up in the country, literally in the middle of nowhere, and spent my childhood playing in the surrounding fields and picking flowers; and, when planning the wedding, knew I wanted something, fun, loose and young..
My first idea was a loose hand-tied bouquet of colourful wild flowers, totally in fitting with the 'just picked' feel: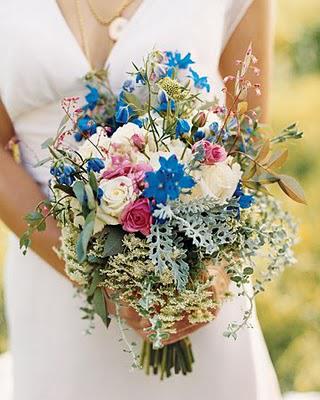 Colourful Wildflower Bouquet
Later I thought of simple white Gypsophila (Baby's Breath), which looked wonderfully bohemian: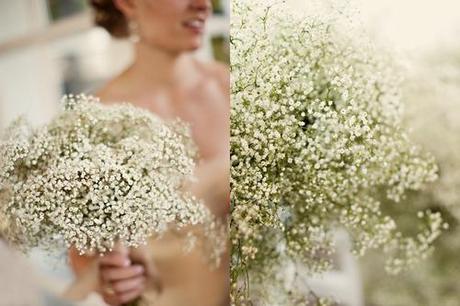 Baby's Breath Bouquet
Finally, considering my dress is quite 'fussy' (without saying too much), and considering my bridesmaids dresses and bridal headpiece are full of colour themselves, I think I found a middle-ground. Below is the picture I took to the florists for my initial consultation; loose, hand-tied, garden flowers in white and cream (without the touches of yellow seen here), to be tied with wide cream lace: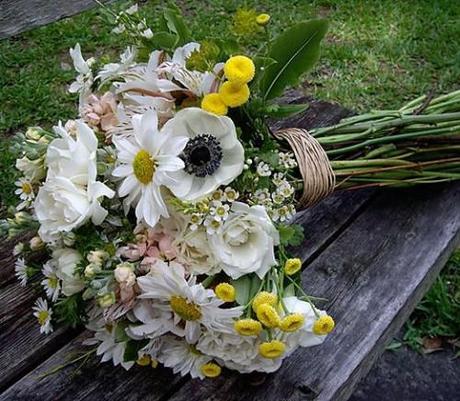 Cream & White Wildflower Bouquet
I've asked for my bridal bouquet to be slightly larger than the bridesmaids', but exactly the same otherwise. As for the flower girls, I came across the idea of wicker heart wreaths embellished with the same fabric flowers featured on their headbands and touches of lace; I love the idea that they can keep it and maybe hang it on their bedroom walls in years to come as a memento from the day. Katy sent me the 'finished product' picture a few days ago: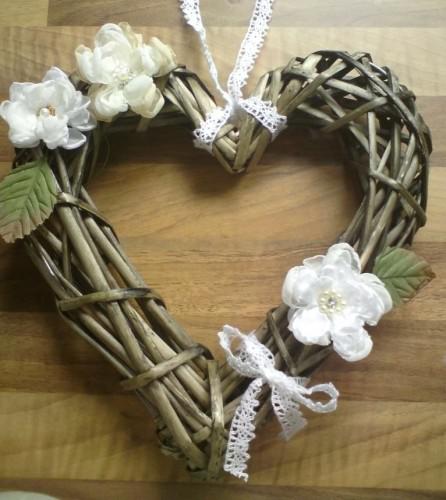 Wreaths by What Katy Did Next
Finally, as I'm a complete sucker for 'keep sakes' and sentimentality, I decided to go the whole hog, and commission 14 corsages for the wedding party! They are all cream flowers with flashes of pale blue, the men's corsages have the red berry touches to tie them in with the bridesmaids' dresses, the ladies' have pearls in case the red didn't go with their outfits, and David's is a larger version of the mens in plain cream.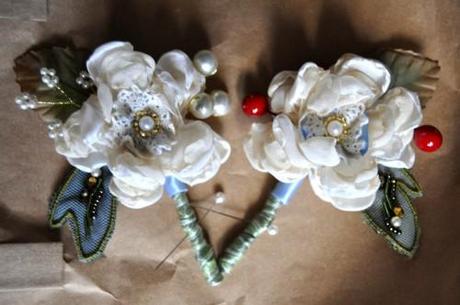 Custom Corsages
I hope they'll be cherished and remind people of a (hopefully) wonderful day had by all. It's all coming together!!
Sally xx