Flower Beauty made a real effort to point out that they created an actual BB Cream that was unlike most of the others that have been released by Western companies. With such an effort to make it clear that Flower's BB Cream was a
real
BB Cream, I had to find out if they were correct!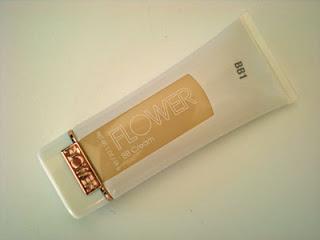 According to Flower's
website
, this BB Cream can eliminate skin dullness if used daily, it provides coverage, it softens and smoothes skin, and it eliminates unwanted shine. It does not seem to have any type of scent and claims to last up to 12 hours! Quite the claims, but can it possibly live up to them?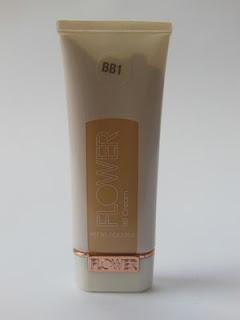 For starters, the Flower BB Cream comes in 4 different shades that range from pretty light to what looks like is somewhat deep. That's not terribly standard for an Asian BB Cream, but I'm sure it's greatly appreciated since we come in all shades! I have tried both Shade 1 and Shade 2, and both seem to adjust to my skin tone, which is great and makes finding a shade easier. There is definitely room for error in choosing the "right" shade.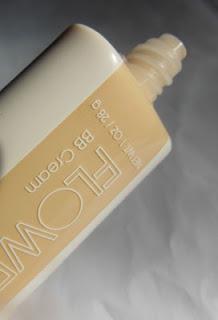 Flower Beauty BB Cream in Shade 1
The next thing that isn't necessarily apparent, but
does
make a huge difference when comparing it to Asian BB Creams – Flower Beauty's BB Cream does not appear to have
any
skincare properties. One of the original purposes of BB Creams was to include beneficial ingredients for the skin, so this is a little strange to exclude in the Flower BB Cream. Depending on your reason for using a BB Cream, this may be completely irrelevant to you, but I feel it's worth mentioning.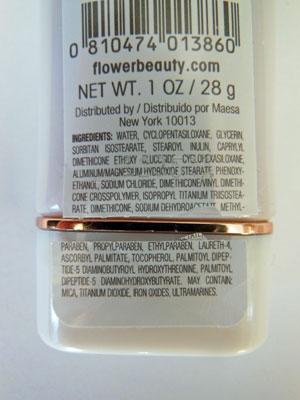 Now, on to the actual feel and look of the product! The Flower BB Cream is substantial when you squeeze it out of the tube. I don't want to say thick because that gives the wrong impression, but basically what I mean is that it is not at all runny or watery – maybe like a drier version of a mousse? This is definitely
not
a tinted moisturizer! With that said, it does not look thick as it's applied, nor does it feel thick or heavy on the skin. In fact, it feels completely weightless on the skin! The lack of a moisturizer-like texture
does
make it spread differently - it doesn't "sink in" as quickly, but it is still surprisingly easy to blend. I can't quite figure out how that's possible, but it blends quite nicely and looks really natural on the skin.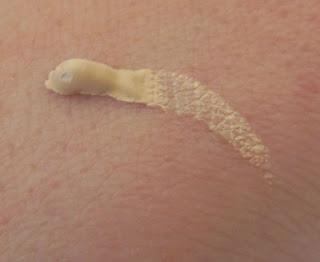 This BB Cream is probably best for people with combination or oily skin because it is not at all moisturizing, but it is actually pretty good at controlling oil! I don't have dry skin, but it seems to me that the texture might not mix well with dry skin. It is genius for combination or oily skin because, as I just mentioned, it really seems to help keep oil at bay and it lasts
all day
!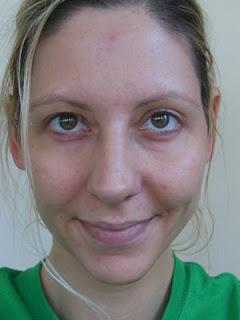 Bare face without Flower's BB Cream
The coverage is actually quite impressive! I would say this has a buildable medium coverage that can be built up to full coverage if you so desire. I was quite surprised by how well the Flower BB Cream covers! No tinted moisturizer-like coverage here!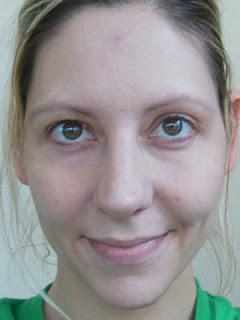 Wearing only Flower's BB Cream in Shade 1
Given the amount of coverage it provides, one might think it could look less than natural in the wrong hands. I find that it blends beautifully into the skin and looks
very
natural! It does not seem to emphasize imperfections or settle into pores. I find that I do not even need to use my standard Too Faced Primed & Poreless with the Flower Beauty BB Cream because my pores really don't look much different than they do without makeup! And since it helps control oil and lasts quite well, primer seems completely unnecessary for me. If you have dry skin, the right primer might make this product work better for your skin type, but I really have no way to test that out.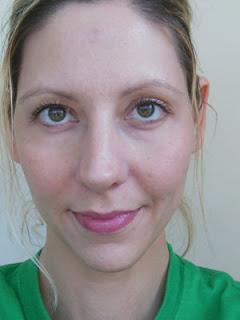 Flower's BB Cream in Shade 1, Kevyn Aucoin's
Sensual Skin Enhancer Concealer, Flower Beauty's
Lash Knockout Volumizing Mascara, Flower Beauty
Blush/Bronze Duo in Shimmering Goddess &
Flower's Lip Service Lip Butter in Wispy Wisteria
Overall, I am quite impressed with Flower's new BB Cream! If you're hoping for skin benefits in addition to coverage, stick to a traditional Asian BB Cream, but if you are more interested in just amazing, natural coverage with staying power and oil controling abilities, I would definitely recommend giving the Flower Beauty BB Cream a try! Not to mention it is quite affordable! Well done again Flower!!!
J
For more information about Flower Beauty, check out what I could find
here
. 
Flower products are available exclusively at
Walmart
 and the BB Cream retails for $12.95.
Disclaimer: I am not affiliated with Flower Beauty in any way, nor have I been compensated for this review.