Drew Barrymore's new Flower Beauty makeup line includes 14 shades of a new foundation called "About Face." Always looking for the latest and greatest foundation, I had to try it! According to Flower Beauty's website, this foundation "provides skin-smoothing moisture," has "natural, seamless coverage," it "smoothes imperfections and evens tones," and it contains "Vitamins C & E for anti-aging benefits." It is also fragrance and paraben free. Sounds pretty impressive, especially for a drugstore foundation. Can it possibly live up to all of its claims? Keep reading to find out!  
J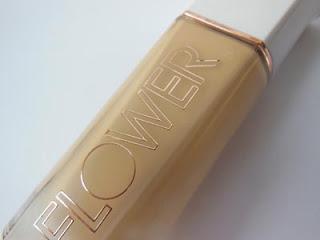 The About Face Foundation is quite different from
Flower Beauty's BB Cream
. For one, it is packaged in a clear glass bottle with a pump dispenser. Thank you so much for the pump!!! Not only is there a pump, but you have some control over how much it dispenses by varying the pressure you use! The first thing I noticed about the foundation itself is that it is rather thin. It's not watery, just thin – quite the opposite of the BB Cream. It provides a dewy sheer to medium coverage, which is actually less coverage than the BB Cream! And, unlike the BB Cream, I think the About Face Foundation would be much better suited for normal to dry skin types. It would seem Flower Beauty has considered all skin types with their complexion perfecting options!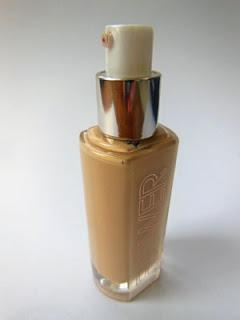 The About Face Foundation glides beautifully onto the skin. It feels virtually weightless and looks incredibly natural with a dewy finish. It blends beautifully and does not emphasize imperfections much, if at all. It does not settle into my pores and it just looks like nice, healthy, glowing skin. It reminds me a bit of the NARS Sheer Glow, except that the NARS settled into my pores and made my skin texture look worse than without foundation. That difference aside, like the NARS Sheer Glow, Flower Beauty's About Face Foundation creates a similar glowy finish without making my skin texture look worse! In fact, I think it actually
does
help blur skin imperfections a bit!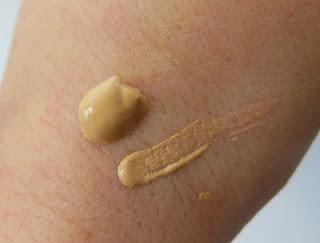 I think this foundation could be used by combination to dry skin types, though I think it is best suited for normal to dry skin. The dewy aspect of this foundation is not terribly well suited for oilier skin types, though adding some powder a few times throughout the day, or using an oil-control setting spray can make it work just fine. For normal to dry skin, the About Face Foundation is wonderful! It does not seem at all drying, and may even be slightly moisturizing. I can't say that with complete certainty because I have combination skin, but it feels somewhat hydrating to me.
The only thing I would change would be to make it a bit less sheer. It
will
even out skin tone, but if you really need to cover something like extra redness or hyperpigmentation, it may take more work than it is worth with this foundation.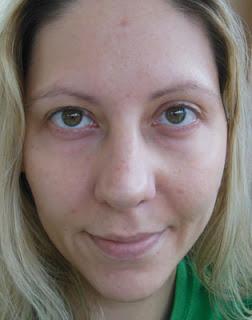 Without any makeup
In terms of picking out a shade, I ordered this online, which made picking a shade even more daunting than it normally would be in store! I ended up choosing Shade 4 and it seems a pretty good match! I was stunned because I
never
pick the best shade for my skin tone. I really can't tell how exactly the shades were numbered because it doesn't quite seem to be lightest to darkest. I have no suggestions for picking the proper shade online other than to give it your best guess from the swatches – basically, ignore the shade numbers because I just found that to make it more confusing!
J
If you are fortunate enough to find the About Face Foundation in the store, the color is pretty much what you see in the bottle. Most brands don't seem to be quite that accurate, but from what I have tried from Flower so far, if the product is in clear glass packaging, you get pretty much the color you see. I read somewhere that they have taken out the normal green tint that is in the glass to make for the truest color possible. Whatever they have done with their packaging, it seems to keep the color pretty accurate to the actual product, so thank you Flower for a little help on one of the hardest parts of picking out a drugstore product!
J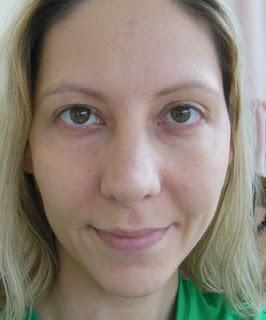 Wearing a sheer layer of Flower Beauty's About Face
Foundation in Shade 4 & a dusting of Loose Powder
My verdict? This is a nice, comfortable, lightweight foundation that will even out skin tone with a healthy, glowing finish. The coverage is sheer to medium, but it is somewhat buildable and it looks quite natural on the skin. Because of the dewy finish and the more fluid texture of the About Face Foundation, it seems best suited for normal to dry skin, but oilier skin types can make it work with powder or oil-controlling products. The wide shade range is a nice change from many companies' limited selections and should allow most people to find a shade that will work for him/her. Overall, another pretty good product from Flower Beauty and definitely a great drug store foundation!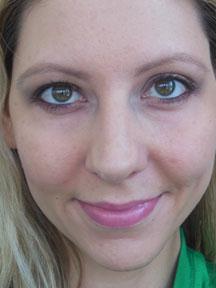 Flower Beauty About Face Foundation,
Kevyn Aucoin  Sensual Skin Enhancer
Concealer, Flower Eyeshadow Quad in
Foxy Browns, Stila Smudge Stick Eye Liner
in Moray, Flower Lash Knockout Mascara,
Urban Decay Brow Box in Honey Pot,
Flower Blush in Shimmering Goddess,
Flower Lip Butter in Tempting Tulip
The Flower Beauty About Face Foundation retails for $13.98 and is available exclusively at Walmart stores and
Walmart.com
. It is available in 14 different shades that appear to range from quite light to relatively deep. There are warm and cool shades available as well.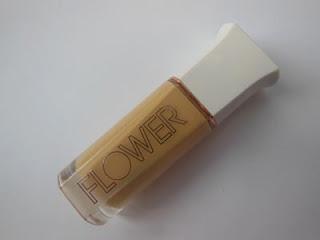 Disclaimer: I am not affiliated with Flower Beauty in any way, not have I been compensated for this review.