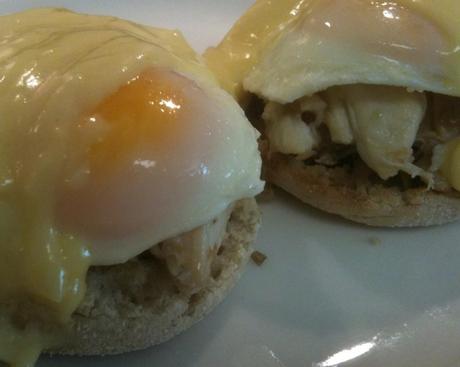 I love eggs, and am always looking for different ways to prepare them.  This method for poaching eggs in butter produces tender fully cooked whites, and a soft yolk each time, and with much less effort than traditional poaching.  While their appearance is slightly different than a traditional poached egg, they make a beautiful and flavorful dish, whether served with toast, or dressed up in this recipe for Floridian Eggs Benedict.
To create this buttery citrusy dish a toasted English muffin half is topped with sautéed lump crab meat, a butter poached egg and key lime hollandaise. If you can't find key lime juice, by all means substitute lime or lemon juice. But if it is available, the brightness quotient of this dish is definitely elevated.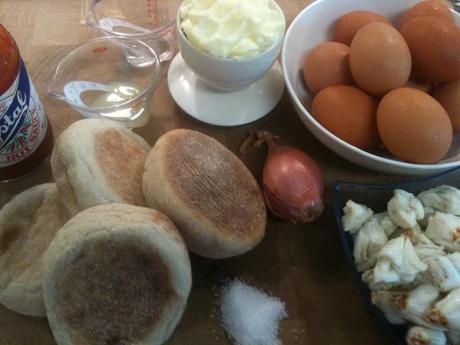 Floridian Eggs Benedict:   Serves 2
14 tablespoons butter
1 tablespoon key lime juice
1 tablespoon cold water
2 egg yolks and 4 eggs
hot sauce to taste
salt to taste
3 tablespoons minced shallot
8-ounces lump crab meat
2 English muffins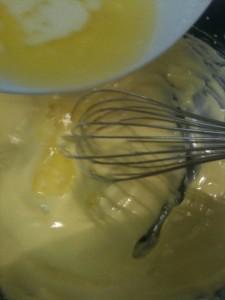 To make the hollandaise sauce, bring 2-inches of water to a simmer in a small saucepan. Meanwhile, melt 10 tablespoons of the butter. Place key lime juice, cold water and egg yolks into a large heatproof bowl, and whisk until frothy. Place the bowl over the simmering water and cook for approximately 3 minutes, whisking constantly. Remove the bowl from the heat when the mixture is pale yellow and has thickened. While continuing to whisk, slowly pour melted butter into the mixture by dribbles. Once all the melted butter is incorporated stir in hot sauce a dash at a time to taste. Add salt to taste. Cover the bowl and set it aside.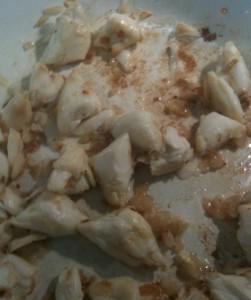 In a sauté pan melt 2 tablespoons of butter. Add the shallots and a pinch of salt. Cook the shallots gently until they are translucent and tender. Drain any liquid from the crab meat and add the crab to the pan. Saute the crab gently until it is warmed through. Remove from the heat, cover and set aside.
Butter poach the eggs. Using a 10-inch skillet heat 2-tablespoons of butter over medium heat until just melted, but not sizzling. Carefully add 4 eggs to the pan one at a time, being careful not to break the yolks. Cover the pan and turn the heat to low. I like to use a glass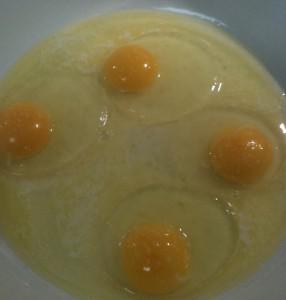 cover so I can see how they are doing without letting heat out of the pan.  When the whites are cooked through and the yolks are still soft (2-4 minutes depending on the temperature of the eggs and the pan) remove the pan from the heat and remove the cover so the eggs don't overcook. For neat edges run a knife around the egg to remove any uneven edges. Or just leave them as they are for a more rustic, but equally tasty presentation.
While the eggs are poaching split the English muffins and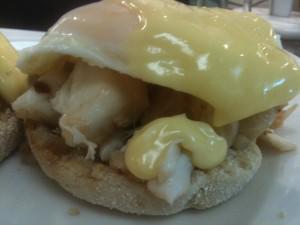 lightly toast them. Place two muffin halves on each plate. Top each muffin half with one-fourth of the crab mixture, then using a spatula carefully position a poached egg on each half. Stir the hollandaise sauce until it is smooth, and add a dollop to the top of each egg. Serve immediately.
To read more of what and where I am eating and drinking, follow me on Twitter @colleensachs.