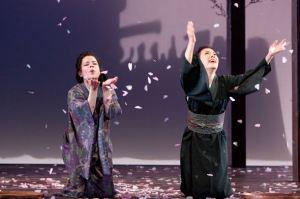 Washington National Opera's 'Butterfly'
Today I'm seeing WNO's Madama Butterfly at the Kennedy Center, my first time visiting the venue. If all goes as planned, I'll be seeing Ana María Martínez sing Cio-Cio-San and Plácido Domingo conducting, who is amazing. (What doesn't the man do?)
Following the performance, there is an artist Q&A–a nice value add for the audience.
While the reviews have been glowing (look for my own later today or tomorrow) and Martinez singled out for her performance, it is such a sad story. Even all the beautiful music can't disguise a tragic tale of rape and abandonment.
While I love Puccini's music, I have found his heroines to be problematic characters. Puccini was a man of his time and place, and his female leads are too often VICTIMIZED and preyed upon and spend too much time portraying victims. I've found Puccini's women to be somewhat two-dimensional. Not nearly as interesting as Shakespeare's female protagonists, who can be as flawed and evil as any man or worse–think Lady MacBeth–and who deserve their tragic ends.
So, today when I watch the production, I'll be considering what makes this opera so popular–and it's wildly popular in the United States, eclipsed  only in popularity by La Bohème.
While I expect the music to float to the rafters, I already know I'll have a hard time processing why such an innocent woman will be not only hurt but ruined in the course of this opera–a fate she scarcely deserves.