Time for part two! Dinner!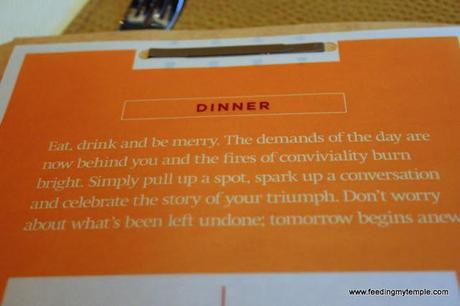 Go here to read part one! I was pretty excited for dinner (mainly because I know it always ends with dessert) and my husband went with me! Date night! Something fun and unexpected-we were seated with another pair of diners! Luckily, they were pretty much the coolest people we could have been sitting with. I don't know how they managed to pair us up so well, but I was impressed. Maybe it was just luck?
Here is a peek at the menu: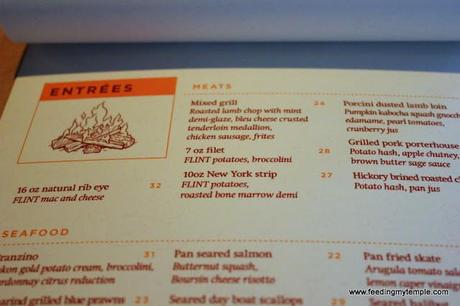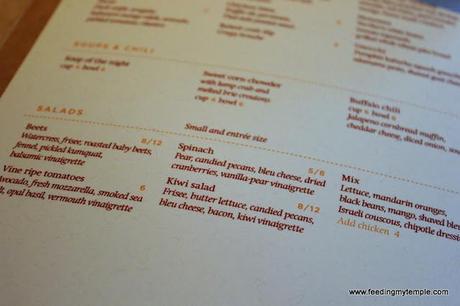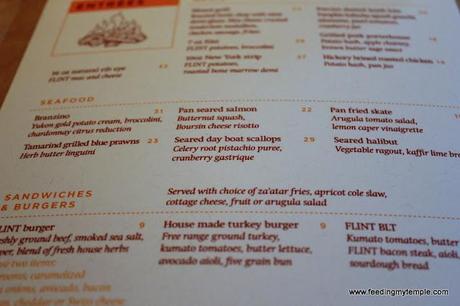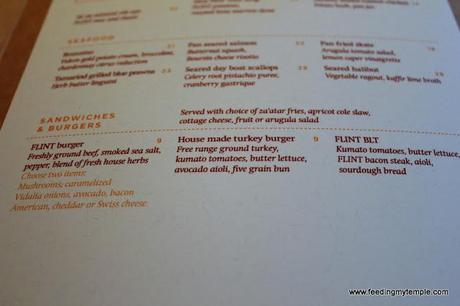 Let's talk cocktails.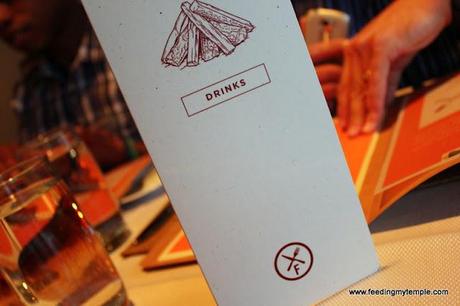 The guys both started with an Old Fashion. Whoa. That will almost knock you out cold. Seriously.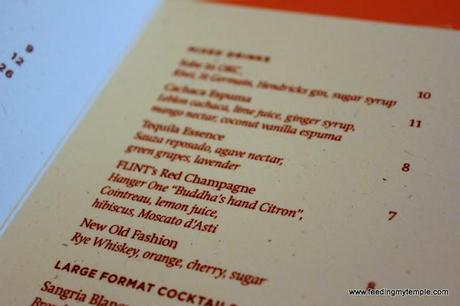 We were allowed 2 drinks and being adventurous, they chose the Orange Squeeze as their second drink. It wasn't great. VERY florally. Like carpet freshener florally.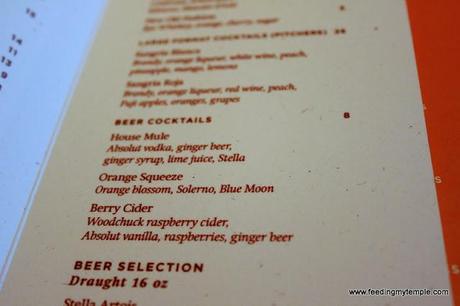 My first cocktail was The FLINT: Sailor Jerry rum, passion fruit, orange juice, and that green stuff? A serrano pepper! It was unexpected, but very nice.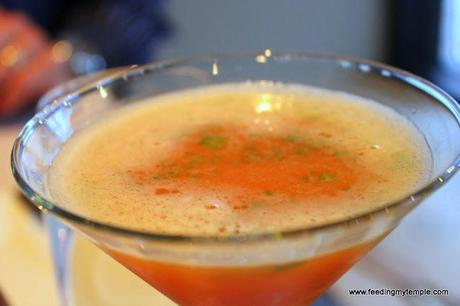 Tiffany got The Spa: Absolut vodka, cucumber mix, lemon juice, and simple syrup. It was delicious and very light and clean tasting. (Yes, as strangers, we shared a taste..or two.)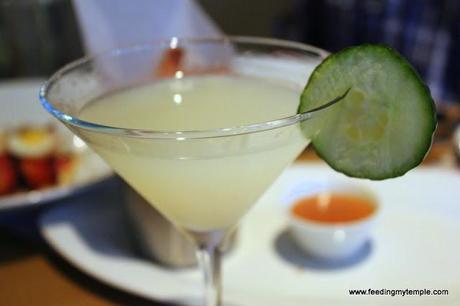 Tiffany also ordered the Cotton Candy. LOOK AT HOW FUN THIS IS!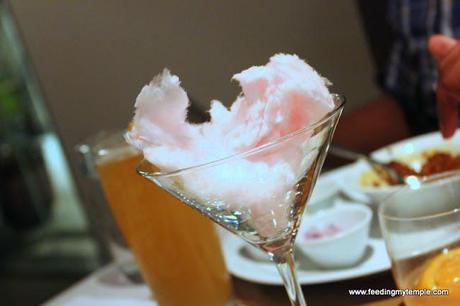 It was definitely the sweetest drink that was ordered, but downright fun to watch our waitress make.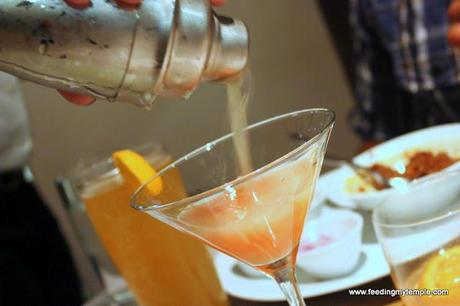 I ended with a glass of wine to accompany my entree.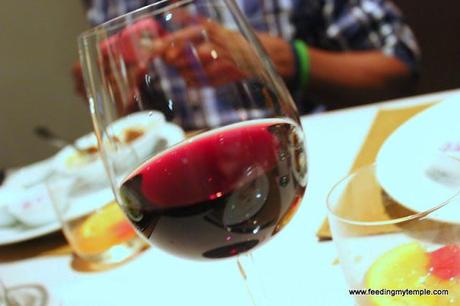 Look! Here we are! Its fun making friends over dinner.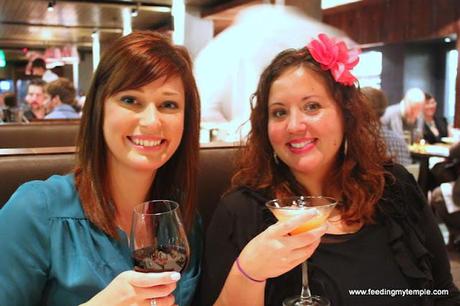 Jalapeno Hush Puppies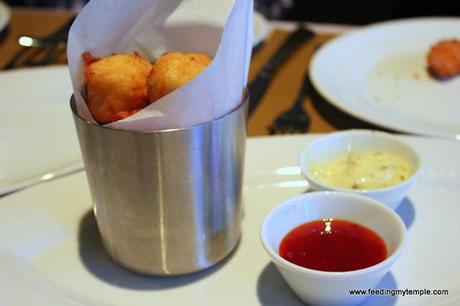 Pork and Black Eyed Peas topped with Quail Eggs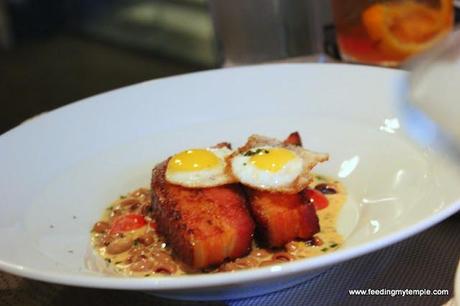 Vine Ripe Tomatoes (similar to a Caprese salad, but with avocado. Yes, please)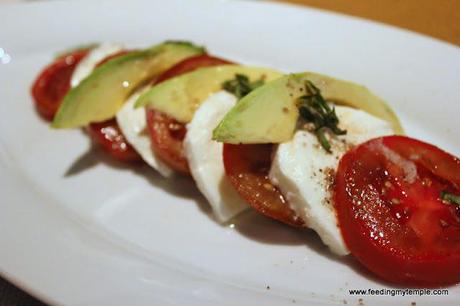 Kiwi Salad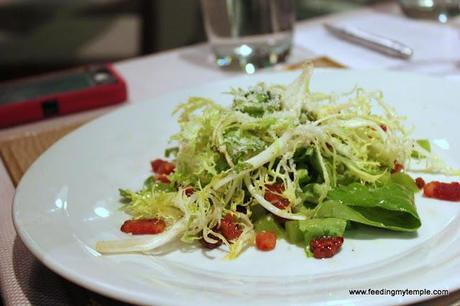 Buffalo Chili (which was actually really good)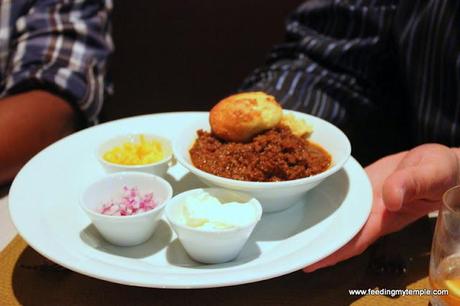 Wise and I both ordered the 7 oz filet with FLINT potatoes and broccolini.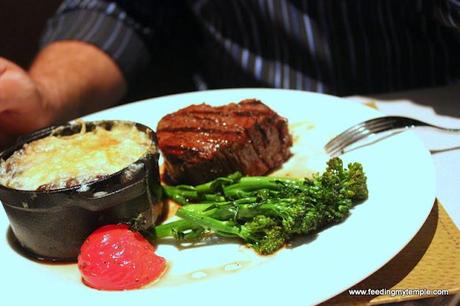 Seared Halibut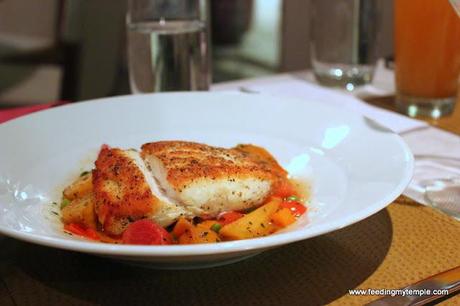 Time for DESSERT!!!! These.doughnuts.were.to.die.for. I am still thinking about them. They were little doughnut holes covered in cinnamon and sugar accompanied with 3 dipping sauces: Bacon Fudge, Mixed Berry, and Maple. I could eat truck loads of these.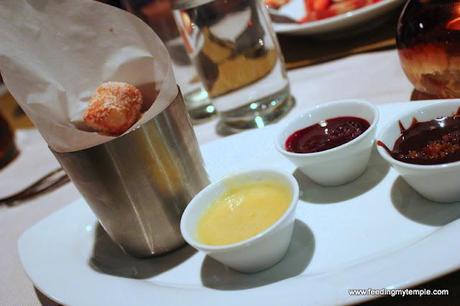 Wise ordered the Strawberry Shortcake which is soaked in rum. Delicious.


And our new friends shared a piece of Carrot Cake.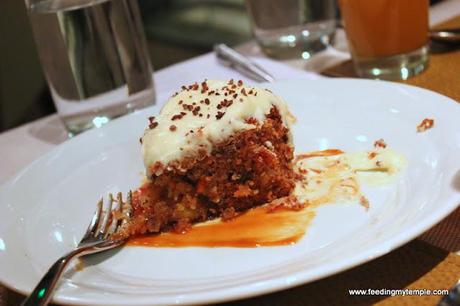 Overall, the service in the evening was better. If you recall, we were pretty much forgotten about during breakfast. Our server didn't stop by and I'm not really sure she even knew we never got our order until I was gnawing my arm off. Our evening server was great about coming by, being patient with us while we tried to make selections, and offering some of her favorite menu items. That being said, we were seated immediately and left 2 hours and 30 minutes later. Again, this was a run through for the staff and I have totally been in those shoes before. Its not fun and is full of stress. I still felt 2 and a half hours was a bit excessive, but from what I hear, that is getting better now that they are open.
I really enjoyed our dining experience and the food. My steak was under-cooked even after sending it back, so I don't think I would order it again, but there were many other tasty looking options available. Would I go back? You bet. In fact, you might just see me sitting in a corner drowning in doughnuts and pancakes.
Thank you to FLINT for such a great opportunity!