It offers one of the most affordable ways to fly from Manila to Singapore, and it is the single foreign carrier that operates the most routes into the Philippines. Tigerair, a low-cost carrier based in Singapore, has been flying for years in the country, but it was only late last year that I flew with them on one of their signature low fares from Manila to Singapore and back. Read more…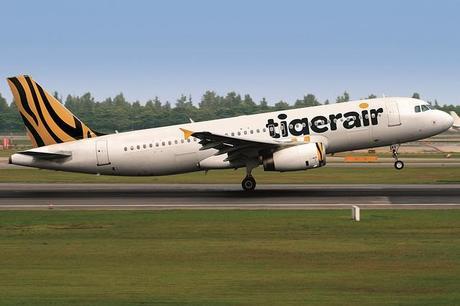 ABOUT
Tigerair is a leading Singapore-based low cost carrier in existence since 2004. It operates a fleet of Airbus 320's to destinations across Asia-Pacific, including Singapore, Australia, Bangladesh, Greater China, India, Indonesia, Malaysia, Maldives, Myanmar, Philippines, Taiwan, Thailand, and Vietnam. Expanding its range across the region, the Tigerair brand is also present in Taiwan, Australia, and the Philippines, and it has interline arrangements with Scoot for medium to long haul flights and Cebu Pacific Air for Philippine domestic destinations.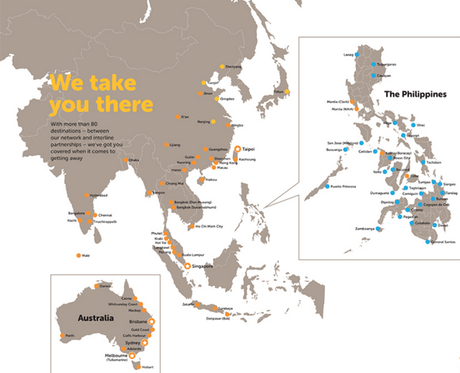 In the Philippines, they fly from Manila-NAIA, Clark, Cebu, and Kalibo direct to Singapore, and from the award-winning Singapore Changi Airport, passengers may easily connect to a handful of its other destinations with Tigerconnect. The product  includes baggage tagging and transfer to connecting flights, and removes the need to clear Singapore immigration and customs.
FLIGHT DETAILS
Airline/Operator Tigerair (TR)
Route Manila, Philippines (MNL) to Singapore, Singapore (SIN)
Flight Details TR2728 / Departure: 12:55 AM / Arrival: 4:35 AM
Aircraft/Seats Airbus 320-200 / 180 Economy Seats
Price of Ticket 5276 PHP (round trip including meals and baggage)
BOOKING
Tigerair is among the airlines to beat in Philippines-Singapore route, with its constant year-round value fares of as low as 2000 PHP per way. And as mentioned, passengers from the Philippines may book affordable connecting flights to other destinations with their Tigerconnect product.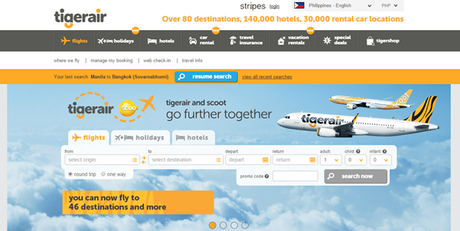 Bookings may conveniently be done through their easy-to-use website and their mobile app for iOS and Android, which I believe is one of the best among all airlines. Payments accepted for tickets are credit cards (Visa, Mastercard, or Diners) online or cash through Triplestar, Cebuana Lhuillier, and Global Pinoy Remittance and Services (GPRS) branches nationwide.
CHECK-IN
Check-in at their Singapore Changi Airport hub is fast and easy, thanks to the many counters that serve their flights at their dedicated rows. Plus, as an added convenience, Tigerair has a row for early, express, and group check-ins, as well as a premium lane for TigerPlus passengers.
Web check-in is likewise available 72 hours down to two hours before departure for flights leaving Singapore to the Philippines. And to enhance this experience, Tigerair offers those with carry-on bags only and no visa requirements to use the Direct-to-Gate feature. This means that Filipinos may simply print their boarding pass and proceed to their assigned gate at Changi Airport.
AIRPORT
There is no doubt that Singapore Changi Airport is among the best in the world, and it has more than enough accolades to bolster this fact. Aside from the many features the huge airport complex offers its passengers, it handles flight departures and arrivals very efficiently. Thus, arriving and departing with Tigerair at Terminal 2 are always a favorable experience.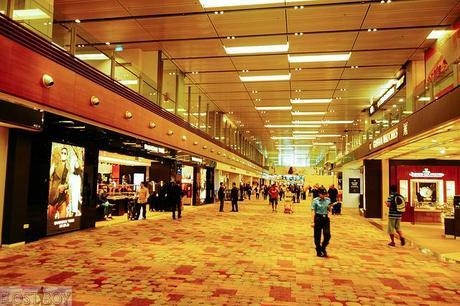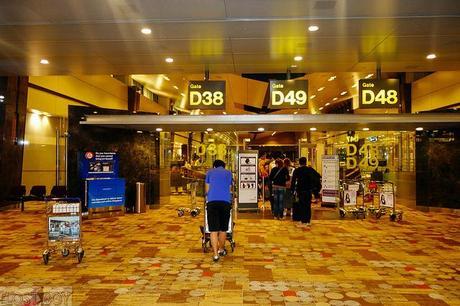 BOARDING
After a stringent secondary security screening, passengers wait inside the gate lounge. They, therefore, are within close proximity, and boarding by rows is expedient and orderly.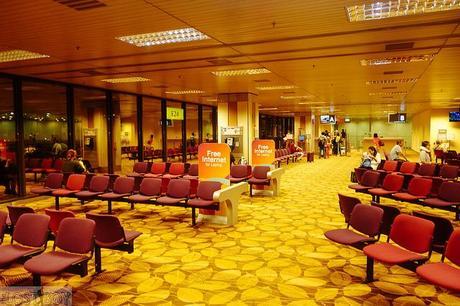 INFLIGHT EXPERIENCE AND SERVICE
The standard seating configuration of their 180-seat Airbus 320-200 is six abreast in a uniform 3-3 configuration with a seat pitch of 30". Available for a minimal fee at the point of booking are extra legroom seats at the exit rows and at the front, which I availed of for a even more comfortable ride.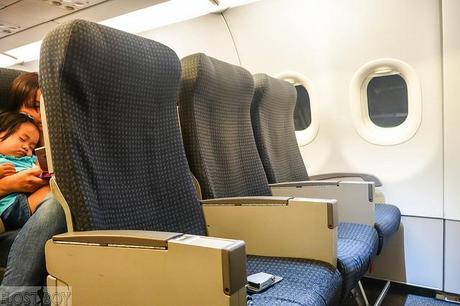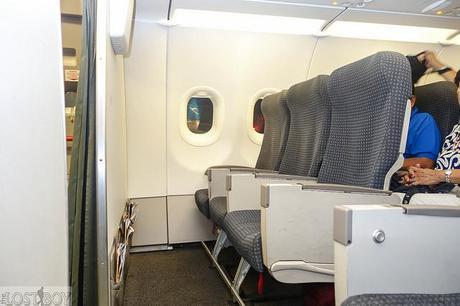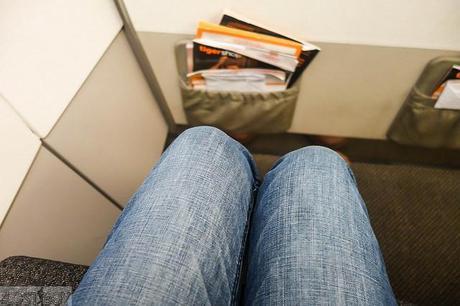 Service, although of course less compared to a legacy carrier flight, was still warm and hospitable. I was repeatedly asked if I needed anything else, as I was being served my inflight meal. All-female cabin crew from Singapore were constantly warm and smiling.
Cabin temperature was comfortably cold, though I had to wear an extra layer of clothing, as I was flying past midnight. Turbulence throughout the flight was minimal, and takeoff and landing were both smooth. We arrived in Manila on-time, and we were at the gate shortly after touchdown.
MEAL
Tigerair offers an array of snacks and hot meals for almost all flights, except short ones from Singapore to Kuala Lumpur and Langkawi, where only snacks are offered. Passengers may select from an wide array of hot meals, including Mutton Briyani and Nasi Lemak with Chicken, to purchase onboard or at the time of booking.
For my Singapore-Manila journey, I pre-booked the Kerisik Beef Stew, which is described by the menu as "chunky beef braised in mildly-spiced coconut gravy and served with fragrant basmati rice." The tender chunks of beef were seasoned with just the right amount of spice, and the basmati rice was cooked well. It was a great dish put together.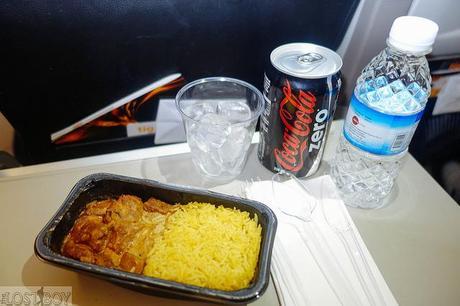 BAGGAGE RECLAIM
Baggage reclaim at the NAIA Terminal 1 in Manila was prompt and hassle-free, despite the long-haul, widebody flights arriving during the same timeslot.
VERDICT
Tigerair's edge compared to other low-cost carriers lies mostly on two aspects: cabin service and ancillary products. Their cabin crew are well-trained and friendly, while their range of add-ons when availed of make the overall experience comparable or even better than a full-service flight. With their frequent promo fare offerings, Tigerair is definitely a wise choice when flying to Singapore.

Tigerair flies from Manila NAIA, Clark, Kalibo and Cebu to Singapore. Passengers can also take advantage of Tigerair's extensive regional network and visit Maldives, China, India, and beyond because at the award-winning Changi Airport, connections are easy with Tigerconnect. Book the cheapest fares at Tigerair.com, and follow their Facebook and Twitter for updates and promos.