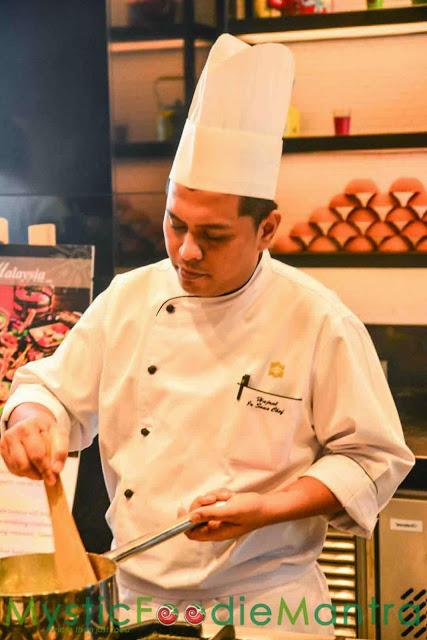 Chef Muhammad Lisarni
What and Where
Malaysian Food Festival
 till 31st May 2015. Part of Lunch/DinnerBuffet
Tamra - Shangri-La's Eros Hotel
011 33106422
19, Ashoka Road, Connaught Place, New Delhi

"This is new and I haven't tried before" – Does this ring the bell? Have you gone through similar experience of food tasting for a cuisine that you haven't tried earlier? As I began the journey of a food blogger, my interaction with chefs helped me to learn more around world cuisines and also have always tried reading through cuisines from the internet.
This resulted in better preparation and of course enabled me to share my thoughts/take on food that I tried for the first time. 
Asian cuisine has been largely influenced by their neighbouring countries and British colonial and yet they have maintained the taste/flavours of their traditional food.
Malaysian cuisine is also influenced largely by Asian countries specially Singapore. Nasi goreng and satay are clear examples of food that is common to both regions. Apart from this, Malaysian cuisines has influence of Thai, Portuguese, Dutch, British and many more.
A Great Day – A Great Conversation:
Chef Muhammad Lisarni specializes in Malay Cuisine and the food at the festival is mainly Malay cuisine. T
he team at Shangri-La's Eros Hotel has brought Malaysian Food Festival in association with Tourism Malaysia. They have flown Chef Muhammad Lisarni from Shangri-La Kualalampur. He has prepared enticing variety of authentic Malaysian dishes. The festival is currently on at Shangri-La's new all day dining restaurant Tamra and will end on May 31, 2015. We visited the Tamra yesterday for review and followed by Masterclass.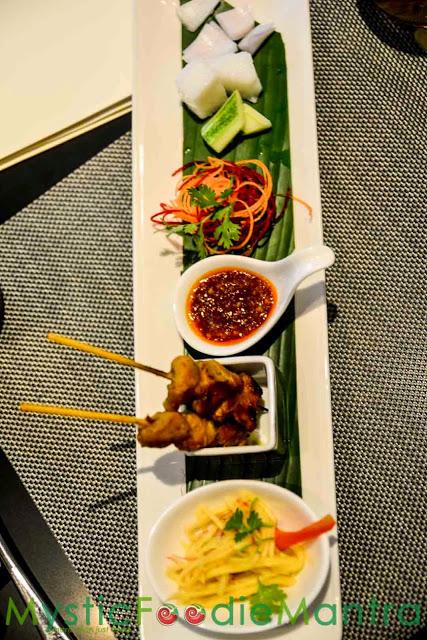 The Gusto food and My Take:
Post my chatting with Chef about Malaysian festival, I was convinced that I would enjoy authentic malay food given his expertise. And surely I did!
Chicken as well as Mutton Satay were cooked to perfection. An accompaniment along with satay was the special malasian rice that is cooked for over 6 hours and served in cubic form. Typically here, I have seen satay dipping in peanut sauce, however here it was served along with delicious raw mango salad. The mutton satay was little spicy and chicken satay was sweet as well as spicy. Bothe were equally delectable.
The dish of the day, according to me was basmati rice cooked with Garam masala (spices/condiments) and prominent flavor of cinnamon. This went well with spicy chicken curry that was cooked with coconut milk and turmeric leaves.
Few other great dishes were  - Sayur Munir Goreng i.e Stir Fried Mix Vegetables with Coconut Gravy ( we have a similar dish, down sowth too) that was sweet yet delicious and Terung Goreng Bersambal i.e. Deep Fried Eggplant with Chili Paste. These were vegetarian dishes and I loved the flavours - Especially the eggplant cooked in spicy chilli paste that reminded me of the dish that my mom cooks. Eggplant dish tasted really well and can be great if eaten with flavoured rice and some Indian dal tadka
J
After we finished Menjoying alaysian delicacies, Chef Muhammad Lisarniprepared three recipes from the festival menu – Kerabu Mangga Muda (Raw young Mango Salad with Chilli Paste), Avam Masak Lemak Cili Padi(Chicken in Spicy Coconut Turmeric Gravy) and Chicken Satay. The demonstration showcased that the recipes are simple to make and the use of fresh ingredients like Lemongrass, Ginger flower, Turmeric leaf gives each dish refreshing flavor and natural texture.
You must visit Tamra to experience the authentic Malay Cuisine cooked in traditional way by Chef Muhammad Lisarni.
Disclaimer - This review was done on an invitation from the establishment. Views expressed in the review is entirely ours and without any bias. Pictures of the dishes are not the standard portions, they are sample portions.