Say Bicolano food and almost always, Bicol express, laing, pinangat, and coconut milk come to mind. I got flabbergasted when I found out through blog hopping that I've missed out on this popular Naga fare called kinalas. I henceforth made it a mission to taste it from where they say it's best eaten—at Cely's Eatery in Naga City's Barlin Street. Read more…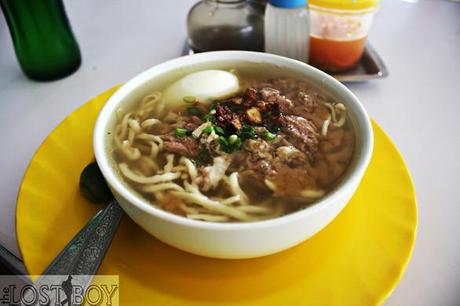 Kinalas comes from the root kalas, which translates to break or fall off from. This flavorful noodle and broth dish is aptly named such because the pig's head is boiled until its meat is tender enough to fall off from its skull.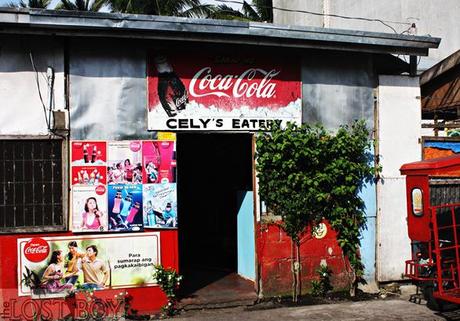 On a sunny trip to Naga, I came looking for this unpretentious place called Cely's Eatery, a locally-known kalasan. I got seated and ordered their kinalas for around 38 PHP, and given my scientific (or perhaps innately curious) background, I deconstructed and researched about the anatomy of the kinalas.
1. It starts off with a slightly tart beef broth. Beef bones and marrow are boiled for a seasoned broth known in the Tagalog regions as bulalo.
2. Boiled thick egg noodles make up the bulk of the carbohydrates group.
3. The magic comes in the brown, gravy-like sauce. The tasty emulsion is made from tender meat from the pig's head, garlic, soy, and flour for a thick consistency.
4. It is usually topped with a sprinkle of scallions, fried garlic, egg slices, and beef strips. The sister-in-law of Aling Cely told me that they used to include pig head meat and brains too, but their customers, realizing the perils of cholesterol, got health conscious over time.
5. For a true Bicolano touch, crushed chili in oil is added on top, while calamansi, ground black pepper, and patis (fish sauce) are also served as condiments.
I went about eating my bowl of kinalas by mixing all the ingredients mentioned above and seasoning my bowl with lots of black pepper. I found it to be really tasty, both because of the broth and the sauce amplified by the meats that were used to make them. Well, it did help that I'm young, so I didn't worry about my after-meal triglycerides.
The kinalas is best eaten with baduya, the local name for banana fritters or maruya in Tagalog, for 12 PHP. Baduya and maruya are entirely similar, except that the former is served on a bamboo skewer and without sugar on the side.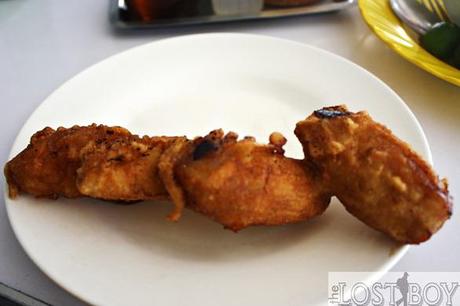 It was a great way to start my day of roaming around Naga.