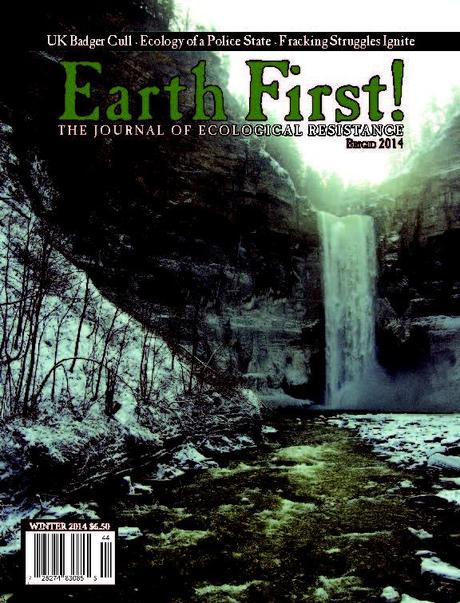 Newest issue of the Earth First! Journal: Brigid/Winter 2014
The cold front is swooping in, get your Earth First! Journal subscription while they're HOT! Flash Sale! Scoop up a 4-issue subscription for a cool $20, on sale from Wednesday January 14 till Sunday January 19 at midnight. Subscribe here!
The first 2014 edition of the Earth First! Journal is off to the printers, thanks to our subscribers and supporters! We are in final preparations to mail the 2014 Winter/Brigid edition of the EF! Journal off to our national and international subscribers and distributors, but first we want to give all of you the opportunity to receive the EF! Journal by mail!
The EF!J Collective is excited to invite Earth First! Newswire readers to subscribe to the printed Earth First! Journal magazine. Every issue of the Journal is filled with original content submitted from folks around the world, providing first-hand accounts and analysis from and about frontline defense of our planet.
Subscribe today for $20 and receive four issues of our quarterly magazine. Your subscription also provides you with access to a digital download of the EF!J, in case you would like to also read on your electronic gizmo. Those subscribed to the Earth First! Journal will be also receive our bi-annual update letters that keep you in contact with the Earth First! Journal Collective.
Our regular subscription rate is $30, but for the next 5 days you are invited to subscribe for the first time, or renew, to an environmental magazine like none other. We will not compromise in our messaging, our analysis, our poetry or our art. We do it all for the wild.
See you in the pages,
- the EF!J Collective