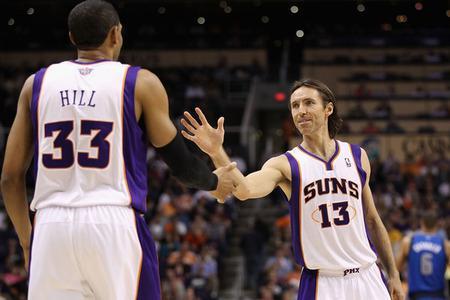 Photo: Christian Petersen - Getty Images
- Adam Parker
This is part eleven of a twelve-part installment of a Beard and Stache special where we'll be breaking down the top things that each lottery team needs to accomplish this offseason in order to improve heading into the 2012-13 campaign.
We'll update the series daily with a new team in advance of our soon-to-be released Beard and Stache NBA Mock Draft.
We covered the Milwaukee Bucks in yesterday's edition, which can be found here.
Today, we leave the cold confines of Milwaukee and head due south to the Arizona desert to discuss a team that's staring down the barrel of one of it's most pivotal off-seasons to date -- my team, the Phoenix Suns.
1. Draft Dion Waiters
It's widely known that the Suns have been looking for a shooting guard who can create his own shot after the team shipped Jason Richardson to Orlando as part of the deal that landed Phoenix its starting center and Steve Nash's new pick-and-roll dance partner in Marcin Gortat.
Luckily for Phoenix, this is an exceptionally deep draft class and they should have plenty of options at No. 13. Guys like Washington's Terrence Ross, Duke's Austin Rivers, UConn's Jeremy Lamb (whose stock is said to be falling) and Syracuse's Dion Waiters could all be available when the Suns come up on the clock.
As my Beard and Stache cohort, Troy Ballard can attest, I'm extremely high on Dion Waiters. To say I've been singing Waiters' praises for the better part of a month now and still going strong is an enormous understatement. Honestly, between now and the draft, if I'm within earshot of any mention of the Phoenix Suns, I'll almost certainly chime in and one of the first things you'll hear out of my mouth is
'We need to draft this Dion Waiters kid.'
Granted, he is only 6'4", but he's built like a Dwyane Wade-type player and scouts have said they see "a little bit" of the Miami Heat star in Waiters' style of play.
It's said that Waiters already has a promise from a team and has since elected to shut down all future workouts leading up to the draft.
Hopefully, that promise came from Lance Blanks and the Suns' front office, because Waiters is the perfect fit for Phoenix.
2. It's Time to Move on From Steve Nash And Start the Long Overdue Rebuilding Process
Well, it's finally time to talk about the gigantic elephant in the room. It was inevitable at this point. Steve Nash aka Two-Time is hitting the free agent market this summer. That's not to say he won't end up back in the Valley of the Sun, but he's most certainly going to test the waters to find out what team and organization would be the best fit for the likely final three seasons of his career.
The Miami Heat, New York Knicks, Portland Trail Blazers and Nash's hometown Toronto Raptors (Nash is a British Columbia native) all appear to be in the hunt along with the Suns.
As a Suns fan, I can't deny that a selfish part of me wants Nash to retire in a Suns uniform. That being said, I'm also a realist. After giving Phoenix eight seasons and turning the team into one of the most entertaining and usually competitive teams over that stretch, Nash wants to win a championship. He also wants to play another three seasons and the Suns reportedly are only currently willing to offer Two-Time a two-year contract.
If Nash leaves, we'll have even more money to spend this off-season, which could help this rebuilding phase go quicker than anticipated if the Suns can spend their money wisely and bring in the right free agents.
As for Nash, I'm expecting he ultimately won't end up back in Phoenix because he's made it known that he wants to win. Sadly, I severely doubt the team the Suns could put around him would be enough to get the job done in the short-term which is all he has left at this stage of his Hall of Fame career.
Best case scenario if Nash doesn't return to Phoenix is that he too, takes his talents to South Beach. Teaming with the Big Three in Miami would allow Nash to be a starter on a perennial championship contender while he finishes out the twilight of his career; chasing that elusive championship ring -- something all Suns should join me in rooting for as the best-case scenario for Steve should he decide to leave town.
3. Go Hard After a Replacement Point Guard in Free Agency if Steve Nash Departs
Well, now that we've covered my thoughts on the likely end of an era in Phoenix, it's time to discuss where the Suns go from here at the point guard position. It's impossible to replace Nash, but the Suns will have plenty of money to spend ($26 million if Nash, Grant Hill and Shannon Brown all come off the books this summer as is expected) to target guys like Deron Williams,
Jeremy Lin
and former Sun Goran Dragic.
Quick note: I severely doubt that the Suns will be the ones to land D-Will. Though it would be nice for us Suns fans, coming to Phoenix is probably not the wisest move for Williams seeing as how he'd basically be entering a similar situation to the one he could potentially be leaving behind in Brooklyn. Unless the Nets can swing a deal for Dwight Howard, my guess is Williams returns to his hometown Dallas Mavericks. No doubt Mavs' owner Mark Cuban will be rolling out the red carpet.
Lin and Dragic on the other hand, I'd like to believe are realistically attainable. Lin wants to get paid this summer after emerging as the Knicks' cinderella story in front of the raucous crowd at Madison Square Garden. Not only would he be great for marketing purpose in Phoenix, but he's already relatively familiar with most of what the Suns do offensively seeing as how he was the point guard for Mike D'Antoni before the latter ultimately resigned.
Dragic, however, is who I'd prefer the team to target. There's no better familiarity than having actually played for the team before. After pairing with Kyle Lowry in Houston, it's widely known that Dragic is going to get paid very handsomely this summer and expects to be starting. Well, with Nash likely to be elsewhere, the Suns could offer
The Dragon
 both money and a starting gig.
I believe that Dragic would flourish in Phoenix. Now there's just the matter of the Suns'  front office not letting their egos get the best of them and clearing the air with Goran after shipping him to Houston for Aaron Brooks in 2011. This was a widely unpopular trade amongst the Suns' base (including me) and bringing Dragic back "home" would be a good way for the Suns' brass to admit their mistake and earn some brownie points with the fans.
4. Please, I Beg You, Amnesty Josh Childress!!! (or Hakim Warrick)
The deals to bring Childress and Warrick were arguably two of the worst deals I have ever seen for any NBA franchise, so it stings that much more knowing it was
my team
 that senselessly burned money better spent elsewhere in the 2010 off-season. Honestly, the Suns would have been better off not spending that money at all if Warrick and Childress were the only available options. I'd rather play two-men down than have these two devouring valuable cap space like the black holes they've become.
I'd probably prefer that the team amnesty Childress over Warrick, seeing as how Childress hardly ever sees court time. But then again, neither does Warrick and at least Childress occasionally plays something that remotely resembles defense. Hell, get rid of them both! Amnesty Childress and negotiate a buyout with Warrick so the team can send them both packing and save even more money that will hopefully, God willing, be spent more wisely in future off-seasons. #AmnestyJoshChildress
5. Be Patient, Don't Expect a Quick Fix Overnight
I know Suns fans everywhere are chopping at the bits like I am to get this off-season started, get the roster set and make watch our team make their triumphant return to the playoffs in the 2012-13 season. But let's ease up on the throttle. We don't want any more rushed decisions We can't afford any more rushed decisions. After all, rushed decisions turn into Childress and Warrick, something I hope to never have to deal with again.
It will take time, but rest assured, Phoenix fans. The Suns will rise again!
Be sure to follow Beard And Stache on Twitter 
@BeardAndStache
, 
and also Adam 
@Adam_Parker43
, Like our Facebook page 
HERE
!