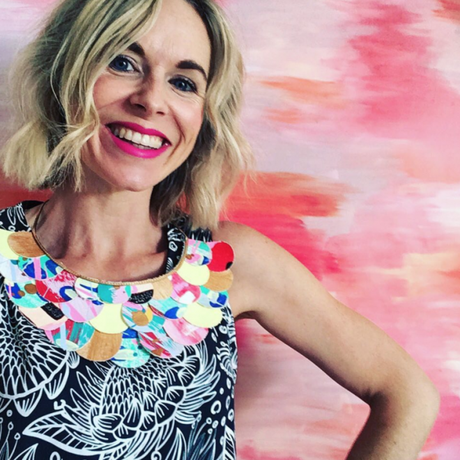 Adelaide designer Karla Schumann, of KarlaCola is taking Instagram by storm with her bright and bold range of clothing
Not only does she juggle raising three children with running an ever-growing business, she's also started collaborating with local designers to produce her bright and fun patterns.
I recently caught up with Karla to find out a little more about one of my favourite Instagrammers.
How (and when) did KarlaCola the label begin?
Around six years ago, but I have really thrown myself into it full-time once my youngest started school full-time three years ago. It began when I found out I was pregnant with my daughter. I immediately felt the need to start making her clothes.
Do you design the prints as well as the styles or collaborate with artists?
I just did my first fabric design! I teamed up with the amazing Ellie whittaker who turned my ideas and sketches into our latest fabric design Once & Floral. I love collaborating with artists; it's a lot of fun teaming up with other creatives to come up with a design that works with my brand or using one of their designs that catches my eye
What do you love most about what you do and why?
I love the colour! I'm really lucky I love my job, from creating to designing and collaborating and thinking of new ideas constantly, sometimes at 2am ha!
What do you hope women feel when they wear something from KarlaCola?
Amazing! Happy, cheerful and unique! I get told often how many compliments women get when wearing their KarlaCola, which makes them feel amazing and that's exactly what I had hoped to achieve
Do you have a favourite piece within your collection?
Currently it's my Once & Floral Shift Dress-I can't stop wearing it and am looking forward to layering it in cooler temperatures too. Previously it was my Protea Lovers Sundress, so it definitely changes depending on what I am focused on. It's hard to choose when I have such a huge wardrobe filled with KarlaCola pieces
What is a typical day for you?
Super early starts; my business has grown so much I am finding there are not enough hours each day and while I am finally outsourcing some of the work, I have found starting my day earlier makes a big difference. I am most productive in the morning. So after a three shot soy latte, I just sew, sew, sew for nine hours straight! I try to do all my cutting on a Sunday or at night so it doesn't interfere with my sewing process through the week. I usually finish up at school pick up time, collect the little ones and do my post run on foot with the kids. Then it's dinner, homework, bedtime and I end the day responding to emails and catching up on social media. It's been a busy few months actually and the days fly past at lightning speed.
What has been your proudest moment to date?
I was recently featured in Peppermint Magazine which was a total surprise for me and one of my lovely followers let me know. When I showed my family at dinner my oldest son (12) ran up and gave me the biggest hug and said, 'I am so proud of you, Mum'. These are the important things in life as my family have watched my business boom, helped pack orders when I am under the pump and their love and support have been the most important thing of all.
Who are your beauty and style inspirations?
Oh gosh that's a tricky one , I'm not entirely sure ha ha ! Sorry but first person that comes to mind is EmmyLou Maccarthy of @emmylou_loves on Instagram; she is gorgeous and her confidence and smile radiates like a diamond.
If you could you share one bit of wisdom to a younger you what would it be?
Stick with it! Accept that it takes time to grow and be prepared to give it your all 100 per cent of the time. Don't doubt yourself even if someone else shoots your ideas down. You need to believe in yourself as well as your product for others to do the same
What's your favourite way to spend a Sunday?
Pjs! Yep all day pjs and meal prep for the week ahead. That or a lazy beach day. We have family dinner every Sunday with my sister and mum and take turns rotating it. We play a few games, enjoy a nice meal, glass of wine, it's always my favourite way to end the week.
Follow Karla on Instagram, Facebook or shop her website here.
Follow Blonde Ambition on WordPress.com
For all partnership and collaboration inquiries please contact me directly at [email protected]
BLONDE AMBITION ARCHIVES
Did you know the tulle skirt Sarah Jessica Parker wore in the opening credits of Sex and the City cost just $5? Tonight @littlepartydress is releasing two tulle skirts (blush and black) and to celebrate, I've recreated Carrie Bradshaw's most iconic look, just in time for the party season - head to Blonde Ambition (link in bio) for the full look and links to each piece. Photo @katelukephotography ______________________________ #sjp #satc #sexandthecity #carriebradshaw #tulleskirt #tulle #littlepartydress #stealherstyle #getthelook #blondeambition #lmbdw #lmbdwbrisbane #styleatanyage #makeyousmilestyle #30plusstyle #brisbaneblogger #styleblogger #outfitinspo #everydaystyle #blonde #brisbane #brisbaneblogger #brisbanestyle #love #fashion #sydney #melbourne #choosejoy #girlboss
A few months ago I underwent hypnosis at Brisbane Hypnosis Clinic in New Farm to get my addiction to lollies and biscuits under control. You can now read all about my experience on She Society (link in bio). Have you ever tried hypnosis? Photo by @katelukephotography _______________________________ #hypnosis #shesociety #sugarcravings #writer #loveyourself #wellbeing #health #thatsdarling #whatiwearing #ihavethisthingwithcolor #colourpop #spotmystyle #styleblogger #ootd #whatiwore #时尚 #30plusstyle #outfitpost #realstreetstyle #lollies #chocolate #makeyousmilestyle #brisbane #brisbanecity #everydaystyle #brisbaneanyday #wiw #girlboss #sydney #melbourne
It was a scorcher in Brisbane today, so after a fun morning photoshoot with @katelukephotography, I slipped into this super simple but stylish @viktoriaandwoods Vacant Tank Dress and my @kmartaus slides for a 1st birthday party by the water. Now I'm catching up on all the #teamstripes photos from today's @teamstylefile #stylefileinsta challenge. Don't forget to tag @katy_potaty and I so we can see your pics ❤️ _______________________________ #everydaystyle #love #stripes #springfashion #whatiwore #fashion #style #spotmystyle #monochrome #blackandwhite #womenwithstyle #brisbane #brisbanefashion #girlboss #30plusstyle #over30style #brisbaneanyday #sydney #melbourne #perthfashion #blondehair #weekendvibes #birthdayparty #affordablefashion #wiw #stripedress
Happy Friday! This is awkward to admit but I only watched Jurassic Park for the first time earlier this year. Same with ET. I don't know what I was doing as a youngster - probably watching The Sound of Music for the 757th time. But I loved it and couldn't resist buying this tee from @cottonon which was perfect teamed with my @dissh_boutiques leopard print skirt for today's #stylefileLEOPARD challenge. Is there a big or cult hit movie that you've never seen? _______________________________ #teamstylefile #everydaystyle #leopardprint #animalprint #casualfriday #friyay #weekendvibes #spotmystyle #brisbaneblogger #funfashion #outfitinspo #styleblogger #style #fashion #brisbane #womenwithstyle #fashionblog #sydney #melbourne #whatiwore #realstreetstyle #streetstyle #fblogger #realoutfitgram #ootd
Somewhere over the rainbow ... today is the day this divine Confetti dress from @maiocchi_ arrives in store (9am CBD and 9.30am Paddington) and online (midday). Get in quick to avoid missing out. Photo @katelukephotography ________________________________ #maiocchi #mymaiocchi #rainbow #stripes #teamstripes #friyay #stylefile #everydaystyle #shoplocal #brisbaneblogger #30plusstyle #over40style #realmumstyle #love #ihavethisthingwithcolor #ihavethisthingwithwalls #colorpop #australianfashion #spotmystyle #makeyousmilestyle #styleatanyage #OOTD #instafashion #happystyle #dressfun #sugarrepublic #brisbane
New favourite outfit alert! Stripes, metallic, leopard print ... the gang's all here and I love it! A metallic skirt may seem like something that would be difficult to style, but nothing could be further than the truth-metallic is pretty much a neutral (at least in my eyes), so I've pulled together a blog post showing three ways I'll be wearing gold leather mini skirt from @arlingtonmilne this summer. Link in bio. Photo: @katelukephotography ________________________________ #arlingtonmilne #everydaystyle #summerstyle #wbwpartner #stripes #teamstripes #love #brisbaneblogger #styleinfluencer #styletips #ootd #wiwt #over30style #30plusstyle #howto #summerstyle #realstreetstyle #spotmystyle #fashionblogger #makeyousmilestyle #styleatanyage #dressfun #sydney #melbourne #brisbane #perth
Today's @teamstylefile style challenge prompt was #stylefilefloral and this @shein_au pink floral pleated midi skirt was the first thing I saw that fit the bill when I looked into my wardrobe this morning. I teamed it with my @mummyswish limited edition Fabulous & Floral tee which has become a bit of an unofficial uniform in the office. _________________________________ #mummyswish #mumswithcancer #mwFabulousandFierce #everydaystyle #onwednesdayswewearpink #streetstylefashion #funfashion #floral #joy #slogantee #fabulousandfierce #brisbaneblogger #love #style #fashion #brisbane #womenwithstyle #fashionblog #styleblogger #brisbaneanyday #sydney #melbourne #realstreetstyle #streetstyle #fblogger #realoutfitgram #ootd #perthfashion
Fruity hues || In the latest @uonsunday I shared my tips for how to squeeze the most out of your summer wardrobe by embracing delicious citrus hues and let me tell you, it makes a refreshing and zesty combo! _________________________________ #uonsunday #fashioneditor #sundaymail #summerfashion #styleblogger #everydaystyle #ihavethisthingwithcolor #bonitakaftans #liveeverystep #sheikestyle #brisbaneanyday #queensland #brisbanefashion #citrus #summertime #over40style #colourpop #afforablefashion #30plusstyle #sportsgirlstyle #bethatgirl #spotmystyle #dressfun #styleatanyage #australianfashion #ootd #springstyle #realmumstyle #austeacherstyle
What constitutes 'workwear'? I guess it depends where you work. Thankfully, I work somewhere that lets me wear stripes and overalls to the office. So as part of today's #SpringStyleFile #stylefileWORK challenge, I give you, today's workwear-an old @witcheryfashion stripe tee, my favourite @yourockstyle_ denim overalls (kindly gifted), and pops of colour provided by my @hm earrings and @nextofficial_au shoes. ________________________________#fashionchallenge #yourockstyle #yourockstylebabes #tasseltuesday #everydaystyle #denim #stripes #teamstripes #ootd #stylechallenge #blonde #joy #springstyle #shoesaddict #brisbane #brisbaneblogger #styleatanyage #30plusstyle #iwillwearwhatilike #dressfun #fashionblogger #fashionista #streetstyle #stylish #hairgoals
Copyright. Blonde Ambition 2018. All rights reserved.