So here are my five favorite products for the month of August. A few of the products I've had but used more this month and there are a few new great products I purchased this month. I can't believe next month I will be writing about September products already. This summer went by really fast, but it was a good one

Vaseline Cocoa Butter Vitalizing Gel Body Oil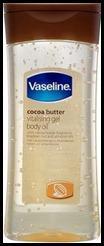 I've been using this body oil after I get out of the shower all summer long. I'm so glad I bought it because I can't imagine not having right after I get out of the shower. Vaseline has come out with a lot of good products and this is definitely one of them.  The almond oil fortifies your skin with essential minerals and antioxidants while the Brazil nut oil helps boost skin's natural moisture barrier to lock hydration. Not only does it help revitalize the skin, it also gives your skin a more supple, healthy glow. So not only does your skin feel extra smooth and soft you can actually see how your skin glows from this oil, but don't worry just because your skin looks shiny doesn't mean its going to feel oily and greasy. Unless you go overboard and put globs of it on. A little amount goes along way too.  It also smells really good! I apply this right after I get out of the shower then apply my usual body lotion for extra hydration.
Studio Gear Dual Identity Wet/Dry Foundation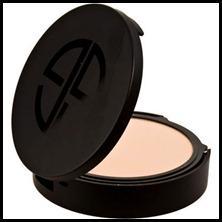 I was looking for a really good wet/dry powder foundation for a while. I really did my research on this because I knew I wanted a non drugstore brand this time, the reason being is I've tried pretty much every powder foundation (wet or dry) drugstore brand and was never really too impressed with any of them. So I went to one of my favorite stores website, Ulta and looked up their best powder foundations and found Studio Gear Dual Identity Wet/Dry Foundation. I read all the reviews and descriptions and it sounded like just what I was looking for. I like liquid foundation but there's those days when you don't have as much time or don't need full coverage,  so that's when this kind of foundation comes in handy. Plus I like the dewy finish it gives me when using it wet. This product plays two different identities, powder foundation and water based foundation. It comes with a sponge called Angel Skin, it's a dual surface sponge, one side for dry application and the other for wet application. I really actually liked this sponge until I realized you can only use the wet side once because after its been moistened the water ruins the material. So this is a trick I do,  I mix 3 parts of glycerin with 4 parts of water and mix it together in a small spray bottle, then mist my face before applying the powder and use a kabuki brush to blend it in and it gives me a fresh dewy look. You can actually use this with any powder if you wanted. The glycerin also gives me extra moisture and helps set the product.  This product comes in five different colors I believe. I use Praline, its like a dark beige. I would recommend this to anyone looking for a good quality wet/dry powder.
Velcro Rollers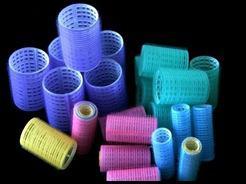 I can't rave enough about Velcro rollers! There so great, especially for my hair type. which is straight/wavy, that tends to get frizzy and puffy right after blow drying oh and is also very thick! Right after I'm done blow drying my hair I separate the top of my hair into three sections and roll each backwards into a large roller. Then I usually roll two sections in the middle and roll those as well.   I wouldn't recommend spraying any hair-spray until you take the rollers out or you might have a sticky hot mess while trying to take the roller out. Do this with any sections of your hair, it's up to you. I try to leave them in for at least 20 minutes and use that time to do my makeup or get dressed. Then right before I'm ready to leave my house I take them out. The rollers also give me some volume too which is a plus and you can find these basically anywhere for cheap. You can get them in sets of 12, 24 or you can just buy 3 at a time. So the prices vary.
e.l.f Defying Eye Brush
I

m still amazed that I only paid $1 for this wonderful little brush, I've actually went back and bought a few more just in case it went out of stock or was ever discounted. I've found that I can use this brush in a few different ways. My favorite is to define the crease and defining the outer V, then I like to use it for highlighting the inner corner of my eye, brow bone and even to contour my nose. The size of this brush is perfect for fitting right into the crease, its small enough but also has that rounded tip to highlight the inner corners, and also is a good fit for the sides of your nose. elf has some really great eye brushes, one of my favorite eye shadow brushes is also from elf and only a $1.
Clean & Clear Advantage popped pimple relief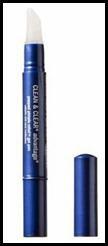 Although we all know we're not supposed to pop pimples, sometimes its just really hard not to. I'm definitely guilty of this, and that's why I bought clean & clear's popped pimple relief. It promises to diminish any trace of the pimple while the gel begins to work. It's designed to soothe soreness and clear up acne pimples. I bought this a few months ago hoping everything they promised to deliver would work. It has 2% salicylic  acid, which is a great source of clearing bacteria and clearing scars. I used this the first time I popped a small pimple (by accident) lol. and after a day I noticed that any marks or the beginning of scaring was gone.  this product is excellent to prevent any scarring from acne that occurs after you pop your pimples. I remember I bought it at Walgreens for $6.99, at first I was a little taken back by the price but that's just the bargain shopper in me. Overall, I'm not disappointed in the price now knowing that it was worth it.