Happy New Year to all my readers…lets start this year with something crispy, munchy and blissful. Very suitable as winter bites these crunchy fish pakodas are a delectable snack any time of the day. Moreover quite hassle free they do not need a dip in the egg or a roll in the bread crumbs, can be prepared with rohu/katla/seabass/prawns… the choice is yours. It's a perfect dish to entertain your guests.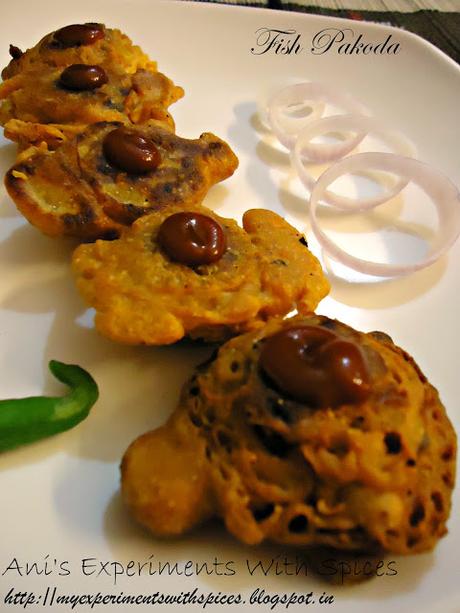 Fish Pakoda
The way I made it:
 
Ingredients:
2 medium sized boiled potatoes mashed
2 onions finely chopped
½ tsp ginger paste
½ tsp garlic paste
6-7 pieces of rohu/katla/seabass(bhetki)
1 tsp turmeric powder
1 tsp red chilli powder
½ tsp coriander/dhania powder
½ tsp cumin/jeera powder
2-3 chopped green chillies
½ tsp chat masala pawder
4-5 tablespoons besan/chickpea flour
1 tsp corn flour powder or maida (all purpose flour) to make it crunchy
2-3 tsp poppy seeds/khuskhus/posto to add to the crispyness
Salt and sugar to taste
Mustard oil as per requirement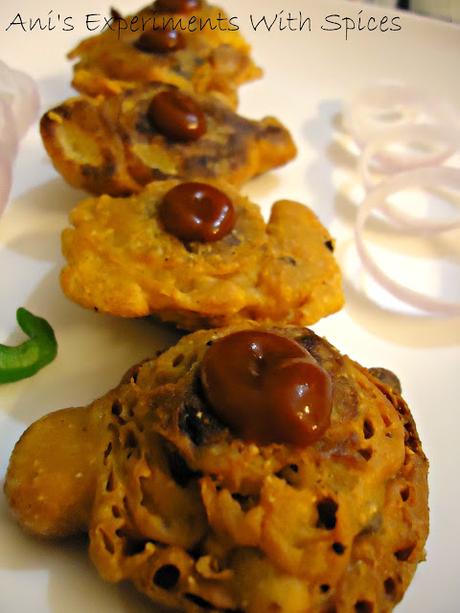 Fish Pakoda
Procedure:
Step 1:
Smear the fish pieces with turmeric and salt. Heat oil in a wok and lightly fry them on both sides and take out. Now debone the fish pieces carefully.
Step 2: Preparation of the stuffing
Take out some oil if you think it's too much and then add chopped onions in the wok. Fry until they change colour, then add the ginger garlic paste and the green chillies, sauté. Add the mashed potatoes and deboned fish. Add red chilli powder, chat masala powder, coriander powder, cumin powder, salt and a pinch of sugar. Mix all of them well on medium to low flame for some minutes until the stuffing is ready. Let it cool.
Step 3:
Make a batter with besan, cornflour, poppy seeds, salt and water. Do not make it too thin/runny.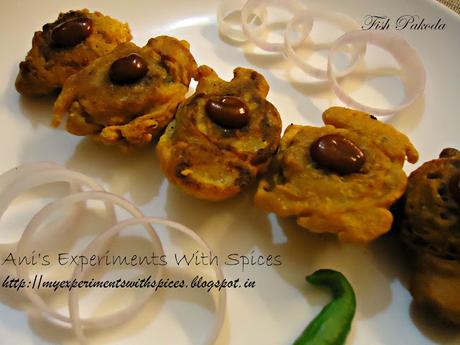 Fish Pakoda
Step 4:
Heat oil in a skillet. Take a little stuffing, give it the shape you want (round/oval) with your hands, dip in the batter and fry. Make a whole batch of these wonderfully tasty munch in the same way and serve hot with any sauce/chutney of your choice.