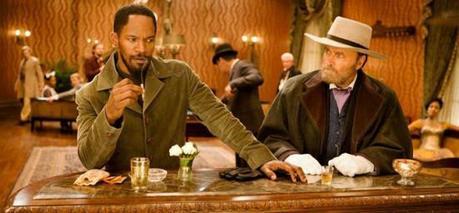 Quentin Tarantino has a trailer for his new movie Django Unchained. The spaghetti western/revenge mash-up is highly anticipated and Jamie Foxx stars as Django. Django is set free from his captures by Dr. King Schultz (Christoph Waltz) in order to find and kill some men have done him wrong. Django is more concerned with finding his wife Broomhilda (Kerry Washington), who is being held against her will by Calvin Candie (Leonardo DiCaprio). I fully expect a violent spectacle as with all things Tarantino and hopefully we'll have another winner on our hands.
Django Unchained opens on Christmas Day.
Did you enjoy this article? If so, we'd love to hear your thoughts in the comments below. It would be great if you subscribed to our RSS feed or signed up for email updates to get more goodness. There's lots more where this came from!