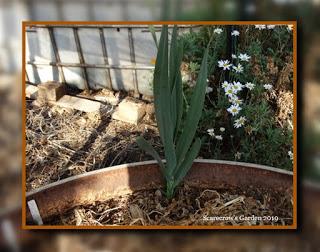 Russian Garlic (or Elephant) growing in Bed 10 earmarked for pumpkins...
...I planted this garlic 3 years ago and it still wants to come up 😲
Thursday 3rd
Sowed seeds of Erigeron (Seaside Daisy) Erigeron karvinskianus from plants in the garden
Friday 4th
Potted up Cuttings into a mixture of rainwater soaked coir plus Seasol (seaweed extract) and Charlie Carp (Fish emulsion) and Potting mix:
Daisies
Sage
Santolina
Scented Geranium
Wormwood Roman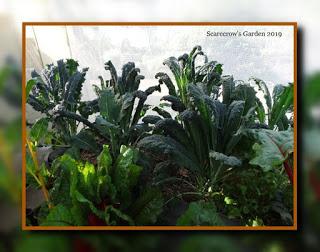 Kale Lacinato from a (late) May planting is providing regular pickings of greens

Saturday 5th Hot and windy
Hottest day so far this season 36.9C (96F) way too early for this to happen...looks like being a long, hot and dry summer...again!!
Monday 7th
Planted out:
Strawberry plants with Lettuce Mignonette Brown as companion plants into Bed 20 where the Loganberry and Rhubarb live.
Beetroot Cylindra and Golden Detroit into Bed 12. These had been potted up into small soft pots with 3 seedlings in each. They will be left to grow this way as clumps and I shall remove the largest of the group first and leave the others to grow on. The bed was covered with veg net to keep the birds from digging the seedlings up.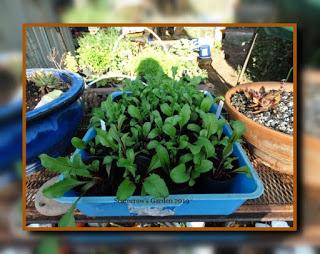 Beetroot seedlings hardened off and ready for planting

Tuesday 8th
Seeds sown into containers with a mixture of rainwater soaked coir plus Seasol (seaweed extract) and Charlie Carp (Fish emulsion) and Potting mix:
Basil Ocimum basilicum - Thai into a punnet
Beans Climbing Phaseolus vulgaris - Purple King into Loo Rolls
Beans Dwarf Vigna unguiculata var. sesquipedalis - Dwarf Snake into Loo Rolls
Squash Cucurbita pepo Yellow Button into cut down 2 litre juice bottles
Order of 30 metres of 50% shadecloth arrived...time to get serious about shading the new Kitchen Garden area, now that the beds are pretty much sorted.
Thursday 10th
Potted up:
Tomatoes Roma, Hungarian Heart, San Marzano, Ida Gold and Sugar Lump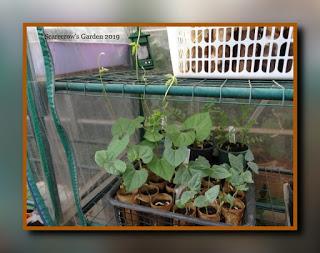 These Climbing Beans are ready to go plant themselves I think.

Saturday 12th
Sorted big pots for shade tunnel and planted Lemon Coriander, Plain Coriander in the other in one.
Bigger wicking pots prepared and put in greenhouse with Basil Lettuce Leaf and Genovese planted into them.
Cut back the Thornless Blackberry
Pruned some Rosemary and Euryops Daisy Euryops pectinatus (took cuttings from this)
Sunday 13th
Potted up:
Last of the Tomatoes Ida Gold and Roma
Capsicums Italian Fryer Mixed and Californian Wonder
Tagasaste Chamaecytisus palmensis treelings
Vebena Florist mix
Larkspur Imperial Choice
Monday 14th FULL MOON
Full Moon today so time to worm the chooks with Super Mash from hereOn this link easy to mix up and the chooks love it.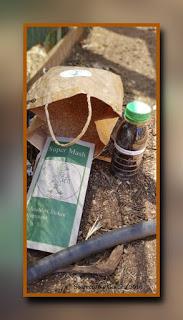 Chook Super Mash for the girls 🐔🐔🐔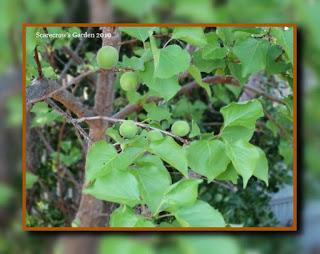 The trees are greening up and setting fruit like these Apricots