I highly recommend picking a New Year's resolution you can complete within days just to get you motivate to continue the other ones.  After a sudden burst of energy I've managed to finish the rest of my holiday thank-you cards and mailed them out to their respective recipients.  I really enjoyed making cards this year, even better than the ornaments last year, so I think I'm going to make handmade cards a new tradition.  Who knows, maybe I'll even get motivated to make them in larger quantities and dive into the world of etsy…but that's a plan to keep for the summer when things aren't quite so busy.
Here's a picture of all four together: I took it with the panorama setting and, sadly, it hasn't translated too well onto wordpress, but you can still get an idea of how they look in relationship to each other.

I also took pictures of each card individually, which turned out a little better than the panorama one.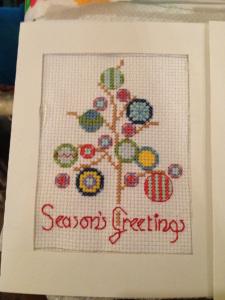 I love the colors I got to play with on this pattern.  Instead of just the traditional green, red, gold, and silver it calls for bright colors and pastels which makes for an interesting
Christmas
tree interpretation and if I use the pattern again I can customize colors to the person the card is going to.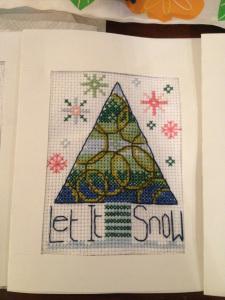 This is one I was most worried about because I couldn't match the colors perfectly and whatever I thought it would look like in my mind didn't turn out quite right on the page.  Once it all came together though it looked pretty good.  Next time I think I'll try to match the colors a little more closely so there's a better flow effect rather than the kind of boxy effect it has right now.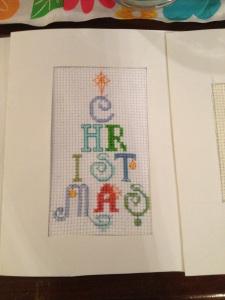 This was my favorite because it only took two hours to finish but it looks great.  And again, using bright colors instead of traditional holiday colors adds a little something and makes it easy to customize.  I could see doing this all kinds of ways.  With silver and gold metallic thread, rainbow spectrum, shades of red or green, monochromatic.  So many possibilities.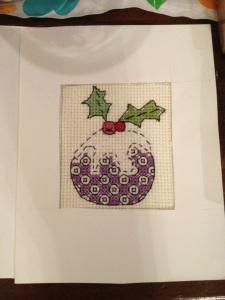 This pattern required the most modification because it's just a piece of a larger pattern that's meant for table runners.  I liked it but didn't want something three times the size, so I chopped it up and tried to make it a little more card appropriate.  The nice thing about it being from a bigger pattern is that I had about 6 different patterns to chose from and I could create a whole fig card collection in different styles and colors for next year.  Again, not quite traditional colors, but easily modifiable.
I feel like I've started the new year off productively and can cross a few tasks off my list.  Now I have plenty of time to tackle all those tough ones.  How have the first two days of the new year been going for all of you?  Fantastically  I hope.  Go do something crafty, read a good book!