I received this in my goody bag from the Bbloggers Xmas meet up, yes another product. It truly was the most amazing gift bag.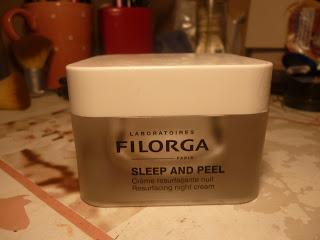 This is a night cream that not only moisturises you skin but gently exfoliates it to remove any dead skin cells so you wake up with brighter, smoother skin.
This contains AHA and Hyaluronic Acid which are both talked about ingredients at the moment. AHA stand for Alpha Hydroxy Acid which is a gentle exfoliant. The hyaluronic acid is an ingredient that holds up to 1000x its weight in water, so gives your skin a huge moisture boost. 
My skin is oily combination but it is also slightly dehydrated, so I love products like this. I have a lot of acne scarring which has greatly improved from using this for nearly two month. I also always wake up with such soft skin and my skin is feeling a lot more moisturised.
I use this every other night as I like to use oils the other nights, I apply this to dry skin after cleansing and toning. It makes the skin tingle ever so slightly but it does soon ease off though and you can't feel anything on the skin. This doesn't really have much of fragrance which I like especially for a product I use at night.
Overall I love this product, the only downside is the price. £54.00 is a lot but I think it is totally worth it, I would definitely repurchase it. It will also last you a long time, I have hardly made a dent in mine yet.
You can pick the Filorga Sleep and Peel cream up from Marks and Spencers Website or in some stores.
Have you tried anything from this range before?