About Wuthering Heights (1970)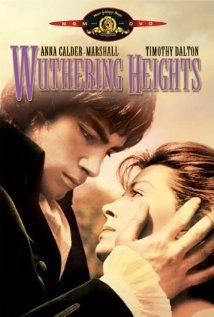 Haunting, passionate and unforgettable, this lovely, scenically rich (Newsweek) version of Emily Bronte's timeless masterpiece stars Emmy winner Anna Calder-Marshall and Timothy Dalton (Licence to Kill) as Cathy and Heathcliff, two star-crossed lovers destined for doomed romance. 'realistic [and] with authentic locations and atmosphere (Leonard Maltin), Wuthering Heights is a riveting, heartbreaking and beautifully realized telling of a classic. Inside the dark and austere farmhouse of Wuthering Heights, the impetuous Cathy first meets Heathcliffan orphan her father rescued from the streets of London. As the two grow up, they spend endless days exploring the sprawling moors of Yorkshire, eventually discovering in each other a fiery, powerful love. But when Cathy is introduced to their wealthy neighborsand promised to marry their son, her social equala fury is ignited within Heathcliff that can only be extinguished by one thing'revenge!
Starring: Anna Calder-Marshall, Timothy Dalton, Harry Andrews, Pamela Brown, Judy Cornwell
Directed by: Robert Fuest
Runtime: 104 minutes
Studio: MGM
Review: Wuthering Heights
Emily Bronte's classic novel from 1847 has been adapted for both television and the big screen many times. As with the likes of Jane Eyre and Pride & Prejudice, there is something enduring about these stories. Wuthering Heights was a more tragic novel than Jane Eyre, by Emily's sister Charlotte, but the work of the Bronte sisters has endured for different reasons. In 1970 this version of Wuthering Heights was released with Timothy Dalton as Heathcliff and Anna Calder-Marshall as Catherine.
The film covers around half of the novel, focusing on the return of Mr Earnshaw (Harry Andrews) from Liverpool with a homeless boy, Heathcliff, who is raised alongside Catherine and her brother Hindley. Though Catherine adores Heathcliff, Hindley despises him and the rivalry between the boys culminates in Hindley being sent away to college. When Hindley later returns following his father's death, he takes charge of the family home – Wuthering Heights – while Heathcliff is reduced to a mere servant. He still finds solace with Catherine though and their carefree wanderings through the English moors. However, things turn nasty when Catherine agrees to marry Edgar Linton (Ian Ogilvy) and Heathcliff sees this as the ultimate betrayal. Heathcliff leaves a poor and despondent man, but returns some time later as a rich and well-dressed gentleman intent on revenge against both Catherine and Hindley.
The film conveys much of the tragedy and frustration from the original novel. Heathcliff and Catherine are soul mates, somewhat wild as they stay clear of the well mannered society of the rich and instead enjoy their days in the countryside. Heathcliff has much to contend with at home with Hindley but he tolerates it for the sake of Catherine and for the kindly servant Nelly (Judy Cornwell). When Catherine is inadvertently left with the Linton family she spends a few days with them and returns well dressed and acting like a lady, critical of Heathcliff's appearance. So begins the cracks in the rural idyll. Catherine's new approach is merely a facade that Heathcliff cannot see through. She agrees to marry Edgar Linton though she dearly loves Heathcliff just as he does her but thanks to some confusion and unfortunate misunderstandings Heathcliff leaves only to return with the intention of causing as much damage as possible.
The film doesn't focus on the fates of Heathcliff and Catherine's children. It deals only with Catherine and Heathcliff and their doomed romance. This works well in the novel though the ending has been changed dramatically compared to the book. Calder-Marshall and Dalton are very good in the leads. Catherine is naive in the film just as Heathcliff is something of a wild child and even on his return as a wealthy gentleman there are parts of Heathcliff that remain untamed by social convention. Though it leaves out the second half of the book this is still a good adaptation.
Verdict: 4/5
(Film source: reviewer's own copy)
Film Review: Wuthering Heights | Thank you for reading Tweedle Dee and Tweedle Dave